When you wake up groggy and need a quick pick-me-up to see you through the day, when you're poorly and can't stomach anything else, or when you've only pennies left until pay day but are craving something delicious, toast is there like a warm friend.
It is a simple cure for almost all ales from the hangover to the stomach ache, a quick-fix for the hangry and a staple of all our diets from childhood to old age.
Even making it is fun as it pops out the top of the toaster. And don't tell me all your minds weren't blown when a viral post revealed the dial on the toaster was for minutes not toasty-ness?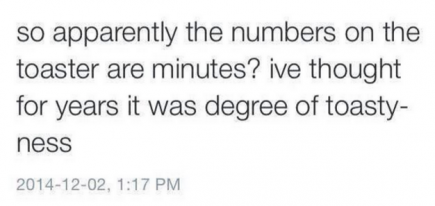 And then put to rest earlier this month when YouTube star Tom Scott revealed you had, in fact, always been right. It's not minutes at all…
So it is quite right we dedicate a whole (wheat) day to the celebration to this crumbly? crunchy? crispy?… toasty culinary delight.
Some like it burnt, others like it gold brown. Some like it smothered in jam, others (wrong'uns) like it layered with marmite.
So to commemorate National Toast Day, MM have put together a list of our top five ways to enjoy the greatest thing since sliced bread.
Toast and peanut butter
@WorldBreadAward #NationalToastDay I take my toast with peanut butter and a nice cup of tea pic.twitter.com/gKkIVJG2fY

— SARAH E LOUGHRIDGE (@SarahSylv) February 23, 2016
Everything is better with peanut butter.
I like my peanut butter sugar-free and crunchy and my bread whole grain for this delicious start to any day.
It's hearty, healthy, cheap and oh so satisfying!
Buttered toast
People who don't butter their toast to the edge are selfish! pic.twitter.com/ngu6TK0wFf

— Scott HOLLIDAY (@87Food_Scott) February 6, 2016
A simple but classic choice, buttered toast is divine.
Just a touch… okay a load of butter turns a bit of warm bread into a delicious treat.
There is nothing more satisfying than watching butter melt into a freshly toasted slice of thick white bread.
Well, I lied, there is one thing more satisfying and that is eating said buttered toast with a cup of tea. Yum.
Also when you drop it, it never lands butter-side down – a feat of culinary and mechanical engineering!
French toast
Apparently today is #NationalToastDay… I presume French Toast qualifies…? pic.twitter.com/nNOkJDsu5I

— Niamh Mannion (@gamebirdFC) February 23, 2016
Toast can be transformed from a quick and easy snack into pure decadence with just a few extra ingredients.
Whisk together an egg and some milk, soak the bread in it and fry it until golden to enjoy what tastes like a little slice of heaven.
You can go that extra mile by serving it with berries and/or honey for the best way to spend any lazy Sunday.
Soldiers
It's an oldie but a goodie, boiled egg and soldiers. Mmm https://t.co/iBpJ3GEcoS #hungover #LazySunday #eggs pic.twitter.com/E5DYBwW47X

— Corrie Heale (@ch_rabbitfood) February 21, 2016
My childhood would not have been childhood without eggy in a cup and soldiers.
Who knew cutting a piece of toast into fingers and dipping them into a runny boiled egg could be so magical?
Cheese on toast
#NationalToastDay surely gives me the excuse I need for cheese and marmite on toast for dinner. #likeineedanexcuse pic.twitter.com/r7A7oljnZp

— Laura Cremona (@laura_cremona) February 23, 2016
After news today that cheese stimulates the same part of the brain as drugs, it is no surprise this incredible pairing is the king of all toasts.
I don't think I could trust a person who doesn't like cheese on toast. It is the ultimate comfort food.
Watching the cheese bubble away before you take it out the oven, adding a dash of Worcestershire sauce when you're feeling a bit adventurous – what's not to love?
P.S. A special mention goes to Jesus toast, the Holy Grail of toast, if you are religiously inclined.
#IOnlyDidItCos the Jesus toast told me to pic.twitter.com/oJ2rSTfchN

— Ben Evans (@BenMeerkat) August 27, 2015
Image courtesy of Ozzy Delaney, with thanks.