A 21-year-old who survived a tumour the size of a tennis ball being removed from his head is undertaking a gruelling fundraising programme to commemorate 10 years since his life-saving surgery.
Duncan McCombe, from Bramhall, is organising challenges from March-December to mark the Royal Manchester Children's Hospital's timely intervention when he was just 12.
Following three operations he made a full recovery in 10 months – including 28 days in post-surgery care – and is using fundraising events, in which he hopes to reach £10k, as a way to give back to the hospital that saved his life.
Duncan told MM: "I don't want this to be about me. I want this to be about community and people.
"I'll forever be grateful to the incredible staff at the Children's Hospital. Without them I wouldn't be here today, so my respect and admiration for the work they do is on another level.
"I'm a huge advocate of the NHS—I know better than anyone that you may end up needing hospital services when you least expect it and we are incredibly lucky to have such a wonderful hospital on our doorstep in Manchester."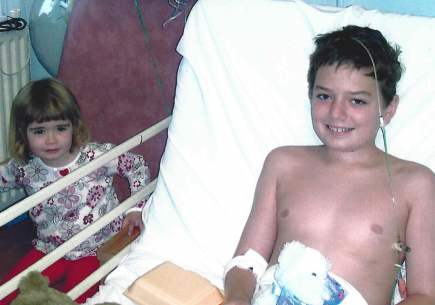 TRUE GRIT: Duncan all smiles after his operation nearly a decade ago. Now he hopes to abseil 240ft! 
To kick-off his 10-month fundraising excursion, Duncan's first successful challenge was the Wilmslow half marathon last Sunday.
The next events lined up include the Stirling Scottish Marathon, the Great Manchester Run, a 240ft abseil and the Tough Mudder.
All nominations—the more daring the better—are welcomed endeavours as he strives to test his limits above and beyond the 10 km runs he has fundraised for in the past.
If anyone wishes to take part in the challenges themselves, they can nominate something more to their skill set and complete it alongside Duncan.
Duncan hopes to be a positive icon to other young cancer survivors.
He told MM: "There is a life after cancer and you've got to have a positive mind set to get through it. Hopefully I can be an inspiration in a small way to young people and parents."
To join Duncan's ambitious journey of overcoming the odds and finding purpose after cancer treatment, visit Twitter, Snapchat or Instagram to follow his progress and submit a challenge for him to tackle.