Over 80% of businesses in Media City have ditched plastic straws, according to a new survey. 
Local campaign group SeaStraw are determined to help Greater Manchester achieve its pledge to become free from single-use plastic by 2020.
SeaStraw volunteers recently surveyed 200 bars, pubs and restaurants around the city to see how many establishments still hand out plastic straws – and the results are promising.
Media City tops the list with 82% of businesses moving away from plastic straws to more sustainable alternatives.
"I was surprised by the results but thinking about it, it makes a lot of sense," Doug Robertson, co-founder of SeaStraw, told MM.
"There are lots of savvy people in Media City who are quite close to the story and they seem to be aware of their responsibility to direct the story to everybody else.
"The effort made to avoid single-use plastic here was really striking," he said.
Jo Holden, Sustainability Manager at Peel L&P, said: "Our progress on sustainability is moving from strength to strength and this news from MediaCityUK is fantastic to hear.
"Over 90% of Peel L&P employees think it is important to remove unnecessary single-use plastics from our business so we will continue to raise awareness as well as facilitating litter picking with the MediaCityUK community to make a difference around the quays," she said.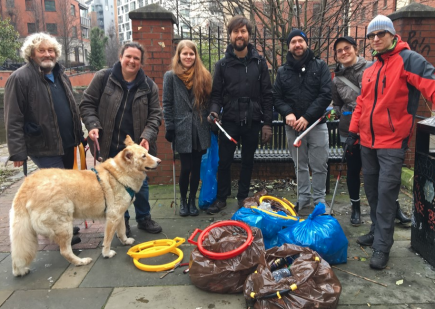 MAKING A DIFFERENCE: SeaStraw's litter-picking squad in action (image courtesy of SeaStraw, with thanks)
The Salford area is closely followed by the Northern Quarter with 72% and Urmston comes at the bottom of the survey with 50% of businesses switching out their straws. Other areas surveyed include West Didsbury (66%), Didsbury (62%) and Chorlton (61%). The survey uses straws as an indicator of the general plastic usage in the establishments.
In the 18 months since SeaStraw was launched, Robertson believes awareness about plastic pollution has grown in the hospitality sector.
"There is still some uncertainty about what the options are and how they can move away from plastic but a lot of businesses are getting on board and it seems to be understood as a topic of concern," he said.
The encouraging results follow a recent study that revealed more than a third of the North West (39%) have stopped using plastic cups and straws to be more eco-friendly.
By pledging to give up plastic items such as straws, food trays and cups, businesses can become an 'Ocean Hero' – SeaStraw's name for the 160 companies currently signed up.
Each business receives a certificate and help sourcing sustainable alternatives, including compostable straws and the Manchester Bee paper straw.
"Our role is providing both the carrot and stick. We want to be the positive voice for change so we're giving advice and providing alternative product suggestions," Robertson said.
"We're giving them an ability to shine a light on the extra effort they are making."
One of these 'Ocean Heroes' is Lime Bar and Restaurant in the Media City area.
"We're really happy to be part of a movement championing change for the better, especially when it involves environmental concern," Randal Rigby, General Manager of Lime, told MM.
"Not only do we feel proud for contributing towards change, but customers also appreciate it, with many commenting that nowadays they'll refuse to drink from a plastic straw," he said.
As a group of professional scuba divers and underwater photographers, the co-founders of SeaStraw have first-hand experience of plastic pollution and its devastating impact on marine life.
Alongside their regular surveys, the group of around 30 volunteers organise litter-picks and deliver talks to young people about the ocean.
"I feel so responsible that we've left it to this generation of young people to deal with the problems we've left behind – both in terms of the carbon emissions we've used and also the plastic we have left on the planet," Robertson said.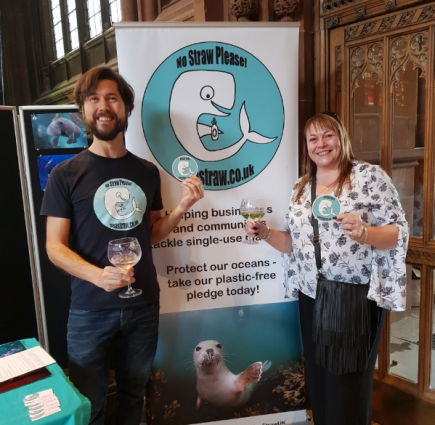 PROMISING FUTURE: SeaStraw recently surveyed 200 venues in Manchester about plastic straws use – Media City came top with number of establishments to have ditched them
SeaStraw are aiming for a multi-pronged attack on the plastic problem in Manchester. As well as encouraging change on an individual level, the group are putting pressure on businesses and local government to take action.
"We can tell them that we care and don't want to see unnecessary plastic used frivolously," Robertson said.
"There needs to be systematic change towards not seeing things as throwaway and ending this culture of lazy convenience.
"We didn't have a throwaway culture thirty years ago – we have made this culture and we need to unmake it."
SeaStraw volunteers will be surveying other areas of Manchester soon – you can join them here.