It's the morning of the biggest day of your life.
The day you've been planning since you were a little girl.
The cake and canapé's have been ordered, the fresh flowers have arrived and the dress – and person – of your dreams is ready and waiting.
Everything from the decor to the DJ has been taken care of and there's not a single detail you've not planned to perfection.
You've got something old, something new, something borrowed and something oh no… red and huge and enormous right on the end of your nose. No, no, no – a spot. This was in no way part of any plan.
But before you spiral into an emotional breakdown – here's some wise words from one of Manchester's most established make-up artist, who will be on hand at the North West Wedding Fair at EventCity this weekend.


SLAP HAPPY: Laura Mayers has plenty of make-up advice for brides (©makeup1hair via YouTube with thanks)
With more than 20 years' experience in the industry, Laura Mayers and her Bridal Make-up Team have spent decades beautifying brides on their big day and there's nothing they can't handle:
"I have actually arrived to a bride with a black eye before," said Laura, "As a professional make-up artist, I always carry camouflage make up with me and I have every concealer and correction product under the sun so there's nothing usually that I can't help cover up.
"Cold sores are quite difficult to deal with but a professional make-up artist should have all the products with her to help you deal with any bad situations like that.
"Quite often I arrive on the morning and brides have red skin where they've had their eyebrows waxed the night before. That is definitely something to avoid. Always ensure you have any waxing done a couple of days before so that the skin has time to recover."
Laura will be on-hand to provide top tips at the Wedding Fair at Manchester's EventCity this weekend.
And MM readers can get a third off ticket prices when they book online by using the discount code: NW73. Click here to take advantage of this offer.
When it comes to planning your bridal beauty regime, Laura stresses it's important to get your treatments in early to leave room to deal with any nightmares.
She said: "If you're going to have false eyelashes put on make sure you get them done a couple of days before and not the night before in case you wake up and decide you hate them and then you can't get them off without pulling your own off with them.
"If you're going to have a spray tan, I would absolutely recommend you have a trial a couple of weeks before the wedding. It's a good idea to have it before you have your make-up trial done as well so you can choose the right shades."
So you've matched you're perfectly prepped skin to the perfect foundation, eye shadow and blusher now it's time to slap it on.
But Laura says less is more on the big day: "The main secret is don't put on too much. You don't have to absolutely pile it on for it to look good on the photographs," she said.
"It's about the application quite often. If you apply foundation with a brush it tends to stay on a lot better than it would if you used your fingers.
"Avoid using lots of moisturiser because that tends to make the skin quite greasy and then often the foundation begins to slip."
Keeping your make-up in place is a tough task if you're prone to welling up mid-ceremony.
But Laura says soft layers of foundation and powder will ensure you're looking picture perfect in every shot.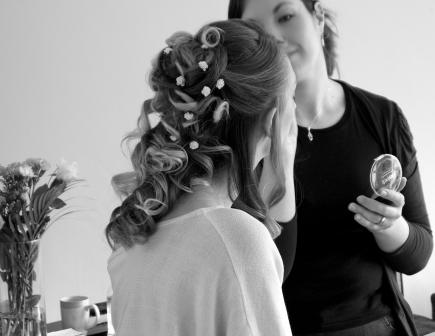 FINISHING TOUCHES: Last-minute lippy is all-important (©Kate Hiscock via YouTube with thanks)
With all the meeting and greeting guests and the smooching with your newly-married squeeze, the same can't be said for your lippy:
"It's quite difficult when it comes to lipstick actually because most bride's want a natural looking soft lip so you don't want to be applying too much product," she said.
"Your lipstick is probably the one thing that you can't guarantee is going to stay in place all day because you're going to be eating and drinking so make sure you find out what lipstick your make-up artist is going to be using and then keep it handy so you can top it up throughout the day."
But if you're not a lipstick lover you can always opt for a sheer, nude gloss and experiment with eye shadows and liners to enhance your eyes. 
"Pick one feature that you want to draw attention to so either your eyes or your lips and discuss different options with your make-up artist," said Laura, "To achieve a natural look, it's all about enhancing your features so you still look like you at the end of the application."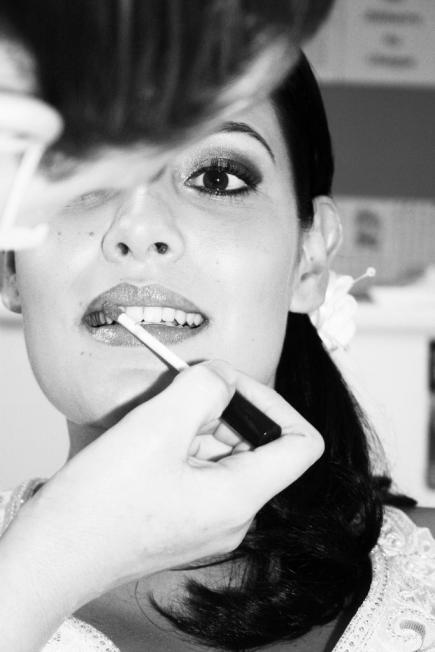 I DO'S AND DON'TS: Getting the best out of your make-up is a great way to have a top day (©Marina Aguiar via YouTube with thanks)
Though it can be easy to get carried away with dreams of perfectly defined brows and smokey eyes that would make a Kardashian jealous, Laura says it's important to remember your usual look because you don't want to get to the altar and be so flawlessly contoured that your other half doesn't recognise you: 
"Avoid anything that's dramatically different from what you're used to because it's important you still look like you," she said, "Do your research and have a search for different looks and then have a chat with your make-up artist and ask her advice and she can guide you a little bit."
It's not difficult for brides to become overwhelmed with the amount of potions and products on offer – but Laura says the beauty of having a make-up artist means she can carefully select what's right for you:
"We know the products because we use them every day," she said.
"Established brands are good because you know what you're getting but often we carry industry products that you might not have heard of so trust your make-up artist.
"At the end of the day, we want to leave knowing that we've done a good job and that you feel happy and confident walking down that aisle.
"Prep and Prime by Illamasqua is my favourite Primer and MAC do really good eye shadow. Bobby Brown lipstick is very sheer and they have some really beautiful colours. I love Max Factor mascara."
And Laura has a final top tip for ladies who get a touch emotional when they say 'I do'.
"Always use waterproof mascara – you might not want to use it day to day but it really is essential on your wedding day – for you and the entire bridal party."
Especially when everybody sees how flawlessly beautiful you look – there won't be a single dry eye in the chapel. 
Laura Mayers and The Bridal Make-up Team will be at The Wedding Fair in Manchester on September 26–28 at EventCity. For more information, visit their website.
And MM readers can get a third off ticket prices when they book online by using the discount code: NW73. Click here to take advantage of this offer.
Main image courtesy of Luke Chan with thanks