UK Battle Rap is in a peculiar place right now within its history.
The community has splintered into separate leagues that are now gearing against each other like a hip hop Game of Thrones.
The answer to who will win hangs in the balance of internet views, likes and shares.
Like Brexit, nobody knows how it's going to turn out.
Already flagging on views, battle rap burned itself when the biggest league Don't Flop (DF) internally fell apart, with staff members quitting the company.
In its stead, the new leagues that have risen out of the ashes are Premier Battles, Code Red, Chalked Out and Dub Scandal. With King of The Ronalds, the rawer sister league to Don't Flop, shutting down shop in 2019.
Seeking to take the mantle of definitive UK Battle Rap League, Manchester based Premier Battles is preparing to put on their biggest event yet with a whole card of international match-ups with their "Allstar Game" – which is set to be the biggest event of the year.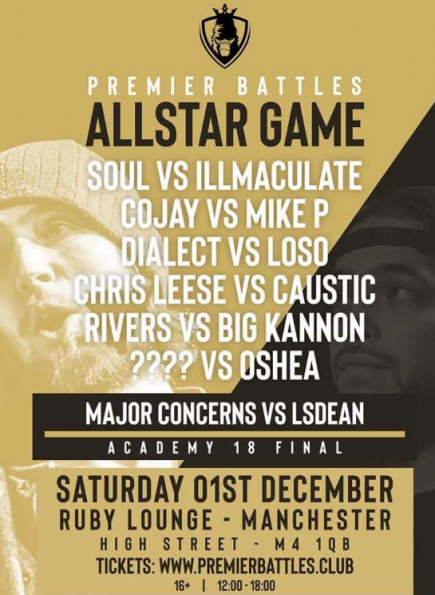 Explaining the concept of Premier Battles (PB), the Manchester based football-team-themed-battle-rap-league, presents its difficulties. The concept is like a DF April Fools event idea that has just been let loose to flourish.
The basic concept of battle rap is when two rappers face off each other in a ring and attempt to out-rap each-other. It's like a straightforward boxing match: There are punches that hit and miss like an angle or a jibe at the opponent's expense.
Whereas PB owners Louis "Briggzy" Briggs (below left) and Adam "Shotty Horroh" Rooney (below right) have applied the sports concept in to a whole new dimension. It's like a fusion dish for people who like football and battle rap.
In this league, there are five teams of rappers. Battlers win points for their teams when they win their battles and the team go up in the league table, like in a football league. It all gets quite complicated but it works and it actually breeds the necessary football fan mentality to their events.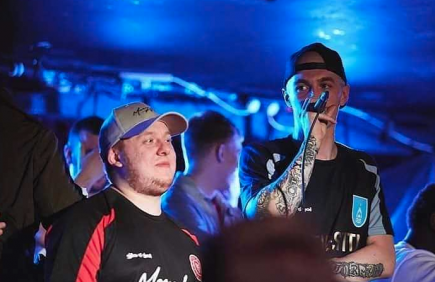 (Image courtesy of Jordan MacGee, with thanks.)
Briggzy explained his thinking behind introducing this new dimension to battle: "The standard format of battle rap is: everyone is hot and cold. So you can have someone who does two or three good battles and they get a really big fan-base. Then they might do two or three bad ones and no-one cares about them again. Whereas this makes you invest emotionally (and financially, if you're buying the jersey I suppose) into a team."
Briggzy has a business acumen which he has maintained since selling sweets at school when he was young. Therefore, the Mancunian league have put together a strategic five-year-plan with ambitions of franchising out in Toronto as the next move. He wants to step away from the Pride team (which he manages) and take a backseat, with plans to put rapper Blodstro in place as an event manager.
At their high quality events, you'll see fans scattered around the venue in squad jerseys and scarfs – pint in hand and a vape in the other. When introducing the battles, you'll find Shotty Horroh beginning a chant which the fans will join in with gleefully.
The atmosphere is generally friendly and there's a buzz that surrounds the battles but at the heart of battle rap remains a grudge sport.
This became awfully clear at the last event, when the two top teams Pride and Sharks collided as they were fighting for the trophy. By the end of the final season event "Match Day 5", the football fan mentality had come to a head.
The battlers on each team, stood on either side of the stage behind each of their players, interrupting the battles and getting quite aggressive with each-other. This resulted in an already heated grudge match, Cojay vs Raptor having to be shut down.
"It's something we've got to learn going forward that we keep the stage absolutely minimum with who has access to it," admitted Briggzy.
"It's our first year, we've got to find the balance of what works and what doesn't.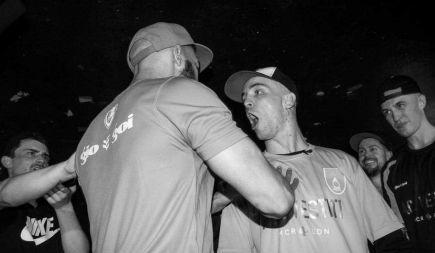 (Image courtesy of John Bolloten, with thanks.)
"At the end of the day we are an entertainment platform and before the Raptor and Cojay thing happened, me and Shotty went and stood with them and went 'Look, we know you don't like each other. Sell this battle, keep it to a level of professional but sell this battle.' 
"They did that at the start but it just boiled over to the point where it was uncontrollable. But you look at Conor McGregor and he's the best at the world at selling a fight and I think that's what battling is missing at the minute.
"This was the first grudge match that I've booked for the past six years. We knew it could have been tense, we knew it could go south at any point but we made sure we had security in the venue that stepped in when they did."
Indeed, the fracas onstage was thrilling. Battle rap is an art form where the entertainment lies in the live-action result, no matter which way the battle goes. It's a competitive sport that can tumultuous at any moment.
Don't Flop owner Rowan "Eurgh" Faife, said: "There's something special about it [battle rap]. The reason people will pay to come and see it – is because they know this is it. If someone chokes in round two or someone gets bodied in round three or whatever, this is the only time that's ever going to happen.
"This beef today is settled and it's never going to happen again. I think that creates a kind of magic. If you're not a fan of battle rap it means nothing to you – but if you're a battle rap fan, whatever might happen at the event could happen and when that gets talked about for the next four or five weeks you can say 'I was fucking there!'"
Behind the scenes, the grudge it still very much alive between the key players. Briggzy was a key member of Eurgh's DF team before it fell apart, deciding to quit the league when other members of the staff experienced disagreements over payment with the league owner.
"Me and Don't Flop are done," said Briggzy, bereft by the subject. "I've said this numerous times. My issue with Rowan, it was business, I didn't fall out with Rowan over nothing personal. If I bump in to him in the street, I'm not going to start fighting him.
"I left Don't Flop after Revival 7. It was a disagreement we had over that booking. I was contracted to Revival 9 pretty much, so I'd already put them in place. I said after Revival 9, I'm done. After a couple of months, everything came out how it did. I've just got no interest.
"I've seen a couple pot shots here and there at Premier Battles and stuff. He jumped on a podcast calling Shotty a snake and he don't owe Cruger nothing. I'm not in to that. It is what it is. Good luck to Don't Flop."
After being pushed on the topic, Briggzy conceded: "I'd battle Eurgh just for the fucking promotion. Yeah, I mean if he wanted to do it, I'd do it – but I don't think he would.
"I'm pretty much done with the battle side of it myself, I only did the Zen battle because I didn't have anyone else to put in for it. I didn't want to use one of the loans that we had so I just dived in. I've go no interest in working for Don't Flop, I don't really know what their plans are. It doesn't even look like they've got a strategic plan of what they're doing. Their releases are scattered. Rowan's still got Revival 9, 8 and some of Revival 7 footage that's not even come out and it's nearly two years old now."
In response to Briggzy's comments, Eurgh said: "It's a sad state of affairs what they've tried to do and how they've tried to paint me out and how poorly executed everything they've done has been and how amazing shit we did together was and how amazing shit that we could do together would have been – but obviously it would never happen anymore because anyone associated with them would be the last people I would ever work with.
"Just lyrically on a bars level: I've had classics. Briggzy has had no classics. He would only want to battle me to try to prove a point to a forum and everybody knows that my whole attitude is 'fuck the forums.' I live in the real world, I do real events with real battle rappers and actual fans. I live out of the forums and Briggzy, if he did ever battle me, it would be to get likes on a forum and that's just not what I do. I'm not fucking, I'm not about that. I'm about real life interactions, real life business."
In regards to the current state of battle rap and the efforts made by other leagues such as PB, Chalked Out, Code Red and Dub Scandals, Eurgh had a contrasting view to Briggzy.
"My view on the current state of battle rap is that it needs a revamp. I'm going to be the one that does it, like I was the one that did it before and I was the one that did it before that and I'm going to be the one that does it again because I've got a good team of people around me that are ready to change the fucking game and we all have the same goals. Over the next six to 12 months, we're going to give it the revamp it needs and we hope that people are on board.
"Battle rap needs a revamp because it has gone stale, because too many people have been allowed to just jump on the mic and the camera that wouldn't have been allowed five years ago.
"I took like nine/ten months out of the scene and in that nine/ten months I feel like the door was just left wide open for fucking every Tom, Dick and Harry to jump in to battle rap and give it a go. Everyone seems to have given battle rap a go now: as a promoter or a battler, or whatever. It feels like no one is a fan anymore, it used to be everyone wanted to be a fan and come to the events to just have a good time. We're trying to put a stop to that. We're trying to bring back the idea of the fans just being fans and having a great time and the battlers actually being real 'real-life' rappers and coming fully prepared and fully ready to rap."
Judging from the meagre views that these leagues have accumulated in the time that DF have stopped doing full-scale events, Eurgh has a point.
The highest viewed UK vs UK battle on a UK channel this year was King of The Ronalds' Bilzar vs Bobby Rex, with only 42,000 views. It's an astonishing fall from the battle rap golden era, where mid-tier battles would usually expect to his at least 100,000 views.
King Of The Ronalds (KOTR) was another league birthed from a grudge, in 2013 it was set up as almost protest league to DF by Eurgh's scorned friend Micky Worthless. Matthew "Bowski" Sharpe, who also had a fall-out with Eurgh, joined him nine months later.
Bowski said: "In 2013, an average shitty battle would get 30,000 views (This is on DF obviously) – something like Mr Tongue Twister vs Soljitsu. A good battle – say Oshea vs Soul or something like that would get 200/300,000. An international battle would get a million even two million, some of the big ones. Nowadays, a good battle on these leagues gets 4/5,000 views. Even on DF recently.
"The scene has just dried out effectively over the past year.
"The views are back to what they were pre-2011 when a general battle would get about 4,000. We've gone back about seven years."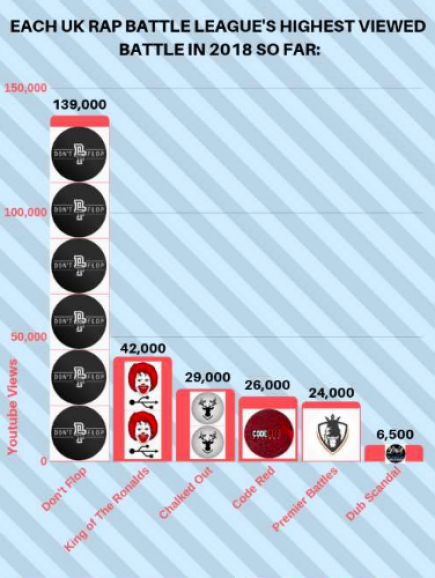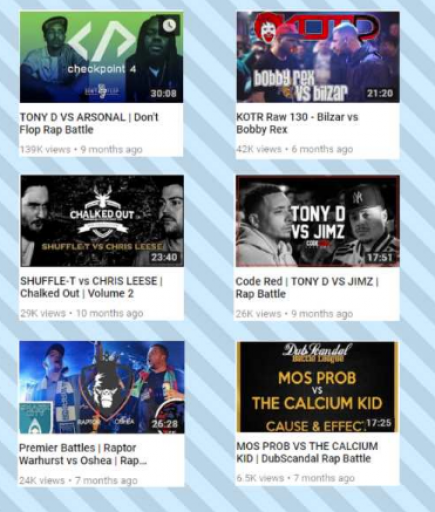 Bowski and Micky Worthless have reconciled with Eurgh, putting personal problems aside and headlining the DF "Unibruv Tour" – the name being a dig at Unilad, where Eurgh's disgruntled ex-staff members now work. The idea for the name came from Micky, who was notorious for setting up events which trolled Eurgh in the past.
"Don't Flop are trying to do different things," claimed Bowski. "With the Unibruv tour, they're bringing in new fans.  In Shrewsbury their going to have some of the local MC rappers who are going to battle established battlers.
"Don't Flop are trying to look at other avenues and other options, because Eurgh's always been able to do that.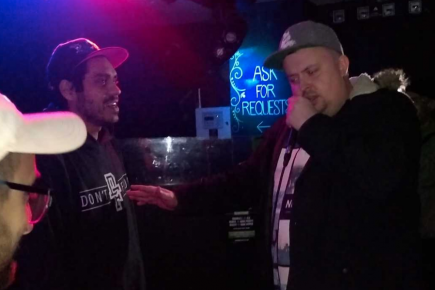 Bowski believes that the right way to accumulating more views and encourage new fans to join is that a "less is more" approach should be the direction that UK battle rap takes and concedes that KOTR are partly to blame for putting on some duff battles to fill a card.
"It's over saturated, there's too many cooks in the kitchen. I feel personally you should have maybe one or two big leagues and one small league, that would be enough. Then you can have a league in Scotland and league in Wales blah blah blah. You could have: Dub Scandal as a league for try-outs and newcomers; Premier Battles doing the team based league with Shotty and Briggzy; and then you could have Don't Flop doing what Don't Flop do, just having random big events and doing other stuff. Your Code Reds and your Chalked Outs are just adding – I don't know, I don't know about them really."
At the last PB event, Shotty took to the stage at the end of the event and announced that "battle rap is in a shit place right now." The sentiment he expressed was for fans to stick with it and to keep supporting the scene through these hard times.
Briggzy said: "The thing that is keeping me going with battle rap is: I don't feel like we can just leave it.
"We need to realise the scene isn't where it was and we all have to graft to get it back there. How we do that? No idea.
"We've got an idea next year for Premier Battles. We're going to try and keep the same format but we're going to try and switch up things a bit.
"It's people like Major Concerns who has just come out of nowhere, there is still talent to find and I think we'd be doing a disservice if we just packed up and left that sort of talent untouched. We've got an idea of how we can sort of develop these people. We want to do that."
With international stars of battle rap such as Illmaculate, Mike P and Big Kannon travelling over for the "Allstar Game" to clash with some of UK's finest battlers, PB will be expected to hit those higher views that will cement them as DF's main challenger.
The event takes place on December 1 at The Ruby Lounge in Manchester and tickets are available here.
Main image courtesy of Dan Low, with thanks.