Lifeshare is Manchester's oldest homeless charity, having been in operation since 1984 when it was set up by a group of volunteers because of the growing numbers of rough sleepers and the seeming indifference to doing anything about it.
Year on year, Lifeshare has helped thousands of people into safe accommodation, clean clothes, warm food, and a chance to get out of the cycle that so many rough sleepers find themselves trapped in.
This year, their Christmas project aims to tackle one of the most severe challenges for rough sleepers during the winter months – Manchester weather.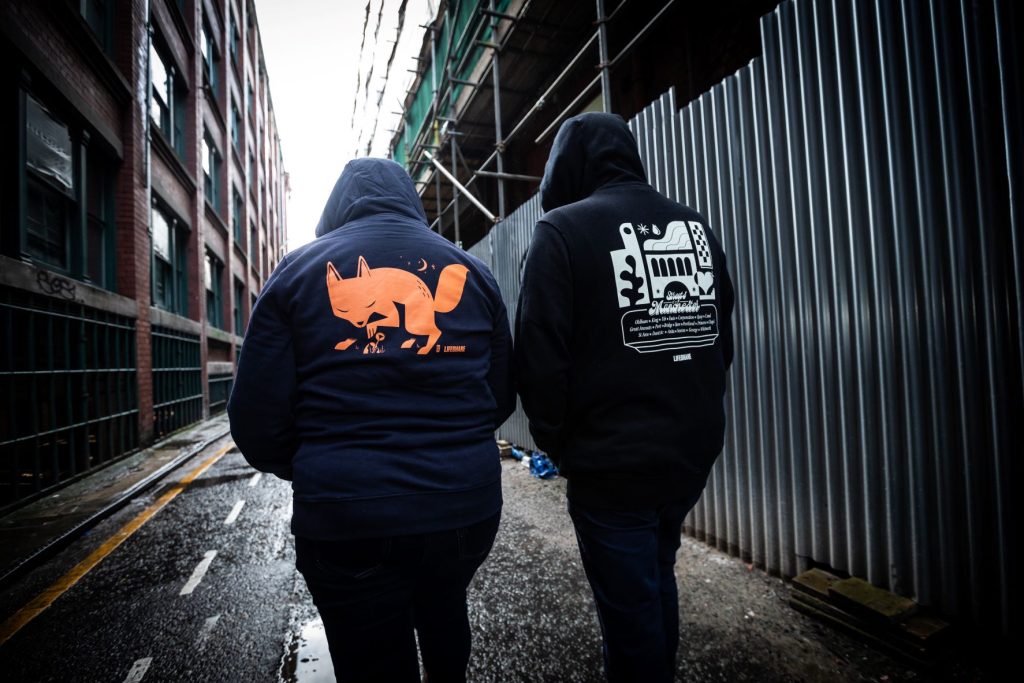 Lifeshare is selling premium hoodies with designs from artists around Manchester, and for every hoodie sold, another is given to someone sleeping rough.
The project began in early November and by the end of the month they had already sold 131 hoodies, with most customers also paying an extra £5 for a matching pair of tracksuit bottoms.
For many rough sleepers, the importance of a brand new piece of clothing is not just about practicality. Judy Vickers, Lifeshare's Operations Manager, explains: "I think it is very significant, not just for the for the warmth value of it, it's for the fact that knowing that somebody cared enough to actually buy an item to make sure that you've got a Christmas present as well.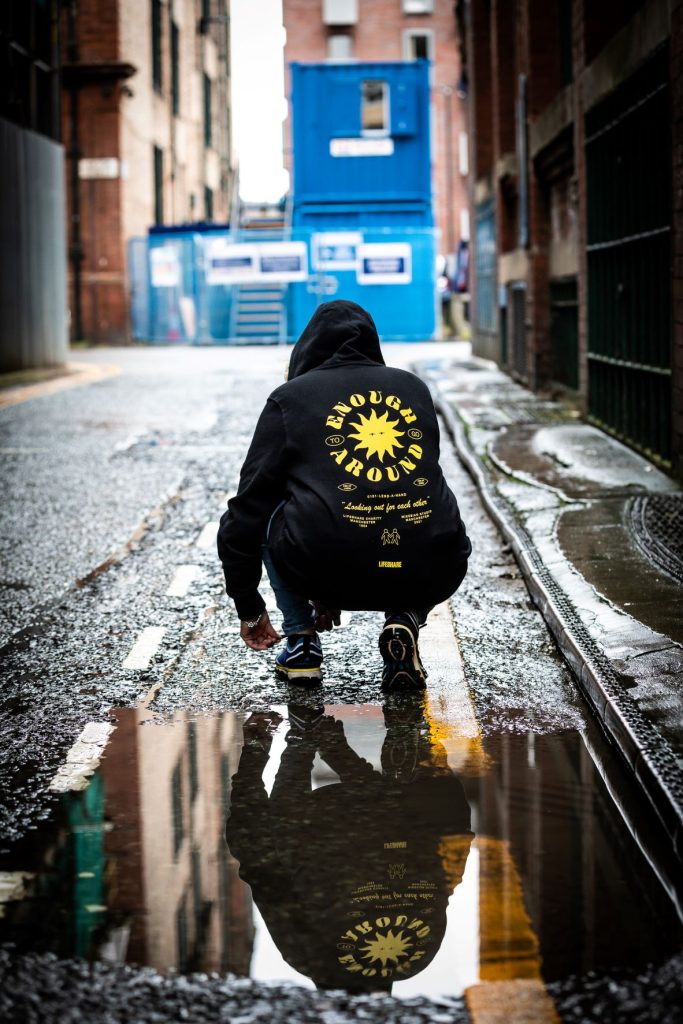 "It's also giving somebody a bit more self-respect, feeling clean, feeling tidy, having their hair cut.
"It's just giving somebody a little bit more confidence, as well as that feeling that they are cared for."
As well as providing a hoodie to someone in need, the remaining funds will be used to provide meals, toiletries and cleaning facilities, health checks, and hair cuts over the winter period.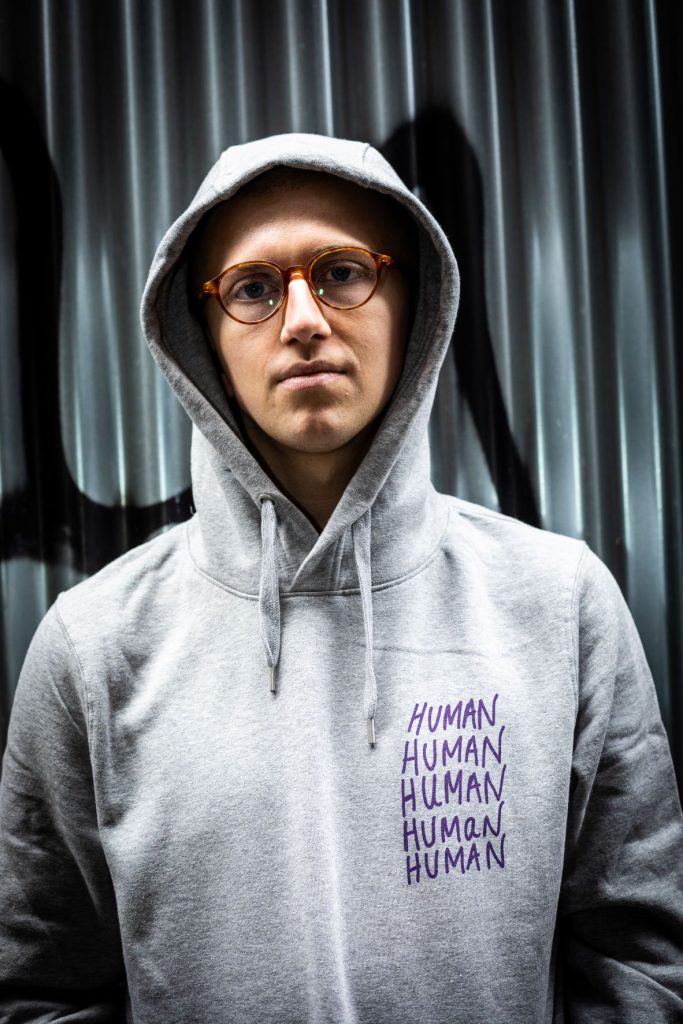 Of course this Christmas and the last have had their own challenges on top of the typical ones.
COVID Complications
COVID-19 has produced the additional challenge of preventing infection – all services Lifeshare has provided for the past year have had to be compliant with regulations – meaning that donations of secondhand clothes can be troublesome.
Judy continued: "Before, we couldn't take donations of clothing because of COVID, so we thought if new restrictions come in we're going to need to be able to give new items out, not something that's been freshly laundered, so we know that it's infection free."
Under normal circumstances, Lifeshare have organised Christmas markets that showcase local artists, the proceeds going towards their Christmas Provision, but social distancing and lockdowns meant in 2020 the market had to go virtual.
In 2021, with the possibility that infections may rise again, Lifeshare contacted the many talented artists they'd worked with before and asked if they'd be interested in designing a hoodie for the project.
Judy continued: "They were very keen; as soon as we put the call out, they were right on it. Right away started working on the designs."
The four designs are created by Guy Mckinley, Emma Evans, Mikesian Studios, and Han Valentine.
COVID has made put barriers up for many of us, but for those in the difficult position of living on the streets it has only added to their struggle.
In Lifeshare's 35 years of working in Manchester they've learnt and developed solutions to help people – no matter their situation.
E-Learning and Education Initiatives
There are many aspects of homelessness which are not immediately apparent that can keep people on the streets despite their best efforts.
One of these is the lack of access to digital resources, something Lifeshare combats through their E-learning initiative and digital skills courses.
This can be something as simple as providing someone with a mobile phone or device that can access the internet.
Judy explained: "Some people say to me 'What are doing giving devices to homeless people? They haven't even got a home, so why are you bothering about that?'
"We had the benefit reform…everything was becoming a digital platform. You've got to log on to Universal Credit, you've got to update your journal.
"So if you've got no access to a device, how do you do that?
"We don't just give them a device, we've got a map that maps out all the free Wi-Fi zones in the city, so that a person can go and log on to that free Wi-Fi, be included in that society, do the Universal Credit, bid on a house.
"Whether we like it or not, it's a digital high street. Just teaching those skills to our young people is really important."
The key barrier to getting out of the cycle of homelessness is the lack of opportunities to resolve repeating issues, Judy said.
She spoke of a young person who had been trafficked to the UK at age 11 and had spent many years on the streets.
Now, because of the chance at an education and the resources he was able to get from Lifeshare, he's gained a University degree and is engaged.
Judy was very keen to impart that many people are a lot closer to homelessness than we might realise – whether that be because of in-work poverty, or just an unexpected accident or tragedy that can up-end someone's life.
She said: "You'd be surprised how many men are sleeping in their work vans because they haven't got enough.
"You might have – you just had a breakdown in the relationship, nine times out of ten the man leaves the family home.
"They may still be paying maintenance for the children, so to actually get that month advance rent and deposit is very difficult."
There are solutions though, empowering people through education, giving them a leg up, is one – the other, Judy says, is stability — which came from a surprising place in 2020.
Stability as Saviour
During the first lockdown in April 2020 hotels and other temporary accommodation was made available for homeless people in Manchester.
Across the pandemic so far, almost 2000 people benefitted from being given a room and regular meals.
Judy said: "COVID in a way showed us what could be done."
When the temperature falls below zero degrees it is a legal obligation of City Councils to provide accommodation to people sleeping rough.
Typically this consists of church halls sleeping dozens of people within the same room in cot beds.
However, because of concerns related to the pandemic, each person was given an individual room.
Judy continued: "At the start of lockdown and they had to utilise hotels, it actually showed what could be done.
"Some people that had been pretty entrenched on street life for many years started to turn their lives around because they were being treated like human beings.
"They were given a room with their own bathroom, and, day by day, you saw those people improve.
"They were given safe, secure, warm accommodation… there were support staff in the hotels and meals were provided, so people were eating on a regular basis."
The stability of a private room and regular meals meant that there was consistency, where previously a homeless person might be relying on several different shelters depending on where had an available bed.
This hasn't gone unnoticed, with the cold weather provision being extended this year until March 2022, offering support services related to mental and physical health as well as food and shelter.
Homelessness is a significant problem for Manchester and Lifeshare is just one of the organisations and initiatives attempting to combat it.
A Remarkable Team doing Remarkable Work
With a team of only 10 paid staff, supported by 450 volunteers this year, Lifeshare more than pulls its weight in offering solutions to stop people suffering and get another chance to be part of society.
Judy herself has sat at a strategic level for Manchester City Council for over 15 years, she's also sits on the Crime and Disorder City Safety Planners Committee, and the Bishop of Manchester's Homeless Partnership Board.
She said: "Because we're so frontline, we usually hear about things that are happening before anybody else is aware of them.
"Lifeshare is about being the voice of the voiceless. We work to break the cycle of homelessness and offending, promote health and reduce harm.
"It's about having that listening ear and non-judgemental approach, a person-centred approach."
You can support Lifeshare's Christmas project by buying a hoodie from their online shop, or you can get involved as a volunteer and be part of the great work they do.