It's the most wonderful time of the beer!
Or at least it is for self-confessed lover of all-things-ale-related and of 'general drunkenness' Ron Pattinson.
A British beer writer and historian based in Amsterdam, Ron has dedicated the last 15 years of his life researching and obsessing over many a beer-related topic.
His extensive knowledge of beer has led to him publishing many books renowned for their single-word titles such as "Porter!", "Mild!" and of course, "Bitter!" alongside a monthly column in Beer Advocate Magazine.
MM recently caught up with Ron to delve into the depths of his beer-illiant mind, talking all-time favourite beers and of course, his experience as a beer fanatic.
"Beer is about to get dead trendy in Britain" said a confident Ron, who is convinced that trends associated with beers and ales are set for exciting changes.   
When asked whether he believed that the 'old man's drink' stereotype often associated with real ales deters youngsters from drinking it, Ron said: "Yes, it's a recurring theme.
"In the 1930's it was porter, in the 1950's Burton Ale. In the 70's mild, in the 1990's bitter – it sadly happens to every type of beer eventually."
He then added: "Only the old gits in the corner are drinking it and the youngsters steer well clear".
Ron, whose favourite beer of all time is Tetley's Mild, declared his love of beer as a direct influence of 'being a sad, lonely git with a tendency to over-obsess in interests and my general love of drunkenness.'
He recently visited Manchester's Beermoth, where he was invited to 'natter aimlessly about Brettanomyces in British Beer.'
Upon his return home, Ron blogged about his visit reporting that his lecture went down well, before adding: "As did the Boddie's Mild."
Well, it would be ale-mannered to visit a beer shop without drinking beer!
Ron's visit to lively Manchester seems to have been a success.
He blogged about his fascination towards the response of the Beermoth crowd, reporting that the question-and-answer session following his 'bullshitting' was filled with wonderful intrigue.
MM was curious about the research Ron had conducted, and he was kind enough to provide us with some interesting facts.
He claims that his most fascinating discovery as a result of his meticulous research is that 'Mild could be 10% ABV'.
He also told MM that he was particularly fascinated by the changing colour of the different styles of beer throughout history.
Despite his belief that many youngsters tag an outdated label on some beers and ales, Ron said: "It's a shame if youngsters never get to experience what is unique about British Beer.
"It's a wonderful tradition, I go to the US regularly and there I see much more enthusiasm for good beer in general. Fashionable beer places over there are full of under 30's which will soon happen in Britain."
Ron's faith in the rising popularity of beer in the UK comes as a result of his scrutiny into the ages of customers in London bars amongst other places across Britain.
Given the sheer sophistication of his palate, you may expect that Ron is very particular about what he looks for in a good beer or ale.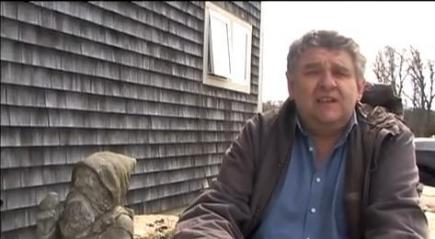 BEER MAD: Ron Pattinson loves all things ale (Image courtesy of Jim Barnes via YouTube, with thanks)
In fact, Ron simply seeks something that he enjoys drinking.
"It doesn't have to sledgehammer with flavour, intensity doesn't necessarily equal complexity" said the beer connoisseur.
But whilst Ron loves to indulge in the bliss of a delightful beer, he emphasised the importance of choosing the right drink for the suitable circumstances.
"While I love an imperial stout in the right circumstances, an imperial pint of Storm King half way into an afternoon Manhattan pub crawl was definitely not the right circumstances," he said.
"Often a simple but tasty beer is more what I want.
"An Augusiner Helles –or two- drawn straight from a wooden barrel in the Nürnberger Bratwurstglöckl in Munich was one of the best beers I had in 2013, uncomplicated but deeply satisfying."
He proudly told MM that he drank the first half litre in 'three effortless gulps.'
But beer's not all about being bitter -there are some light-hearted beers which Ron finds more than mild-ly amusing.
"Mercer's Meat Stout and Slag Pils are amongst the funniest, most unique names of beers and ales" said Ron.
Whilst Ron is partial to his personal favourites, he believes that people should drink what they enjoy.
"I'm not going to tell anyone what to drink, my scars bear witness to the failure of that approach.
"All I would say is to be open to new experiences, to try new stuff and see what you like" he said.
At MM we were interested to hear Ron's thoughts on the 'penny off a pint' ruling at the 2014 Budget.
"I don't think this is nearly enough of a cut. Compare it to the budget in 1923 that knocked one old penny off a pint.
"In a time when mild was 6d a pint, best mild 7d, Bitter 8d and best bitter 9d, it was a far bigger percentage reduction which makes the 2014 cut look a little pathetic" he said.
Ron believes that war and taxation have driven changes in British beer over the last 300 years and that fashion has been nothing more than a mouthy passenger.
Main picture courtesy of Glen Armstrong, with thanks.