A Swinton woman who has lived and breathed the Greater Manchester Fire and Rescue Service for more than 40 years is to receive a Queen's Birthday Honour Award.
Cath Palmer (above left), who worked at the GMFRS for 38 years including a quarter of a century answering emergency calls,  recently received the gong for her persistent hard work there and later with The Fire Fighters Charity.
For Cath it was a labour of love – and still is as when she left she set up the charity to recognise the diligence of the Service and strengthen bonds within the community.
"They always class this as a family business. Well my husband is a retired firefighter, his brother is a retired firefighter, my father in law was a firefighter and Helen our eldest daughter did work for the fire service," she told MM.
"I don't feel like I do that much. I'm honoured to have been recognised, it's a big shock."
Cath recalled starting out with a small team in the 1970s – she took her first call in 1973 – before it grew and grew.
"We were the first control [Greater Manchester County] to become computerised and I stayed there until 1998.
"You get a lot of training.  But it is just a matter of remaining calm.
"It was difficult but it's rewarding when something happens and you save people."
"It was really, really very varied. It was really interesting, you never knew what you were going to do really, it was different each day.
"People think that firefighters just go to fires. They don't realise what goes on behind closed doors. We used to answer the calls and liaise with the police, ambulance and local authority. It was busy but it was good, I used to really enjoy it."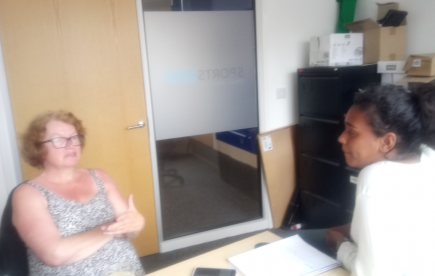 WANTING TO DO MORE: MM's Kalifa chats to Cath Palmer, who has been helping others in the fire service for nearly 45 years
Cath's talent for helping others then took another course after she retired and she's still working tirelessly to provide a welcoming face and voice – she was up in Penrith this week visiting an elderly firefighter's widow where the charity has its headquarters.
"I did build the charity up myself, we did lots but I wanted to do more.
"I read things about widows and retired people and thought 'I've not heard from them for a while'. So I thought 'how are they?'
"It was good we got to know them and went out to visit them. We should do a lot more for old people.
"We've got a widow who we moved up to Penrith because she wanted to live with the fire service community again, she was 80 when we moved her and she's 96 now."
Last year Cath helped to raise more than £2,500 at last year's 999 Emergency Services Open Day – scheduled this year for August 3 – while she has also fundraised on countless weekends.
"All the profits go directly to the Fire Fighters Charity. They run a rehabilitation centre and a recuperation centre and the treatment is amazing.
"They also look at the psychological side and how it has affected you. They look at your body from the top of your toes to your brain.
A message of thanks and a reminder to the UK fire community that we're here for you. pic.twitter.com/8dBT2riNCn

— FireFightersCharity (@firefighters999) June 22, 2017
"They also do a Children's Therapy programme for parents that have disabled children. The whole family goes whilst they do activities with the child. It looks after your whole family.
"I'm very passionate about the charity. As long as I can I want to carry on doing it."
For information on the charity and GMFRS please click on the links below:
The Fire Fighters Charity: https://www.firefighterscharity.org.uk/