For 14 years Neil Woods served as an undercover drug squad officer on the front line of Britain's war on drugs.
Now, he is the chairman of LEAP UK (Law Enforcement Against Prohibition), an organisation campaigning for the complete regulated sale of drugs in Britain.
A report released in August by the Office of National Statistics found that the number of people who were fatally killed as a result of taking illegal drugs reached a record high of 3744 causalities in Britain in 2016.
Synthetic cannabinoids – otherwise known as Spice, a drug notorious within Manchester – contributed to 123 deaths nationwide in 2016 and the problem is only set to get worse according to campaigner Mr Woods.  
He told MM: "There is always new products coming out, there will be more deaths and there will be more harm.
"Since drugs were banned in 1971 in this country, they have got stronger, they have got cheaper and they have got more varied and that is because the market is run by criminals instead of a proper regulated system."
In January this year, Spice was reclassified under the Misuse of Drugs Act 1971 as a Class B controlled substance, making possession punishable for up to five years imprisonment.
However, since the change in the law, there has been a dramatic increase in the number of crimes related to Spice that the police have dealt with.
READ MORE: What is Spice? Everything to know 
In April, Greater Manchester Police attended a reported 58 Spice related incidents in just two days.
According to Mr Woods, this legal reclassification has only propagated the problem, handing the so called 'legal high' market to the illegal drug trade – making Spice stronger, cheaper and more dangerous.
He explained: "In Manchester there has been substantially more calls to service because of the synthetic cannabinoids than before the ban.
"As soon as the market was handed completely towards organised crime, gangsters or even small time drug dealers were able to make as much money as possible.
"They want the best, strongest product, which people want and keep coming back for and they take advantage of the most vulnerable people."
From Mr Woods' perspective, homelessness and the lack of mental health support are fundamentally interlinked with the increased problematic use of Spice in Manchester.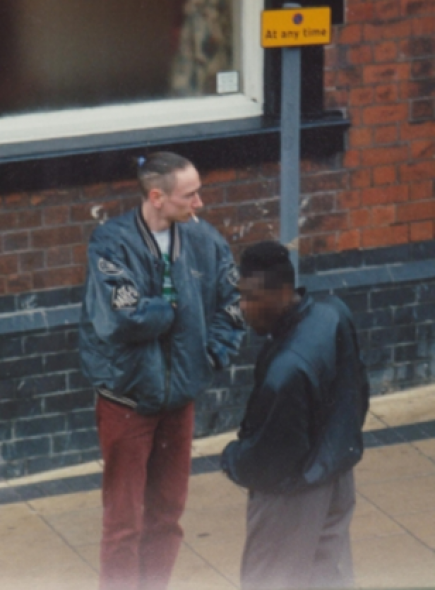 UNDERCOVER: Mr Woods spent 14 years infiltrating Britain's drug gangs
Figures released in January 2017 revealed that homelessness in the Greater Manchester area had risen by 41% over the previous year and had quadrupled since 2010.
Mr Woods feels that the ongoing issue isn't caused by problematic drug use, but it is a significant factor that drives those on our streets into taking drugs such as Spice.
He said: "If I was stuck on the streets I would be getting high because there is a lot of time in the day to kill, feeling you have got nowhere to go to, no connection, no security and you constantly feel vulnerable.
"I've worked among homeless people. I've pretended to be homeless, I can empathise.
"Homeless people are picked on, they are assaulted, and they are pissed on sometimes, so you are going to feel vulnerable, which increases the demand."
Through his work as an undercover drug enforcement officer, Mr Woods is able to sympathise with the perspective of the law as well.
However, he firmly believes that that the war on drugs is an unwinnable war for the authorities.
"There is a lot more money being spent on drugs than on child exploitation or catching paedophiles or sex offenders, there is much more spent on drugs," he explained.
Mr Woods added: "If money was moved away from policing drugs and into helping people that is how you get to the root of the problem.
"Police are already struggling with austerity, they are already struggling with cuts, they are already struggling with morale because they have got too much work to do and they want to be helping people."
Whilst charity organisations such as Street Support Greater Manchester have been set up to help eradicate homelessness by providing practical support to Manchester's rough sleeping community, Spice remains an ever present feature on the city's streets.
However, whilst Mr Woods welcomes the charitable acts of those helping Manchester's most vulnerable citizens, he sees that the only solution to eradicating the problematic use of Spice is through a radical rethink in drug policy within the UK.
He told MM: "If cannabis had been legal twenty years ago, Spice would not have been developed. The genie might be out the bottle now, but you could certainly make quite an impact on the synthetic market by having a regulated cannabis market.
"We need to face the real dangers of drugs and reduce the risk by controlling what is in them. Messages don't save lives or reduce harm.
"The existence of a regulated market would satisfy the needs of the vast majority of people because people would rather go to a licensed outlet where they know exactly what is in it and they know exactly what the dosage is.
"You would take the power away from organised crime because the money disappears."
*Neil Woods will be talking at Texture MCR on Tuesday, 26 September. You can buy tickets HERE.