A group of Manchester ultimate frisbee veterans are bringing their discs to the golf course – and need your help to make their idea fly.
Manchester Disc Golf have teamed up with Trafford Council, Friends of Longford Park and Didsbury Ultimate Frisbee for Amateurs to bring the relatively unknown sport to Manchester at Trafford's Longford Park.
The 18-hole course will be the first course in the North West and the 13th free-to-play permanent course in the UK if the voluntary group can hit their £5,500 funding target in the next four weeks.
Manchester Disc Golf's Steve Senior said: "It's a new sport over here. It's golf with a Frisbee.  But there is not the same barrier of entry – you don't have to buy all the expensive clubs.
"And it's a free-to-play course – you can just turn up and play a game for free."
Trafford Council Greenspace Development Officer Dave Sykes approached the group to help spruce up the abandoned pitch and putt course in Longford Park after hearing about the sport's growth in the USA and thinking it was a 'cool idea'.
While the council continue to maintain the Trafford plot, the fields have remained dormant for a decade.
But Steve, who has been playing ultimate Frisbee for 15 years, insists that disc golf can turn that around and be 'mutually beneficial' in the area as a competitive venue as well as a family favourite.
He said: "There is a league in the UK run by the British Disc Golf Association but it is still pretty small. The intention would be to set up our course as a potential venue for competitions. It would be great to host international level competitions in the future.
"Trafford Council are looking to get more investment to plant more trees and landscape the green fields to bring back the wildlife.  Disc golf is actually a lot kinder to the environment than regular golf because you don't need the same land mass.  It's a mutually beneficial project."
Like 'regular golf', the disc-based iteration involves flinging Frisbees down a fairway before throwing them into baskets.
But players will not need a Happy Gilmore-esque drive off the tee with holes measuring between 20 and 60 metres, making the sport suitable for all ages.
All 18 holes at the Trafford course will be par three, according to Steve, with three permanent holes set up so far and the capacity for six temporary ones.
And to deal with the different types of 'shots', players will have discs of varying distances and types – just like how Rory McIlroy and co have a club for every conceivable situation.
Just two examples of the thousands of disc types on offer are drivers which fly a long way but are hard to aim, and putters, which are softer and don't travel as far but go very straight to make it easier to 'hole out'.
While the sport is relatively unknown in Manchester, Disc Golf has been driving forward in the USA since it was formalised in the 70s.
Now boasting more than 5000 disc golf courses around the world, it is a sport that is fast gaining popularity and one of the many open days that the group have held since April attracted 200 people.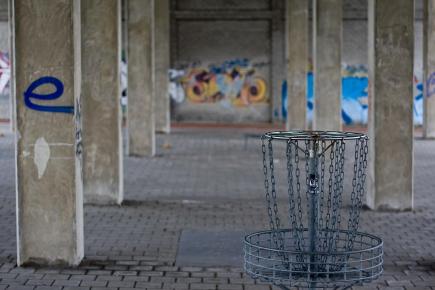 IN-TEE-NATIONAL: Disc golf isn't always played on traditional greens, such as this urban Rotterdam course (© Silvain de Munck, with thanks)
But there are only a handful of permanent facilities in the UK and none in the North West and the sport is not on the same scale as it is in the USA where the top stars are professional.
Steve said: "It's huge in the States and they are starting to have big competitions over there.
"Top pros in disc golf have been earning $70,000 (£43,300) and making a living from it."
While Manchester Disc Golf are unlikely to see those sorts of returns immediately, they are hoping their crowdfunding bid will be a hole-in-one.
The group are also looking to add to their 50-strong army of volunteers to help install tees, baskets and trees at the course.
Alan Heckman, volunteer project co-ordinator, said: "We aren't just building a disc golf course, we're building a community.
"We hope that this project will attract people young and old to use Longford Park, and help everyone develop a feeling of ownership and responsibility for this community space for many years to come."
Free taster sessions will be available for all the family at open days in Longford Park on October 25 and November 8 between 10am-4pm.
Donations can be made here.
Top image courtesy of Giorgio Raffaelli, via Flickr, with thanks