Dame Sarah Storey hopes the inaugural integration of para-cycling into the TISSOT UCI Track World Cup will ensure its regular appearance in the years to come.
The 14-time Paralympic champion is Britain's most decorated para athlete and competed on a landmark night for cycling, with London playing host to the first para events in a World Cup.
The Manchester rider wasn't able to celebrate the occasion with gold however, beaten in the C4-5 500m time trial by fellow Brit Kadeena Cox (above left).
Not that a silver-medal showing could take anything away from the occasion for Storey, who stayed at the Lee Valley VeloPark as part of the presentation team after competing.
"I came here for the experience of this event," she said.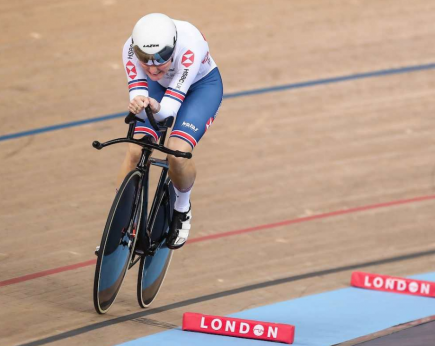 SPEED QUEEN: Dame Sarah on familiar turf at the London Lee Valley VeloPark – where she has competed in the Olympics and Paralympics as well as a Six Day and taking on the hour record
"The 500m is not really my event but it was fun. It's great to get out in front of the home crowd and just have a blast round.
"It's a huge step forward for para sport and I think in the future this will just be normal, no one will say 'Oh the para athletes are here, this is the first time'."
Storey and her son Charlie watched on as her husband Barney took bronze in the tandem event on the same night, and Dame Sarah hopes the occasion inspired both para athletes and women to take up the sport.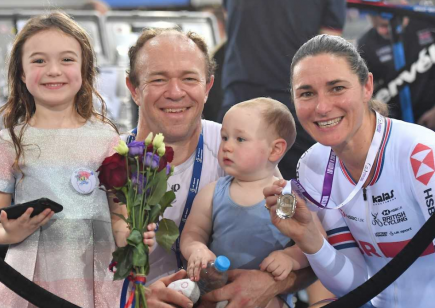 MEDAL WINNERS ARE GRINNERS: Dame Sarah with husband Barney – who took bronze in the men's tandem – and their two kids
"It's so exciting to see so many different athletes here and so many women entering the events as well, we're always trying to get more women on the bikes," she added.
"It's a superb opportunity for the crowd to see what we can do as para athletes and hopefully inspire a few people to try it out for themselves.
"I did the hour record attempt here four years ago and I've done a London Six Day, but the Olympic and Paralympic Games is always the one that you remember the most. It's a superb venue, the crowd is always amazing so it's fantastic to be back.
"My husband Barney only decided to race four weeks ago. So, for us it's been a real big juggling act so that Barney could race, and I could warm up, we could get Charlie his lunch, make sure he's had a nap. It's been a really interesting from our perspective."
The next TISSOT UCI Track Cycling World Cup on UK boards takes place at the Sir Chris Hoy Velodrome in Glasgow from 8-10 November 2019. Sign up now at bit.ly/NextStopGlasgow to access tickets before they go on sale to the general public