Severed baby heads, a bleeding post-op abdomen, rotting mummies and a smirking corpse laid out on a mortuary slab.
It sounds like the stuff of nightmares but this is just a taster of the culinary wizardry German-born cake artist extraordinaire Annabel Lecter (aka Annabel de Vetten) conjures up in her kitchen on a daily basis.
The Birmingham baker who cites horror films and human anatomy as her main influences is now bringing her cadaverous cakes to the North West for the launch of Manchester Metropolitan University's Encountering Corpses art exhibition.
Taboo photos of the dead will be on display for the first time in 17 years at the exhibition from Mancunian Buddhist Sue Fox along with macabre photographer and co-exhibitor Dr Paul Koudounaris.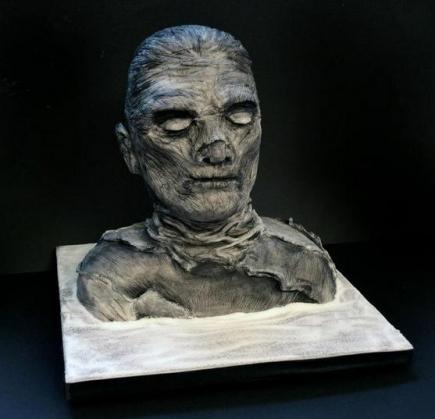 BIZARRE: Boris Karloff as 'The Mummy' from the 1932 horror film
Annabel went to Los Angeles last December and planned to visit Dr Paul's exhibition but missed it by a day and instead met up with the macabre photographer to discuss his work.
"I met up with him – it was quite the experience!" she laughed.
"We went to see the Pasadena Rose Bowl Parade which is made entirely out of natural materials. He said he was doing a show back in Manchester and I said 'you have to have a cake for the opening night!'
"In this business if you don't ask you don't get!"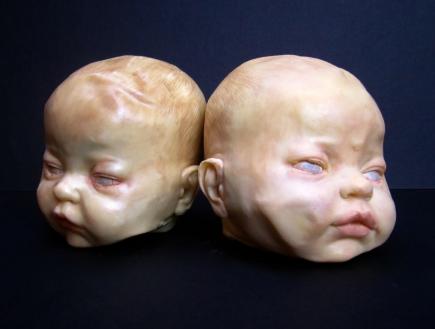 CREEPY: White chocolate baby heads
With the Encountering Corpses commission under her belt the 42-year-old took a trip to Cologne and visited an ossuary featured in Dr Paul's latest book where writing on the wall is spelled out in bones to get inspiration for her commission.
She explained: "The Manchester cake skull will be placed inside a display box and will feature gold leaf, sugar jewels and lace – it's going to be very pretty on the skull."
"In the church there are really ornate jewels and pillows which the skulls are placed on showing there is a beauty in death and that it's not always disturbing.
"It messes with your head as it's very pretty within the theme."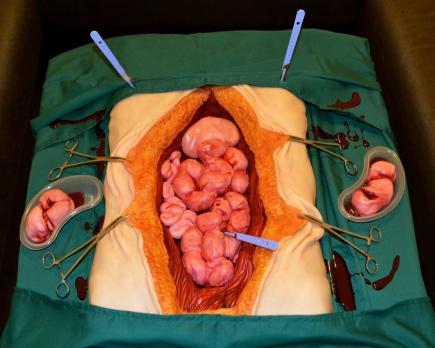 STOMACH-CHURNING: Abdominal surgery… in cake form
Artistic from a young age Annabel came over from Germany to Birmingham to study at art college and did a variety of courses before heading to the University of Wolverhampton where she studied Fine Art specialising in sculpture.
She embarked on a career as a sculpture artist focusing on the natural sciences, in particular nature and human anatomy.
"I started off in taxidermy and it's surprising how much is applicable with cakes. Now I have started creating lots of animals, antlers and skeletons," she said.
"I'm now going back in that direction and have come full circle."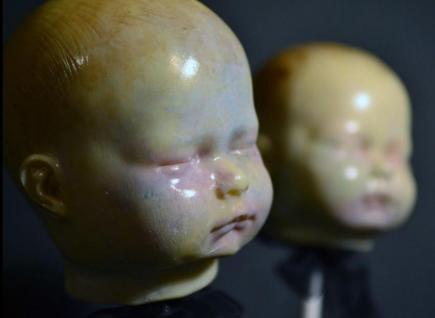 SINISTER: Doll head cake pops
Conjurer's Kitchen was born after Annabel decided to tighten the belt on her wedding budget and make her own magic-themed cake in a nod to husband Thom's career as a magician.
Compliments, quickly followed by orders, started to flood in and it was then that Annabel hung up her sculpting equipment and decided to launch the business from her Kings Heath home.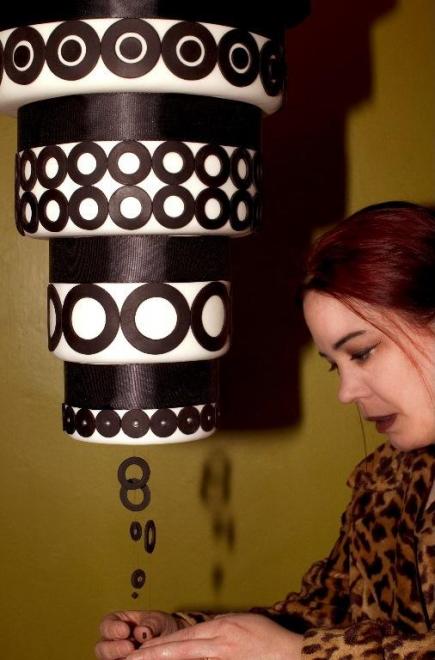 HEAD CONJURER: Annabel de Vetten 
The Frankfurt native explained: "I've done just two or three pretty cakes just to show I can but I chose not to do them regularly as there are lots of people out there that do traditional cakes, they don't have to come to me for that.
"If they want to have something really weird then you come to me. I think it's my background; if I did just pretty cakes my friends would think there was something wrong with me!"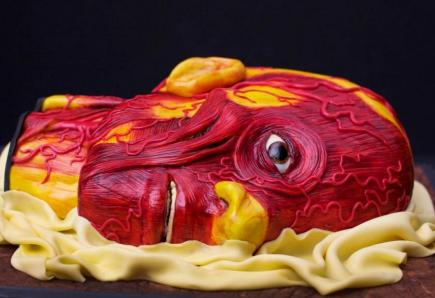 EYES TO SEE YOU! Anatomical cake head
Some of the weird and wonderful creations Annabel has made include a Silence of the Lambs cake featuring Buffalo Bill's 'woman suit' made of real skin.
This gruesome creation was made for Birmingham's Shock & Gore horror and fantasy festival last year.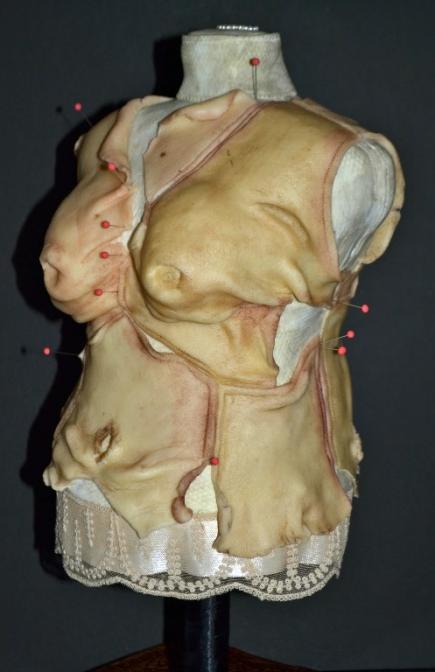 SILENCE OF THE LAMBS: Buffalo Bill's 'skin suit'
Despite its frightful exterior those fearless enough to sink their teeth into it were rewarded with a delicious vanilla cake with dark chocolate ganache and a black cherry filling.
Fox TV in the UK commissioned a life-sized model of Dexter last summer to celebrate the beginning of season 8 of the hit show.
The cake was a whopping 7ft long and featured the titular character smirking as he lay on a mortuary slab.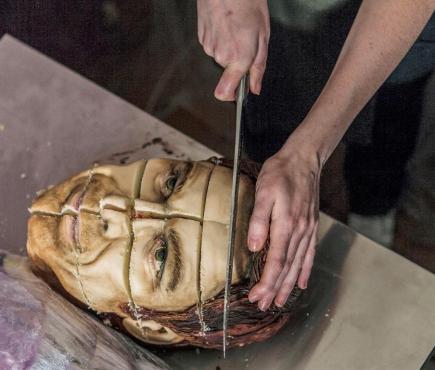 IN PIECES: Dexter head is carved up and served to hungry fans
Not only was the blood orange-flavoured cake a hit with fans of the show in the UK but it also made waves across the Atlantic.
Actor Michael C Hall discussed the cake on Jimmy Kimmel Live after the cake went viral online.
When quizzed by the chat show host he laughed at his cakey self and remarked that all children had aspirations to be realised in cake form.
He said: "It goes beyond what Dexter himself would do – I'm impressed!"
Annabel was stunned when she found out that the actor himself had spotted it and was talking about it on the popular talk show.
She said: "I was sitting in my builder's van and I got a message telling me about it – I watched it on my phone and cried, I was so happy because I wasn't expecting it.
"I was known as 'a woman in England' but I thought it was very exciting."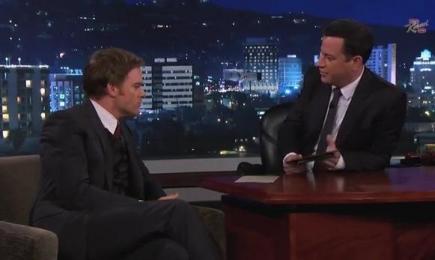 IMPRESSED: Michael C Hall on his character cake
One of her latest works is a red velvet birthday cake based on episode two of the TV series Hannibal where victims are buried alive attached to an IV drip to become fertiliser for a mushroom garden.
Crumbled Oreo cookies formed the soil while delicate meringues represent the eery mushroom patch.
"This is one of my favourite pieces, along with the anatomical heads and the teaching models," she revealed.
"You know it's good when your husband turns to you and says 'I think that's the most disturbing one yet!'"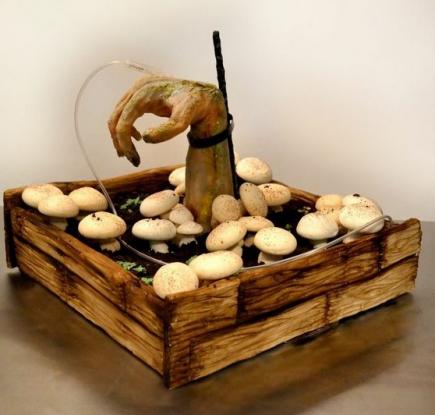 DISTURBING: Hannibal-inspired cake
Despite the content of each of her creations Annabel insists that she doesn't do it purely for shock value.
She explained: I do like to push the boundaries and I kind of don't want everyone to like it. I take pleasure in it when people see my work and say that it's gross as it messes with people's heads.
"I don't do it to purposely shock like those who make vagina or extreme baby shower cakes – they are shock for shock's sake and there is no thought involved, my work aims to be thought provoking.
"If I did a penis or vagina cake I would hang my head in shame!"
Each of Annabel's cakes are an individual work of art and take hours of researching, designing and piecing together.
"I work very long hours from home. I get up and start in my pyjamas, have a cup of tea and get to work," she explained.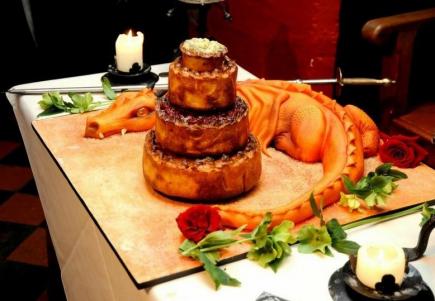 GAME OF THRONES: Dragon cake and pork pie tower 
"I've worked through until 2am before having pulled 14-hour days. It's a creative role so I go in the zone and I don't want to stop. 
"I think it's because I'm at home and it's quite comfy and I put an audio book on or a film and I just work.
"If I had a separate studio and had to get on a bus to get there I wouldn't work as much!"
But it's not just cakes that Annabel turns her hand to with her self-titled 'creepy confectionary' attracting attention from across the world.
Her chocolate baby heads have earned her a legion of fans and critics alike and also a place in Ripley's Believe It or Not annual.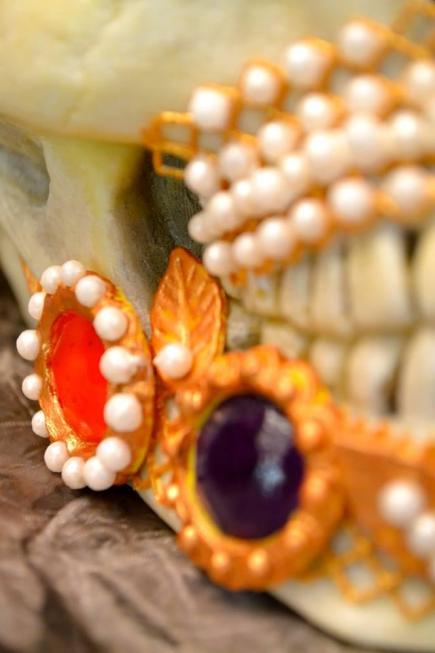 ENCOUNTERING CORPSES: Sneak peek of the commission
Annabel revealed that she loves being able to indulge her fascination with horror, history and nature through her work.
She said: "I like horror films, and I'm into the historical backgrounds of things just because it's fun. 
"I love animals and natural history and I've always loved going to museums and researching anatomy, it's really good that I can use all of that as it just comes naturally.
"Having a creative mind is quite beneficial, customers get in touch with me usually starting with 'I know this sounds weird but…' they come up with the basic idea and then let me have creative licence and that is something I really appreciate."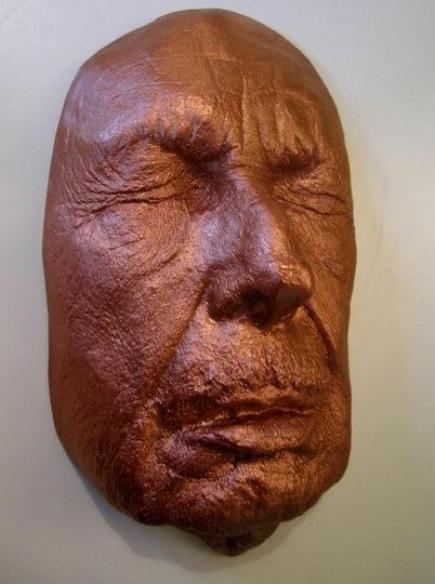 DEATH MASK: Remarkably realistic bronze-coloured mask
Annabel is currently on the hunt for a sponsor to fund a solo food exhibition in the near future using chocolate and marzipan.
She explained: I'm inspired by some of the ossuaries and charnel houses from Dr.Paul's first book.
"I've visited some myself many years ago (and last month), so it's always been a favourite subject of mine.
"I especially love the bone chandelier at the Kutna Hora Ossuary near Prague. and the bone patterns in the Golden Chamber at the Chapel of St.Ursula in Cologne.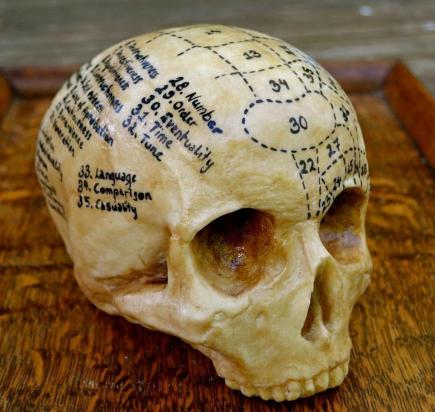 TASTE SENSATION: Human skulls sculpted from chocolate
"Ideally the pieces would be behind glass (and for sale) for hygiene, but with small holes on the sides so they can be 'sniffed' producing an olfactory experience as well as visual, and then edible."
Annabel's next project is with a group of cake bakers who are creating an edible jungle as part of Manchester's Cake and Bake Show next month.
To see more of Annabel's creations click here.
For more information about the Encountering Corpses art exhibition click here. 
Pictures courtesy of Conjurer's Kitchen, Dexter pictures courtesy of Manicks Productions Ltd, with thanks
Jimmy Kimmel image and video courtesy of Jimmy Kimmel Live via YouTube, with thanks