A homelessness activist has criticised the Government over the homeless crisis in Manchester – and stated that David Cameron would 'go under' if put in their circumstances.
Homelessness in the city has been increasingly in the headlines over the last two years, and the national extent of the problem was highlighted last week when marches were held in major cities to draw attention to the problem.
Emma Mohareb from Tameside has been campaigning and organising for over a year with groups such as The Party Protest to address a system that is failing some of the most vulnerable in our society.
"The Government are not providing funds to help the homeless," she told MM.
"The strategy they have got putting people into B&Bs, instead of a house and into work, is just stupid.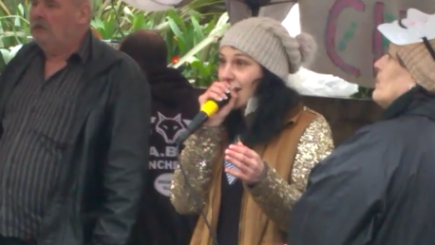 IT'S JUST STUPID: Emma speaking at Friday 15's homeless march
"Why don't we put David Cameron into a room for a week, with no electricity, a bag of food from a food bank and see if he likes sitting there with no money and no family?
"He would go under.
"I have supported people into hostels and there is nothing there. If you're homeless and you're sat in a room all day looking at four walls you're going to want to jump out of the window.
"In one case they were stuck in rooms with no electricity, so they can't cook food. They might as well be in a tent as you can't get heating without electricity."
Homeless camps in the city centre and The Ark on Oxford Road were removed by police last year, while Gary Neville and Ryan Giggs opened their new hotel to those without homes over winter.
But despite the increased attention given to the subject, many continue to suffer.
MM spoke to Gabriel Stark, originally from Blackburn, who has been sleeping rough in Manchester throughout this period.
"There were rats and mice in the building, people pissing and shitting in to cupboards, in the sinks, on the floor," he said of the hostels.
"It was always spilling onto the landing, you had to walk past it every time.
"The landlord was selling alcohol from the building, they knew people were smoking and taking drugs in the building, it's pretty bad."
Such circumstances make it easy to understand why people would take to the streets in protest, and that is exactly what they did on Friday 15.
One man who attended the event was Christopher Blaine, also homeless, who was involved in an altercation including a tram and a motorist – something which Emma believes 'made us look bad'.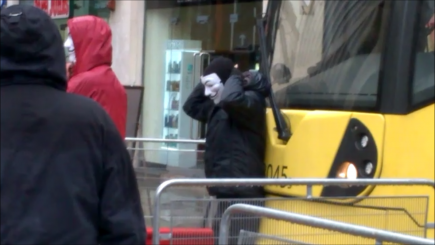 DIE FOR THE CAUSE: Christopher disrupting traffic at the march
But Christopher told MM that he is willing to go much further to bring about reform for the homeless.
While his dream would be to open up a hostel providing social housing with no time limit and reasonable rent, he believes that his future will be much more bleak.
"The tax payer is paying for this," he told MM.
"Now I am homeless they want me to go into a hostel, that's £108 a week for a council run one.
"And what is a hostel like? It's full of rapists, murderers and people who are poor and vulnerable.
"I wouldn't want to be next to a rapist in jail, now I am expected to live with them?
"Some of us are going to have to put our necks on the chopping block and lie down in the road.
"To prove a point I will starve myself to death. I needed backup, I didn't get it and now I will die for the cause."