A self-confessed 'warped' artist is cobbling together a living on eBay – with bizarre topless drawings of Coronation Street stars.
Southend artist Wazza Bizarre has a talent for inappropriate images and is at his breast when he's drawing honkers on stars of the screen, music and even politicians, raising up to £200 from the crude creations.
Corrie's leading lights are joined with the likes of Adolf Hitler, David Cameron and Pat Butcher in Wazza's drawings.
"Some celebrities I draw do actually have boobs I just draw them naked – but, with the likes of Hitler, Putin and Cameron, it's a send up and a piss take," explained Wazza, 37.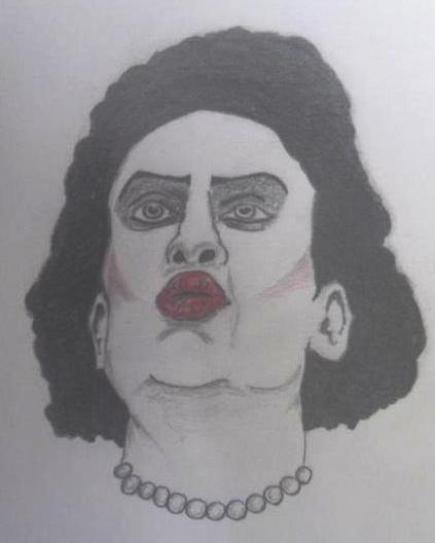 COME UP TO THE LAB AND SEE WHAT'S ON THE SLAB: Ed Miliband
"I studied at art college – the fact some of my pictures look like a five-year-old drew them is on purpose.
"As soon as I listed Hitler with boobs I had bids and that's how it started! People want different, new and one-of-a-kind and I draw using imagination – warped at times maybe."
The top pair are now-split Street couple Roy and Hailey Cropper, while long-suffering Gail is also not so shy when immortalised in ink.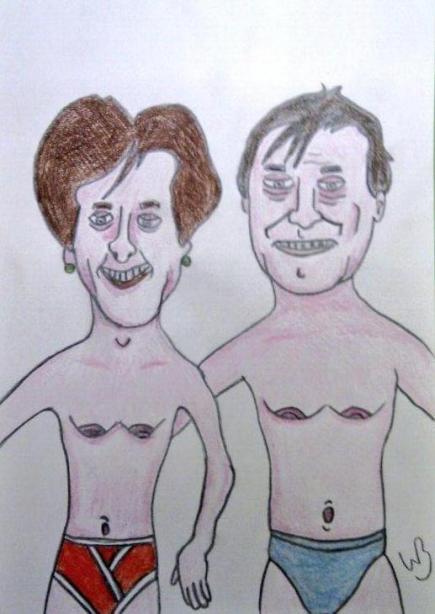 TOP PAIR: Hayley and Roy Cropper as you've never seen them before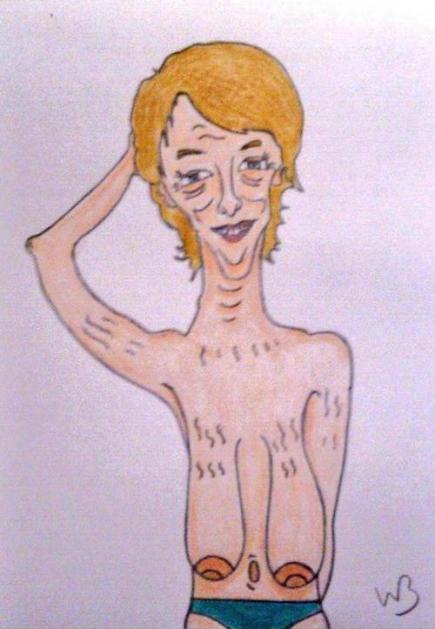 STRIKING: Corrie stalwart Gail gets the Wazza treatment
Former Oasis frontman Liam Gallagher, thankfully, escapes having to show his hypothetical pair of morning glories – but others are less fortunate, particularly Eastenders' Pat.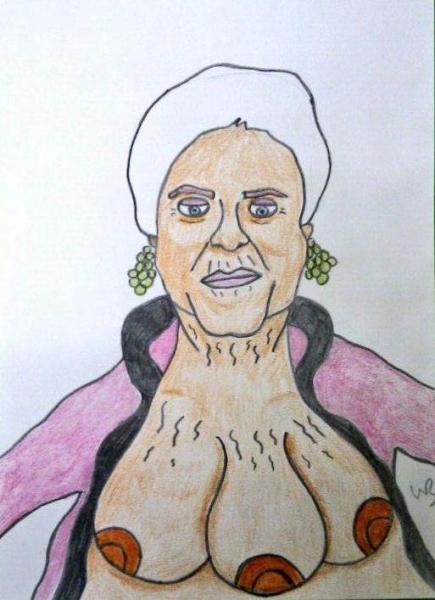 TIT-AL RECALL: Pat Butcher bares all
It's doubtful that Pat was quite so brazen on the streets of Walford – but when Wazza is in charge she's clearly up for anything.
Whether it's the three-boobed waitress from Total Recall or Princess Leia's saucy Star Wars golden bikini, Pat's available in all guises.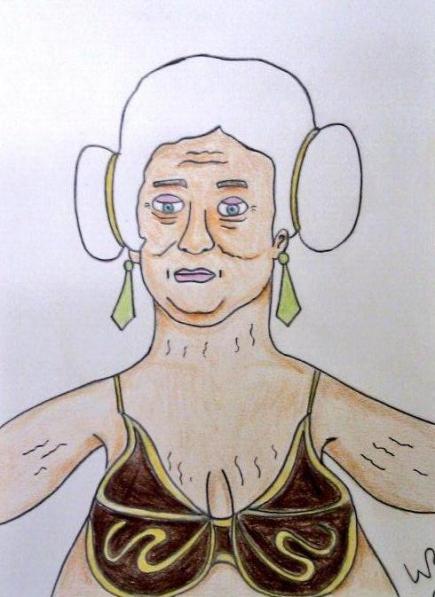 MAY THE FORCE BE WITH YOU: Pat channels her inner Princess Leia
But fans were more at home with plain, old nude Pat as the drawing scooped a staggering £203.66 on the auction site last weekend.
"I have no idea why badly-drawn Pat Butcher pictures are so popular," said Wazza.
"Unfortunately, I don't think I'll see payment as I think it was just some idiot playing games.
"This is annoying as the pic had gone viral, had nearly 1,000 views and would probably have sold for £30.
"Fortunately, this has only happened once and people do pay, I did sell a Pat with three boobs for £74! I was very happy with that."
Comedian Jason Manford has even taken note, posting 'Pat in a Glass' on his Facebook page – that picture went viral and had over 10,000 views.
Fellow veteran of the BBC primetime show, Dot Cotton is more Dot Von Teese as she frolics in a champagne glass with legs akimbo and boobs spilling over the sides.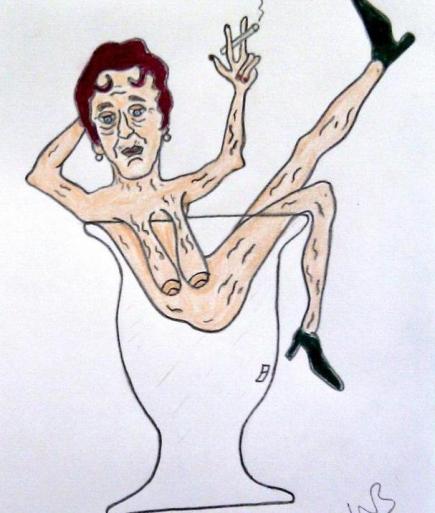 DITA VON COTTON: Dot takes a break from the launderette
Politicians were also a target of Wazza's doodles as Prime Minister Cameron, London Mayor Boris Johnson and even Russian Prime Minister Vladimir Putin bare all.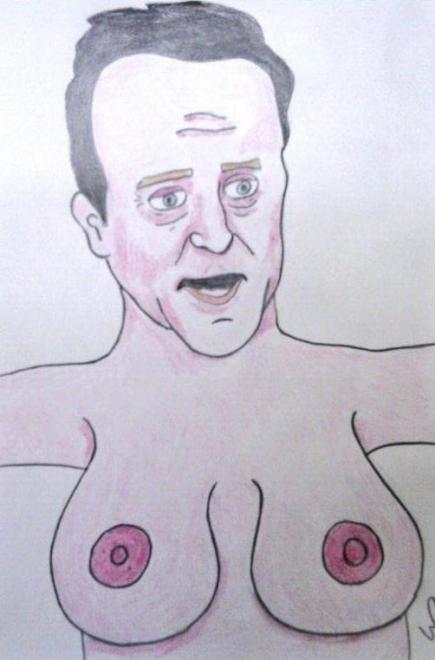 CARRY ON CAMERON: The PM shows off his assets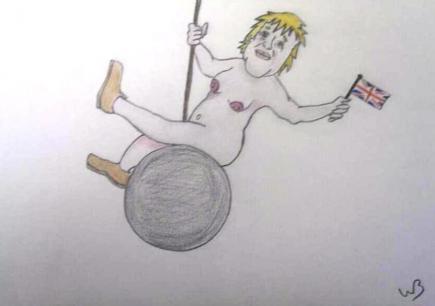 BORIS JUG-SON: The Mayor of London shows his patriotic side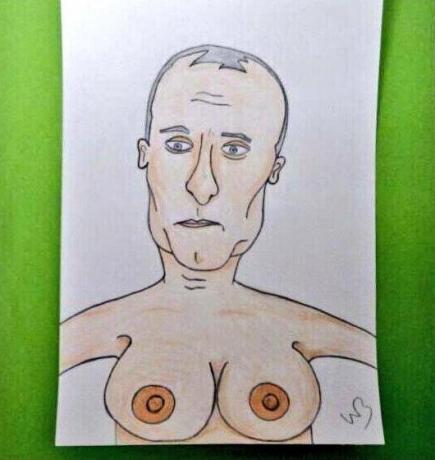 PUT-IN EM OUT THERE: The Russian president has a lot of front
In the case of Hitler, Wazza's depiction of the notorious Nazi is more ridicule than admiration.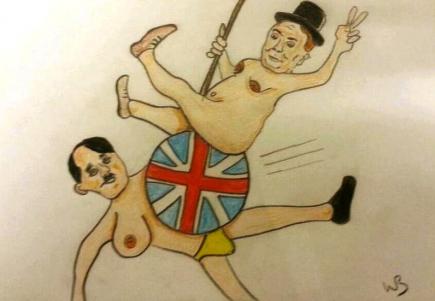 HITLER HAS ONLY GOT ONE (WRECKING) BALL: Churchill's victorious
"The Hitler pictures are most definitely not fan art! It's just about making him look ridiculous and it's something you don't see every day," said Wazza.
To see more of Wazza's work click here.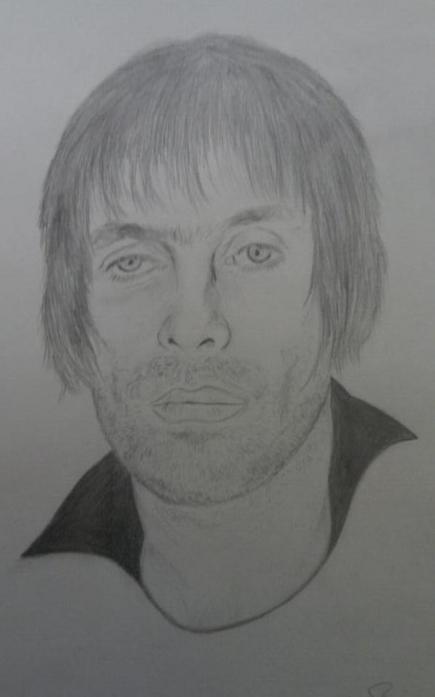 CHAMPAGNE SUPER SKETCH: One of Wazza's more realistic sketches
All pictures courtesy of Wazza, with thanks