Increasing numbers of romantic Mancunians are showing their love by attaching padlocks to city bridges, according to a local blogger who's observing the phenomenon.
Dr Ceri Houlbrook, 29, who teaches archaeology at the University of Manchester and the University of Hertfordshire, is the author of The Love-Lock Diaries, a blog dedicated to tracking the love-locks she sees around the world.
Love-locks are padlocks attached by couples to bridges with their initials or a message written on it, which are then locked and the key thrown in the river as a gesture of devotion.
Dr Houlbrook has a PhD from the University of Manchester on coin trees – where coins are inserted into the bark of trees for luck – and she told MM that love-locks were the same phenomenon.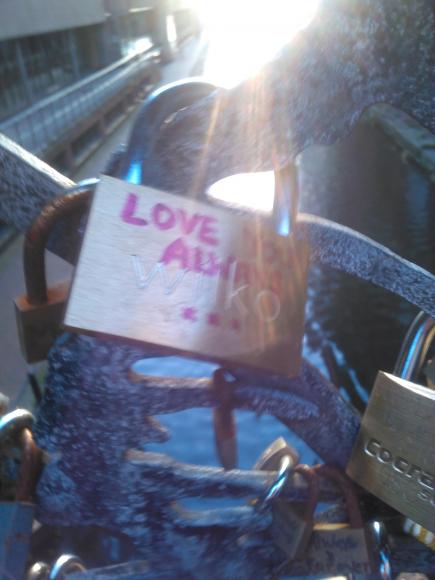 LOVE YOU ALWAYS: Dr Houlbrook enjoys the appearance 'romantic' love-locks in Manchester
She said: "It's the material embodiment of what is, essentially, a folkloric ritual, even if the people who do it don't think that it actually is."
The Love-Lock Diaries features pictures of love-locks, some taken by Dr Houlbrook herself and some sent in by readers, in locations ranging from Blackpool's North Pier to the Great Wall of China.
Dr Houlbrook says that one of her favourite love-locks is one on Brooklyn Bridge, bearing the message 'she said yes'.
But the locks have also proven popular in Manchester.
There were 186 on a small bridge on Oxford Road at the last count.
Dr Houlbrook has also found two old ones in Piccadilly Gardens and a few on Great Bridgewater Street.
"When I came across the first few love-locks in Manchester, I got very excited because Manchester isn't known for being a particularly romantic city," she said.
"I'm from here originally, so I was very intrigued to see that some people at least had decided to kind of put their romantic mark on Oxford Road.
"I think when I first noticed them it was February last year, and there were only about four of them, and then I walked past a few weeks later and four had become six.
"I thought how interesting it would be to see how quickly it grows over time.
"Because I am first and foremost an archaeologist, I'm used to looking at rituals many years after they've taken place, so it's a completely different experience recording it as it's happening."
She added that people adapted to the circumstances, with not all of them using locks as a sign of love.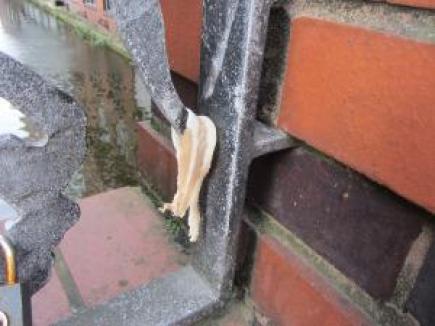 LOVE ISN'T RASHER-NAL: It isn't just padlocks that are being attached to our bridges
"Strangely enough on Oxford Road today someone had left a rasher of bacon on the bridge.
"I don't want to assume anything but I imagine they walked past with a bacon sandwich in their hand and that was the only thing they had.
"And there are other bits and pieces on it as well, so there are ribbons, pieces of string.
"In Leeds I saw a shoe that was tied to it.
"I guess it's a little bit like graffiti – I'm not saying that in a negative way, but people want to put their mark on a city.
"Looking at the love-locks on Oxford Road, quite a lot of the names seem to be foreign, which seems to be my experience elsewhere in the world as well.
"If you ever go to a tourist destination – Venice, Florence, Prague – it seems to be mainly tourists who do it.
"I guess it's kind of an inverted souvenir – instead of taking something from somewhere you're holidaying you're leaving something of yourself.
"And it's romantic."
However, Dr Houlbrook said she hadn't left a love-lock herself, although she had spent part of her honeymoon in Florence last year looking for other people's loving gestures.
"Somebody got me a love-lock or padlock to take on our honeymoon, but part of me, the archaeologist part, I try and keep my distance from some things.
"So I've got the padlock at home, it's quite sad really.
"We did take it to Florence but actually it's illegal to deposit a love-lock in Florence."
Florence isn't the only city where love-locks have attracted controversy.
City councils have sometimes ordered the removal of love-locks on the grounds that they ruin views and even put bridges at risk of collapse.
This year has seen 20,000 lock removed from Melbourne's Southgate Bridge and 45 tons of them from Paris' Pont des Arts.
Dr Houlbrook said: "Obviously where they're threatening the security of a bridge then they do need to be removed, but I don't agree with taking them down and just disposing of them.
"They're just all sat in storage, thousands of love-locks, and Paris City Council don't know what to do with them.
"I think something should be done with them if they're removed.
"In Melbourne they're coming up with a public art project where they can be displayed in the city and I think places like Paris should be thinking along similar lines.
"I know that in York when they removed the love locks they offered people the chance to go and collect them, and a few people did, which shows that they do mean something to people, that they'd be willing to go to the effort of going to the council buildings to pick up the love-locks."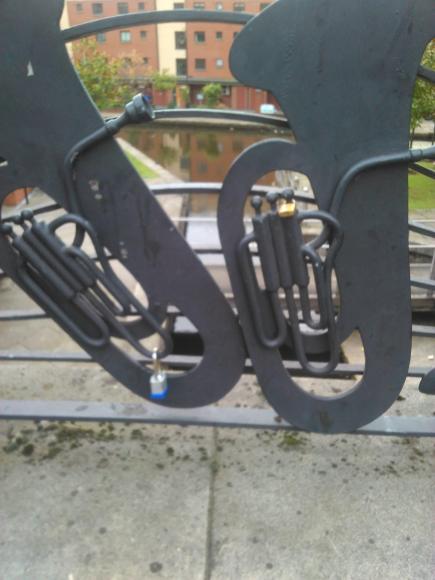 MANCHESTER IS GETTING FULL: Bridgewater Street is just one of the locations love-locks can be found
She said that Moscow, where many couples attach love-locks on their wedding days, was one of her favourite places for viewing the phenomenon.
"They've built metal trees that people attach love-locks to, they're deliberately there for it, so it's a whole stretch of street where the trees, once you look closer at them they're actually just made entirely of love-locks and people there have put a lot of effort into them.
"Some of them have got knitted jackets around the padlocks.
"Manchester is getting quite full now, and I guess the thing about collections like that is that the more there are the more they attract.
"So unless people get bored of it, it's just going to keep growing, and they may eventually need something.
"Piccadilly Gardens would be perfect for something like that, but I don't think we're there just yet."
It was reported in August that Councillor Pat Karney had met with love-lock groups to discuss establishing a specific location for the locks.
Dr Houlbrook added: "I like seeing the messages written on them.
"Some of them are very sweet, and they're not all romantic.
"Some of them are sisters, one of them is a father and his children, some of them seem to commemorate significant birthdays, so first birthdays or eighteenth.
"Some of them are memorials, so rest in peace messages.
 "So I just think it's a way that people are commemorating anything I guess, romantic commitments but also other events that are important in lives.
"It's just making it private in the way that often the message is quite obscure and you wouldn't really understand it unless you know the people who are leaving the love-locks, but they're public in that they're for anyone to look at."
To view Dr Houlbrook's blog, click here.