With the annual struggle to think of imaginative Christmas presents for friends and family on the horizon, MM scoured Amazon to find something a little different.
They range from the wacky to the downright bizarre and while we could easily have selected many more here is our top five.
5. Wolf Urine Lure-32 oz
This unique product comes at the bargain price of $34.95 but unfortunately can only be purchased in America – they do offer free shipping Stateside though.
Manufacturers Deerbusters say that the product is ideal for wildlife enthusiasts, hunters, photographers and gardeners.
"Our 100 percent urine lures to create the illusion predators are present in the area," reads the description.
More than fifty Amazon reviewers have had their say and given the product on average a three and a half star rating.
Grogan, a budding connoisseur said: "One is immediately drawn to this vintage by the colour, which is an elegant, pale straw hue with an appealing peachy fruit on the nose.
"As with most Chateau Deerbuster products, this has the signature leafy-fresh character, which softens into a slight rancid feel towards the end."
While, J. Laury, Zombie Killer, praised the product saying: "This is soooooooo much easier than trying to get the Wolf Urine directly from a Wolf.
"Wolves are, from my experience, VERY possessive of their urine."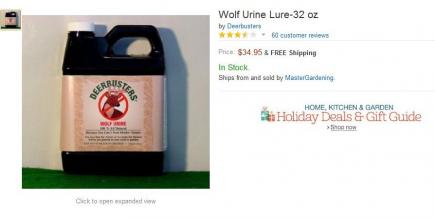 OH DEER: This one will keep them howling
4. How to Avoid Huge Ships by John W. Trimmer
This book, published in 1993, has become somewhat of a treasure with the price of editions ranging from just $63.17 to a whopping $400.66 – that's $3.57 per page.
The intended audience is captains of small boats such as yachts and trawlers and the book gives advice on actions when confronted by large ships such as a freighters.
But reviewer amodestconsumer said: "I make a living by hitting things with my huge ship. This book is absolutely DESTROYING my business! Please do not buy this!"
Jamie, whose humanoid name perhaps gives the game away, said: "There is one major oversight in this generally well-written book – it addresses animate readers exclusively.
"As a large rock in the Tyrrhenian Sea off the coast of Giglio Island, I have recently been confronted with instances in which avoiding huge ships was of fundamental interest to my personal well-being.
"However, the methods presented in Capt. Trimmer's book were none too useful in my efforts to avoid huge ships.
"I'm a big rock. I can't zig-zag or duck and cover – Rocks don't do that."
3. Hutzler Banana Slicer Cutter
Described as: "great for cereal, sandwitches, splits and hot dogs" and while we can only speculate what 'sandwitches' are, the product does appear to be pretty versatile.
And perhaps more impressively, we looked a little closer to home this time and found that it is on sale in the Oxford Road Poundland for (you guessed it) £1.
Enthusiastic customer, Charlie said: "That day it arrived, my face lit up with sheer joy and I skipped into the kitchen to slice my very first banana.
"Only to suddenly decide en route to the kitchen that I didn't like bananas after all – I have tried to find other uses for it instead.
"At the moment, my partner uses it as a handy rack to hang his ties on.
"AND if you purchase 10 or so of these, you can make a banana themed mobile to decorate the fruit obsessed child's bedroom, fantastic bargain!"
Reviewer Luke also moved away from the conventional banana and tried the product on a hot dog.
"A fantastic piece of engineering, however I was disappointed to find it did not work on my hot dog," he said.
"No matter how much I tried to fan Fluffy with it, panting and dribbling continued.
"I feel if the holes weren't so big (or maybe if there were just no holes at all) it would be much better for use on hot dogs.
"All in all, a mixed customer experience."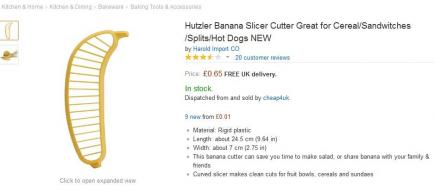 BANANA SPLIT: You're not 'a-peeling' anymore!
2. The 2009-2014 Outlook for Wood Toilet Seats in Greater China
Author of this fascinating read, Professor Philip M Parker, writes: "In order to estimate the latent demand for wood toilet seats across the regions and cites of Greater China, I used a multi-stage approach."
While this econometric study may seem, at best, a less than intriguing topic, Amazon reviewers have gone wild for the product.
Lance Kates wrote: "All I did was look at the cover, but I already knew from the start – this is, without a doubt, still a better story than Twilight."
While Stephen Wilson, gave a rave review: "I picked this up off Amazon with little or no knowledge of the Chinese situation."
"It was all just a black hole to me – but, I must say that after a constipated start, I was riveted.
"Seeing the transformation of Xiao Ling through adolescence and the turmoil accompanying his parent's gastrointestinal issues until his later redemption at the ministry of lavatory accessories was really moving.
"In fact, I don't see how anyone can read this and not be moved deeply and viscerally."
1. Thinkgeek Canned Unicorn Meat
Producers Thinkgeek, describe the product as: 'a dismembered stuffed unicorn in a can' and the product can even be gift wrapped for your loved ones.
Sold by Inertia, but delivered by Amazon, buyers are reminded: 'you can't eat this'.
Irna Gerd did not heed that warning and said: "Do NOT eat too much of this stuff at once. I had the rainbow runs for a week.
"The entire complex smelled like hopes and dreams."
While fellow reviewer George Takei seemed equally under-whelmed by the product: "I say stick with fresh.
"I highly recommend Tom Riddle [aka Lord Voldemort] brand unicorn steaks, which arrive still oozing restorative blood.
"Ground into patties, they make a great burger."
Mark E. questioned the side effects of the meat, saying: "I was pleasantly surprised by the unicorn meat, even though canned.
"My only concern is that after feeding it to my infant son, his diaper was filled with skittles."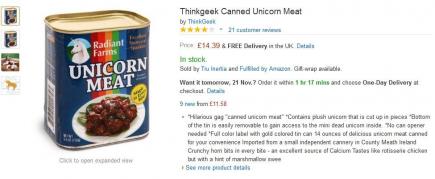 TASTE THE RAINBOW: That's a bit unicorny
Main image courtesy of Matt & Nayoung, Flickr, inset images courtesy of Amazon, with thanks.