In 1936, thousands of foreign volunteers travelled to Spain to join the Republicans in their fight against the rise of Franco's fascists.
As we approach 80 years since the start of the Spanish Civil War, MM takes a look at a local man who risked his life for democracy.
By the early 1930s, Manchester had already experienced fascism in the form of Oswald Mosley and the British Union of Fascists.
By 1934, the BUF had opened 18 branches in the city and its surrounding areas.
Rallies held by the far-right group were always met with fierce opposition, however.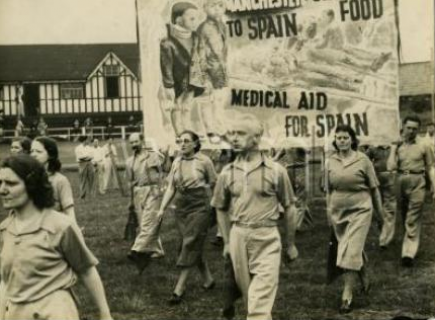 ON THE MARCH: Aid for Spain in Fallowfield
One meeting held at the Free Trade Hall descended into rioting while on another occasion over 3,000 anti-fascists marched along Hyde road to confront the BUF outside Belle Vue.
One of those protesting against the BUF was a young man named Sam Wild.
These counter-demonstrations would be Sam's first battles against the wave of fascism that was goose-stepping its way across Europe.
Next time, however, it would not be on the streets of Manchester.
Sam joined the scores of Mancunians who would travel to Spain to join the International Brigade.
Between 1936 and 1939, at least 130 people from Greater Manchester had left their families and homes to fight Franco.
Many of the volunteers were from different religions and classes, not to mention political backgrounds, but they all shared one common ideal – that fascism must be stopped.
Sam Wild's daughter, Dolores Long, from Whalley Range, grew up inspired by the actions of her parents.
Along with her father's heroic efforts on the frontline, her mother, Bessie Berry, was involved in the Aid to Spain movement here in Manchester.
The Aid to Spain movement raised awareness about the war and raised money to send food and provisions to Republican troops.
 "All the brigaders I've spoken to had the foresight to realise that something wasn't right and they had to do something about it," Dolores told MM.
"They realised that fascism was on the rise in Europe and they were all very aware of what could happen.
"My father always said that Spain was his education, his university.
"It's where he began to really read and talk to people."
Born to a poor family in Ardwick, Sam's mum died when he was just two years old.
As young man he joined the merchant navy as a way of getting food and accommodation rather than to peruse any nautical interest.
Eventually deserting in Cape Town, Sam joined the Unemployed Workers Union upon his return to Manchester.
"His sister's boyfriend was a lad called Bert Maskey who was quite political in Manchester's left-wing circles," said Dolores.
"In fact it was Bert Maskey who persuaded my dad to go to Spain with him."
With British and French Prime Ministers Stanley Baldwin and Leon Blum calling for Europe not to intervene in the Spanish Civil War, the volunteers would have to travel with caution.
Sam, like many of the soon-to-be soldiers would reach Spain by travelling across France by rail.
As they crossed the Spanish border, they had to first avoid French border police carrying out orders to stop any Republican supporters.
"They all had to go undercover, if you were questioned you had to say that you were going to an exhibition that was on at the time," said Dolores.
"They found their way down to the border of Spain, and then lots of them climbed the Pyrenees."
Many would first spend the night in the castle of Figueras, and from there travel by rail to Albacete which had been assigned as the main base for the International Brigade.
Men were then divided up according to their nationality – and language – before being dispatched to battalions.
Training was limited for the volunteers, as were resources and weaponry.
The Soviet Union had started to send arms to the Republicans, but their efforts could not match the weapons or man-power being supplied to Franco by both Nazi-Germany and Italy who had broken their end of the non-intervention agreement.
Franco, with the aid of Nazi-Germany, hammered the Republicans with air strikes and artillery attacks while Italian dictator Mussolini supplied thousands of additional troops on the ground.
"Bert Maskey was killed at the Battle of Jarama after a few months but my dad stayed on in Spain," said Dolores.
"My dad was known for being ridiculously brave and macho and he had very good leadership skills."
Sam was eventually made the commander of the British Battalion and fought until their defeat in 1939.
By the end of the war, 500 of the 2,000 British volunteers had been buried beneath Spanish soil.
Franco's victory proved what many of the volunteers had predicted before they had even left their hometown.
They realised that the Spanish Civil War would be a testing ground for fascism.
Adolf Hitler would soon be causing even more bloodshed with iron and steel supplied by General Franco.
"It wasn't until I was much older that I realised what it must have been like because if you see any footage of the fighting it is just horrendous," Dolores said.
"They were so ill-equipped and you had Franco being supported by Italy and Germany.
"He saw lots and lots of his good friends killed, it must have affected him, it must have.
"But the term post-traumatic stress didn't exist in those days.
Like many of the returning volunteers, Sam would have to completely rebuild his life here in Britain.
"When you came back to this country it wasn't as though you were going to be recognised or treated as someone who'd done something special," said Dolores.
"They actually got a huge reception when they arrived back at Manchester Victoria station though and my dad did the farewell speech because he was the last commander.
"But then when they all went home they had to go back and pick up their lives with a bit of a reputation for having fought in Spain."
Sam soon met Bessie Berry – the Aid to Spain campaigner who he would go on to spend the rest of his life with.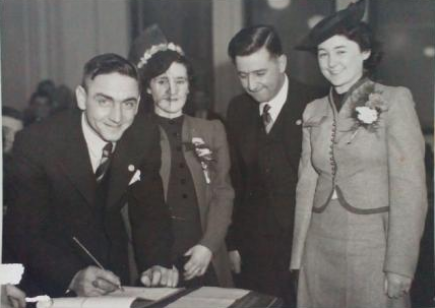 HAPPY DAY: Sam and Bessie on their wedding day
He started to work on building sites around Manchester and would often take on the role of union rep almost immediately.
His union activity and his role in the Spanish Civil War didn't make life easy though.
"He wasn't allowed to fight in the Second World War, even though he had military experience, because he was considered as being a bit dangerous and probably too political," said Dolores.
"He was in his element in Spain because he was a very physical man and a good leader, but when he came back he was an unemployed man with no qualifications or skills.
"I think that it was really hard for him, he never really found something that he was as passionate about as Spain."
Sam and Bessie remained political throughout their lives, however, attending anti-Vietnam war demos and CND marches.
In 1996, the Spanish government invited all International Brigade members back the country for the first time.
Unfortunately, Sam and Bessie had both died by the time of the event.
"Wherever the brigaders walked in Spain, thousands of people would be out clapping them and giving them roses and carnations, they were stunned, they had not expected it all," said Dolores, who attended the event.
"It was a really moving occasion and I've always felt really sad that my mum and dad never got to experience that.
"They would have been thrilled, I think they died before they knew that they had been acknowledged by the Spanish government and the Spanish people."
Image courtesy of Indalecio Ojanguren, via Wikipedia, with thanks