Figures like Theresa May have opened up the doors for women's work wear according to a styling panel chaired by The Times fashion editor, Anna Murphy.
At the event hosted by Selfridges earlier this month, fashion experts praised the changes in women's work apparel, citing influencers like the Prime Minister for breaking down fashion barriers.
Not so long ago it would have seemed alarming for a woman who had no working connections to fashion to appear in the office in a colourful blazer, a statement necklace, or like Theresa, some zebra heels.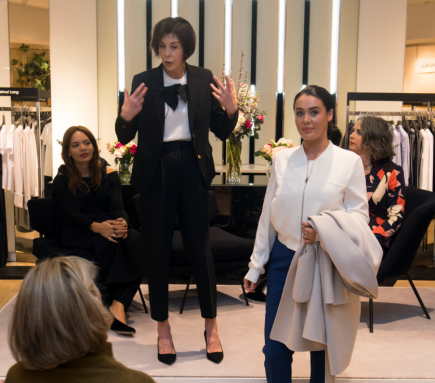 HANDY AND JOYFUL: Clothes can be used in several ways by women at work, The Times fashion editor Anna Murphy (above pic, far right) saying women need every tool they can get 
But as more and more high power women continue to push the boundaries of what they choose to wear and how they choose to present themselves, the revolution has become clear.
Speaking to MM, Anna said: "Every day when you put on an outfit you are deciding how to present yourself to the world. And the world is making judgements about you by extension.
"Why can't you do interesting things in the world and love clothes? Clothes are a tool but also a source of joy.
"And encouraging women to wear something bright red or try a cropped trouser is that. As I said fashion is fun but it's also an incredibly important tool and women in the work place need every tool they can get."
Selfridges general manager, Jane Sharrocks, also praised the changes in work wear trends, saying that a burst of individuality can often go a long way in the office.
She told MM: "What you wear, whether it's just one statement piece or a great red lipstick, the confidence it can give you as a person is absolutely amazing and it's great to get the experts' advice.
"I think there is so much individuality available for women within fashion now, and they want to show their personality through the clothes, which is definitely breaking down the barriers of what women are wearing at work.
"I'm lucky because I work in fashion so can experiment but I've loved seeing how women are now far more often experimenting with work apparel."
Anna also discussed how the PM's fashion choices highlighted how work wear is still up against a certain level of gender bias.
She said: "For me Theresa May's shoes approach has always been great. But more than anything at last I think it is about what you are comfortable in.
"There is still a feeling that you have to dress like a woman, but it is interesting that Theresa May gets attention for what she wears: is that good or bad?
"I was speaking to the editor of German Vogue recently and when Theresa May came to power I had to write about what she was wearing and the editor said to me she could never get over me writing about that in the national news, saying it would never happen in Germany.
"Does it matter that we're writing about Theresa May's shoes and not Nigel Farage's? To me it shows there is still a lot about gender in fashion that we are working out."
For the upcoming season, the panel discussed luxury sports wear, bold colours and sleek jumpsuits.