A group of Manchester men who were sexually abused as children is aiming to shake-up how support is offered to male victims across the country.
The group, who call themselves the Shatter Boys, say that government red tape is costing the lives of countless abuse victims.
Currently based in Manchester, the organisation hopes to roll out across the country with a non-clinical and no-nonsense approach to helping men in desperate need of support.
"We're on the frontline, we're the ones who are there when survivors do disclose and we're the ones who should be in A&E because we're the ones who can relate to them straight away," David Norman, who co-founded Shatter Boys with friend Daniel Wolstencroft, told MM.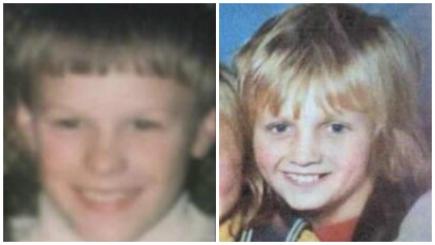 SHATTER BOYS: Daniel (left) and David pictured as children
"As far as coping with someone who's been brought in off the street by the police and he's in an absolute mess – we're talking about guys who are on the line between either dying or surviving – to put that sort of pressure on nurses and expect them to be able to communicate and say the right things, you're asking the impossible.
"This government needs to sit up, listen and take heed."
The 51-year-old, from Ardwick, understands better than most about the long-lasting effects of sexual abuse.
David said he struggled for years to cope with what had happened to him at the hands of prolific paedophile Donald Mackintosh, an ex-sergeant in the Greater Manchester Police force.
The leader of a Boy's Brigade youth club at a Fallowfield church that David attended, Mackintosh preyed on several boys in the mid-1970s and 80s.
The paedophile, who had already served a nine year sentence from 1994, was found hanged just days after appearing in court to face the fresh allegations.
"I didn't disclose to anyone until I was around 43," David said.
"I trained myself that well to forget about it with work, football, work, football – anything to fill my hours up until I went to bed and collapsed.
"You've got a man who's a pillar of society, held in such high esteem and you've got a 10 or 11-year-old boy saying that man has touched me – you'd get a crack on the back of the head in the 70s."
Why report now, and speak out. Because I was this little and terrified. It took me 20 odd years to get strong -Danny pic.twitter.com/WBrmhn0k6K

— Shatter Boys UK (@Shatter_Boys_UK) April 13, 2016
The horrors he suffered from the ages 10 to 12 finally started to creep up on him in 2007, however.
"The company I worked for went into insolvency and all of a sudden I had time on my hands and I just didn't know what to do with myself," he said.
"I started getting these flashbacks and I'd be getting up in the night sweating like hell and thinking what was all that about – I hadn't had those dreams since I was a kid, I'd trained my mind and put it in a locker."
David, like many victims of child sexual abuse, struggled not to blame himself for what had happened.
"You can never associate it with being a kid because now you're a man – you think, how can I have let this happen to me?" he said.
"I'm 6 foot 3, how can I let someone do that to me? Why didn't I stop it?
"These are the sort of things that survivors have to cope with."
Turning to alcohol, David went into what he calls 'self-destruct mode' for the next five years without telling anyone what was triggering his behaviour.
"When I had my dreams I'd get up whatever time it was and I'd hit the can," he said.
"I'd drink it as fast as I could and then another one, and another one, and then put them in the bin so no one would see them.
"As soon as the pubs were open I'd be in and I'd literally drink myself into the gutter – and this is what the NHS has to deal with, without knowing how to deal with it."
@HIVstories @timbarrus big thanks from Dave #smashstreetboys pic.twitter.com/83PDiBLKpg

— Shatter Boys UK (@Shatter_Boys_UK) April 7, 2016
After waking up in police cells and hospital beds, David was found by his eldest son attempting to take his own life.
It was at this point that the Mancunian realised he needed to come forward about what happened to him as a youngster.
"There's a turning point where you think I can't do it any more – you disclose or you kill yourself," he said.
"These people's lives are not organised anymore, they're in chaos.
"You can't put a time schedule on when it's going to pop into your head – I can't say I'm going to have a meeting with that at one o'clock and deal with it for an hour.
"It's like having a screen in front of you and someone has got hold of your head and saying 'no, you are not turning away, you are watching it'.
"You're trying to force your head to turn away and the only way that happens sometimes is by drugs or drink because then you blank it out."
Now, David and the Shatter Boys hope to provide a service that gets to victims before they reach the point of depression, drug abuse or suicide.
The organisation is cutting out the paperwork and, in turn, giving support as soon as they pick up the phone.
"If they phone us up, we will go and meet them and other services won't do that – they've got a lot of boundaries," said David.
"They gave me Cognitive Behavioural Therapy and it was like, excuse my language, 'who the fuck are you coming out with things that don't relate to me'.
"But it's not their fault that they don't know what they're talking about.
"And I don't want them to – if they do it means they've been through what I've come through."
Look at those proud faces. Shatterboys Peer Support in action #CSA #Mentoo #CSEboys2 pic.twitter.com/w82fZgUNAq

— Shatter Boys UK (@Shatter_Boys_UK) April 20, 2016
It was the years David spent searching for the right treatment that inspired him to help set up an organisation run exclusively by men who were abused.
"The first person I got who could help me was at least two years down the line [of therapy]," he said.
"Never mind two years, two days is two late – in those two days you can think fuck this I'm off and just jump off a bridge – that's how close it is.
"We want to be there from day one because if we can save you – we're saving your family, we're saving the people around you from having to go through what our families went through."
The Shatter Boys currently hold biweekly two hour sessions and are set to go weekly due to a high demand in the city.
Held in Ancoats, the sessions are completely free and aim to break down the 'clinical approach' to supporting male victims of sexual abuse.
"As a survivor I need to know that you're listening and not with your head in a piece of paper or saying 'before we move on can you fill this in for me' because when you walk in that room you're not in a state to fill anything in," said David.
"We can meet anywhere, even if that means just walking around the streets talking with members."
The group co-founder also said that the language used by many support workers further alienates people seeking help.
"We use a certain language to describe what you've gone through and how you word your abuser," he said.
All the lads we no who have taken their lives.We salute u and will do our best to make our voices heard #survivors pic.twitter.com/wHhc0nf6Gj

— Shatter Boys UK (@Shatter_Boys_UK) April 13, 2016
— Shatter Boys UK (@Shatter_Boys_UK) April 22, 2016
"We'd say they're a sicko, whereas if you went to some other services they'd call them something else like a paedophile which is clinical – they're not, they're a sick bastard and that's the top and bottom of it.
"I won't say it any other way, I won't give them a clinical name because there is nothing clinical about them.
"The only thing clinical about them is how they go about their business of grooming."
For many group members, the Shatter Boys' sessions are the first time that they have ever spoken out about their abuse.
"For them to be able to relate and know that there's another person going through it and it isn't just him is massive," he said.
"My Mrs hears these horrible things and as much as she's got empathy she can't relate to it.
"For you to be able to speak to someone and them nod their head and say 'I know exactly what you mean' can be the difference between life and death."
The group are set to launch similar members groups in Liverpool, Essex and London, with a waiting list of 200 people in the capital already.
"Our aim is to get across the country and encourage people to come forward and say we're here, we're listening and we believe," he said.
"I still think it's a massively taboo subject and I understand that not everyone wants to hear it but to learn you have to listen to what's going on out there – it's an epidemic.
"It's happening in all societies, from the highest to the bottom, it's any level.
"We've got a trade, it's not a trade we wanted but it's the trade we've got, and we need to use it as positively as possible and we need to use it as soon as possible."