An animal-loving photographer has swapped sizzling hot dogs for pooches of the fluffy variety after embarking on a career as a pet photographer.
Robert Ashton, from Chorlton-Cum-Hardy, found his calling snapping all creatures great and small here in the North West after stomaching the life of a food photographer in London.
The 45-year-old Huddersfield native spent 15 years working alongside the likes of culinary greats Rick Stein and shooting mouth-watering pictures of meals for magazines before turning his attention to man's best friend.
He said: "Pet photography was a happy accident. I moved back up north because I wanted a change and was concentrating on people portraits as the food photography work wasn't there.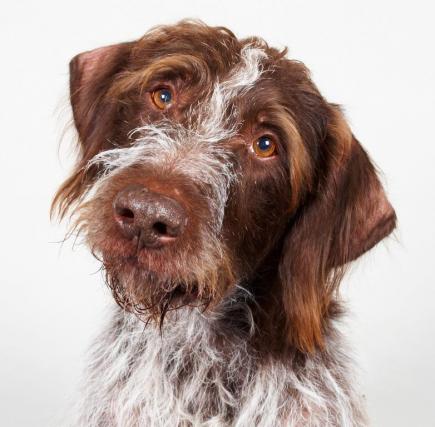 THE LOOK OF LOVE: This pooch's eyes could melt the stoniest of hearts
"I took pictures of a sweet old lady in Bingley (Yorkshire) with her two dachshunds – there was one particularly beautiful picture of the lady together with them sat on her lap.
"It made me realise how important pets are to people, they are memorable members of the family but they are often get forgotten photography-wise."
The Blackpool and the Fylde photography graduate explained that although there are plenty of pet photographers out there he offers something different.  
He said: "There are lots of people doing it so there isn't a gap in the market – but there is a gap in the market of people who do it really well and who are professionally trained.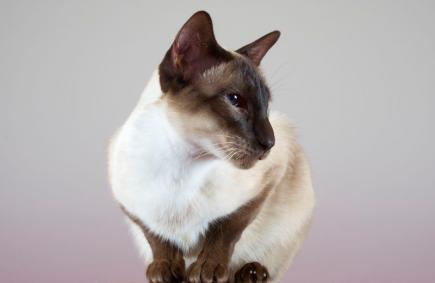 IS THIS MY BEST SIDE? This feline favours the right side
 "I regularly go into vets, grooming parlours and doggy day care centres to take pet portraits."
For those owners who treat their bundles of furry joy like their very own offspring, they get the chance to experience one of a child's great institutions – the school picture.
"When I go into grooming parlours and doggy day care centres it's just like school picture day. I'm there for four hours and each pet gets its own 15-minute slot.
"People can buy canvases, images and framed pictures from £20, which is quite cheap compared to an individual commission."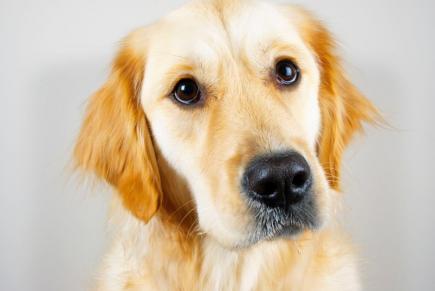 MAN'S BEST FRIEND: Robert captures this labrador's adoring gaze
Robert mainly shoots dogs, cats and horses but is open to photographing all pets.
"I'm an animal lover and it's absolutely wonderful that I get to do this job.
"Dog owners generally want to spend money from a photographic point of view whereas cat owners, who do spend a lot of money, tend to be less inclined to spend money on photos.
"It tends to be as a dog gets older their owners want the memory of their pet in its prime. I offer shoots for free and there is no obligation to buy.
"The pictures can be sat there for years so, as long as I'm still about, if a customer loved a picture of Smokey the cat or Fido the dog from the past they can purchase it at a later date."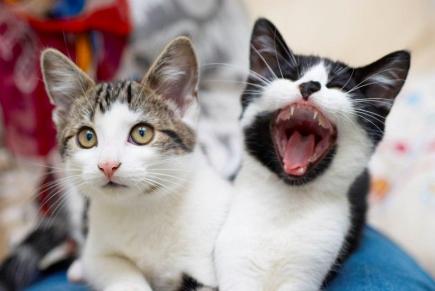 DOUBLE TROUBLE: This cute pair look purr-fect
But how on earth do you get a pet to sit still long enough to be photographed?
Apparently the trick is to get up close and personal to the pet without invading their personal space.
Robert explained: "It's best finding what they like doing and are comfortable with. I don't use treats as the dog ends up just dribbling everywhere.
"Instead, like with children, I try and catch their attention with squeaky toys and keep their owner close by."
Robert speaks with the owners to find out what kind of picture they want, what the pet likes to do and what kind of shot the owners are looking for.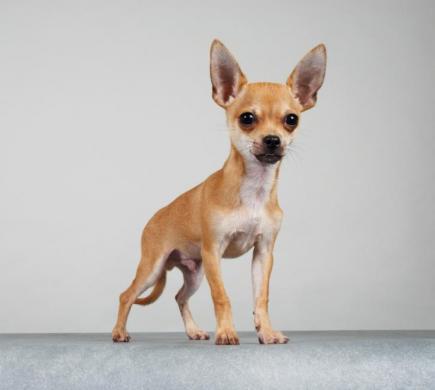 SMALL BUT MIGHTY: This chihuahua commands the frame
He explained: "If I'm shooting a dog which loves running and they want an action picture I can set up the shot.
"It's the same with horses – you don't want them in the stables with muck around them, you want to see them out in the fields."
Robert hasn't had to deal with any prima donna pooches just yet but had a run-in with Manchester's own Grumpy Cat who stalked out of the room every time he walked in.
"Every time I tried to set up a shot the black cat I was trying to photograph would take one look at me and walk off – he clearly didn't want to be in the same room as me!"
One of his more unusual jobs was a covert birthday photo shoot of two cats for a client's girlfriend.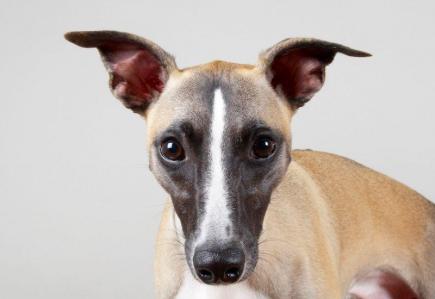 HERE'S LOOKING AT YOU: One pooch gazes longingly into the lens
"I waited in the car at the end of the road, watched her shut the door behind her and leave the house," he laughed.
"Once the coast was clear I went into the house, we cleared the front room, took some lovely pictures of the cats Leo and Bubbles and then put the front room back to how it was when I got there.
"She was delighted when she opened the pictures on her birthday."
Alongside his pet portraits Robert also photographs weddings, commercial shoots and also volunteers as Rochdale Dog Rescue's photographer.
He's currently speaking with a number of vets and stables about expanded his range of equine photography shoots.
He said: "I'm willing to go and do free shoots in a 50-mile radius but if they're commercial shoots, which cover travel, I'll go anywhere within the UK."
For more information about Robert's work, or to book a commission, visit www.robertashtonphotography.co.uk 
Pictures courtesy of Robert Ashton, with thanks