Award-winning Jenny Lu, the producer of her debut film The Receptionist, is an inspirational figure to many, who shows that with enough dedication it is possible to achieve your goals.
After moving to London from Taiwan to study Fine Arts, Jenny has co-produced the award winning film The Man Who Walked on the Moon and her debut film as main producer of The Receptionist has just been released in cinemas. 
At a glance she is a warm, inviting person, but once you begin to delve deeper, however, she has many layers to her character.
She's a big Oasis fan, has an admirable sense of social responsibility and aims to use her position of power to not only bring awareness to subjects shunned by society, but to provide opportunities for minorities in the film industry that are usually side-lined.
MM caught up with Jenny at HOME before the screening of The Receptionist.
Mancunian Matters: How did you first decide to start producing and making films?
Jenny Lu: I studied Fine Art: foundation, BA, MA, and PhD. While I was studying, I was working on films with London Film School and became fascinated by the film industry. I just love the teamwork, and how everyone works towards just one goal.
That feeling is just so different from working with art, where you are always by yourself. This really attracted me, and I thought: 'Well okay, I think this is what I want to do'.
I started from really low positions, as production assistant where I learned everything. Later on, I began to work as assistant director; third, and then second AD and then first AD.
Through this, I worked with so many different directors, and that inspired me to write my own stories. I wanted the opportunity to explore my own creativity, I have a story to tell and I want to make that into a vision, so I started making short films.
MM: The Receptionist is a story based on real events, what inspired you to write about such an unknown aspect of life?
JL: This film was inspired by my friend's story. Around 2009, my friend committed suicide outside Heathrow Airport. It made national news, and I was really surprised and shocked. Why did she take such an extreme measure to end her life?
I started to investigate and research into her life. I realised that she was a masseuse in an illegal massage parlour. Then I tracked down her friends who she used to work with, and lots of shocking stories came to the surface.
I realised then I had a mission to write a script and make a film, as so many stories are not being told or are hidden. We are privileged, the lucky ones, and never really hear them or overlook them. From then, I started to develop this project. It took years, but it is worth it.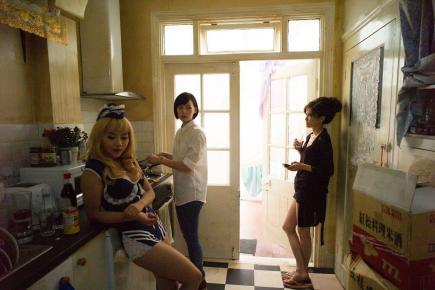 MM: The film is riddled with nuances and symbolism. But is there one main message you hope the audience takes away from the film?
JL: There are a few messages in the film, but the main one is that life is hard, and it is hard to survive anywhere. We have our hopes and dreams. But having to pay our bills and rent and be stuck in a day job we hate makes life hard. We always have choices, and there is always hope so don't give up. We have to chase our dreams.
MM: As someone who has seen what can happen to someone who has gone through these events, is there one scene that was particularly difficult to film?
JL: All events in the film are based on real life. The robbery scene was difficult to film. When we are filming, we all know it is acting, but in the back of my head I know this has happened to real people.
When reflecting on this, I became quite sad. Events like this actually happen to them, and they can't even go to the police, as what they are doing is illegal. This is very upsetting. Mentally, this film was quite hard to direct.
MM: What was your favourite scene to film?
JL: I really liked the boat scene on the Thames. This is the first time Tina and Sasa exchange their thoughts and emotions, and also it is the first time the audience feel the air and are outside. Most of the film is set in the little room in the massage parlour, which makes you feel quite claustrophobic.
But, when they are on the boat, there is the sunshine and it feels light. I love that scene.
MM: This film became a reality through Kickstarter, a crowdfunding project. Do you believe that crowdfunding is the future of film production? 
JL: I think it's definitely a way to get people to know about your film. It is not just for money, it is a promotion tool.
Our director @JennyLuVideo and actor @shuangtg went on stage with @KermodeMovie @BFI to talk about @TReceptionist Out in UK cinemas from 20July #MK3D pic.twitter.com/ydx8Nz5qPq

— Receptionist Movie (@TReceptionist) July 16, 2018
You invite everyone to come and join the film, be part of the film and make it come true. It is important to quite a lot of people, to film lovers. Crowdfunding campaigns are really inviting and let people take part in your film.
Along the way, you keep updating them on the progress, and people feel happy for you and you feel the support. I recommend it: the people push you to complete the film.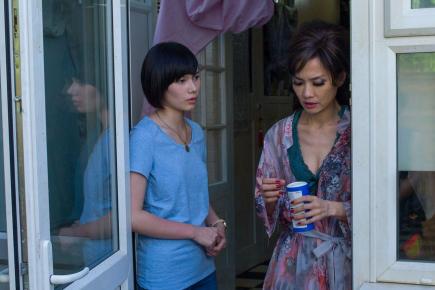 MM: The Receptionist has a prominently East Asian cast and crew. What are your thoughts on diversity in the film industry?
JL: East Asian people are underrepresented in both cast and crew, especially in Britain's film industry. I like to give more opportunities out (to East Asian film workers).
There are so many different races and colours and backgrounds living in the same country, and we are all human. We all have our own stories and should be able to share them with everyone. The more diverse we can be the better.
MM: With the film largely in Mandarin, what was the reason you chose to keep the characters speaking their native language despite a largely English-speaking audience?
JL: I like to keep the authenticity of the film. When these girls are together, even though they are not all from the same country, they still share similar cultures and speak Mandarin most of the time.
I chose to keep this, as if they spoke English but with a strange accent, it would not have made the film feel real. I feel strongly about keeping the different languages.
MM: Your story and success is an inspiration to a lot of people, do you have any advice to filmmakers who want to follow in your footsteps?
JL: The film industry is difficult. But I feel like if you're passionate about projects and you have a story you really want to tell, you should just go for it. You have to prove you can do it.
The first time is always difficult, but so many people do make it, no matter how many years it takes. You have to remember that without you, the story may not be told. You have to make it happen.
MM: How is it being a woman in the film industry? Do you have to face obstacles men may not have to?
JL: Well like now, *gestures to pregnant belly*, and being a certain age, women have this family pressure. If you want to have babies, you have to before it's too late. That itself is a huge pressure for female filmmakers.
You wonder about keeping your career and having time for your babies. It is a dilemma, but there are lots of people doing this and doing amazing! A woman should not feel different, we have abilities to do amazing things, and we just have to prove ourselves.
The Receptionist London premiere @raindance @JennyLuVideo @GarethMunden @LazyHabitsUK @BMagicHNIC @loustar76 pic.twitter.com/u3ZswrVRMf

— Receptionist Movie (@TReceptionist) September 22, 2017
If you would like to help women in these situations please visit either of these charities to find out how.
http://www.tamarwestminster.org/
The Receptionist is in cinemas now and is showing at HOME Manchester on Thursday July 26.