Proudly wearing a green parka and with a laid-back swagger to boot, it comes as no surprise that Nathan Cunningham is an Oasis fan.
However, his links to the Manchester music scene are more than face value.
"When I was in my 20s I gave out newspapers to people and one day a man called Garry (Gaz Stanley – Piccadilly Rats member in the making) came over to get rid of all the leftover ones and from that day on we became good friends," Nathan told MM.
Nathan, who now owns The Low Flying Geese production company, is awaiting confirmation from the BBC on whether they will commission his sure-to-be popular documentary debut Piccadilly Rats: Live in Moderation which charts the highs and lows of the band and has been three years in the making.
"Garry was a litter picker with a guitar on his back. We would skive off work and head to the park with our San Miguels and chat about creative stuff."
Nathan pauses in thought, seemingly to recall fond memories of past sessions and the kind favours of two fruit stall workers.
"We also got friendly with two guys – Steve and Dave – who ran a fruit stall which was then where House of Fraser is now based on Deansgate.
"They used to let me and Garry play guitar in the back room and we returned the favour by selling fruit for him.
"As life progressed Garry managed to get part-time walk on TV parts and I was just getting into films so I cast him as the baddie in the Pimp, the Prostitute and the Milkman.
"The producer got friendly with Guy Garvey who had a band called Elbow and he lent one of his songs called Grace Under Pressure so we changed the name although, reflecting back, I wish I hadn't as it doesn't quite have the same ring to it."
MANKINIS AND JUDGE RINDER
This was Nathan's first film which was showcased in 2008 on a local Manchester channel with screenings all around town.
"None of us went to uni so we did it and funded it all ourselves.
"I then decided to make another film called Rum Bastards which has now been put on ice as I ran out of funding for it.
"I thought to myself I need a quick-fire way of making money so I thought about making a Piccadilly Rats documentary about how they came about and their day to day lives as everybody loves them."
As chance would have it – Nathan, nursing a hangover one day, put on the TV to watch Judge Rinder and up popped Garry and the rest of the crew.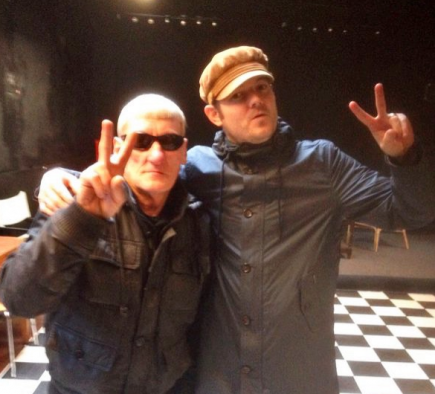 LATE GREAT RAY: Piccadilly Rats frontman Ray Boddington sadly died in April after being hit by a tram in Manchester
"I had an epiphany watching them all fighting on Judge Rinder in 2015 – all over a mankini which was pure comedy gold and I thought to myself with a little bit of funding I could get this off the ground.
"I got in contact with a guy called Mr Peeps who is a well-known music producer around Manchester and he liked the idea and set up a crowd funding campaign which attracted a bit of money (around £1,000) which went quickly because of all the technical stuff involved.
"We did a four-day shoot January 2016 in Manchester which included all the band's regular homes to see where they lived. On the fourth day we did a charity gig at the Printworks with all the proceeds going to the homeless.
"Lanor Productions secured the rights saying it should be a feature and so we went to London to extend filming.
"We then met a man called Anthony Donnelly who is well-known in Manchester and had contacts with Lime Pictures production company, so we applied to them and they were keen but it just didn't fit into their mould."  
ROCK AND ROLL RAY
Ever the perfectionist Nathan informs me that he has yet to show the band his documentary as he is still tweaking it and has only shown a select few to critique.
Sadly, one person who won't get to see the final product is the late Piccadilly Rats frontman Ray Boddington, who died last April after being hit by a tram.
"When I think of Ray I think of a crazy character. I thought he would outlive me. He always had to be dramatic so of course he had to have a rock and roll exit," Nathan says with a fond smile.
What does he make of bands nowadays?
"There is no-one else like the Piccadilly Rats on the street. They are an important part of Mancunian history. However, I do like Stone Roses and obviously Oasis."
And what about the name The Low Flying Geese?
Noel Gallagher calls his band the High Flying Birds and I'm the complete opposite keeping it in the trenches," jests Nathan.
As the old adage goes: No news is good news! So the BBC – if you're reading this – give Nathan that green light he's waiting on to get them geese flying high!
Alongside Nathan, Piccadilly Rats: Live in Moderation is co-produced by Greg at Lanor Productions, Anthony Donnelly of Gio Gio fame and music promoter Mr Peeps.