The secret to European champion Dina Asher-Smith's success is all in a name – that of coach John Blackie, a man she calls her 'second dad'. 
Orpington-born Asher-Smith delivered the performance of a generation at the European Championships in Berlin during August, claiming triple gold in 100m, 200m and 4x100m relay. 
But from the moment she stepped onto the track at Blackheath & Bromley Harriers as a nine-year-old, desperate just to stop running cross-country, Blackie's nurturing began. 
The 22-year-old credits the sprint coach with a central role in her success, promise that also saw her snatch the British 100m and 200m records over the summer.
"I was really fortunate to win three golds and everything that happened was really, really cool," said Asher-Smith, speaking as a spokesperson for England Athletics' #GoCoach campaign. 
"I owe that all to John's hard work – we've been working together since I was a young teenager.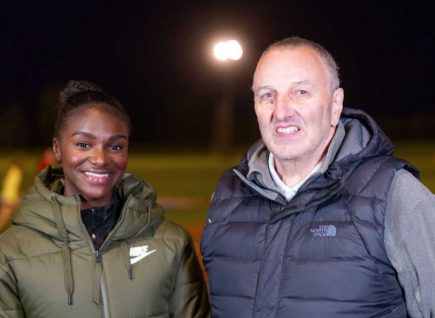 "He's patient with me, especially when I don't get things right for the first time, which happens quite a lot! He's like a second dad to me and has completely changed my life.
"To just see all his plans, hard work and vision come to fruition, especially with the 200m in Berlin, was so special."
Asher-Smith has spent a hard-earned six weeks off, jetting off to Portugal and even hitting the catwalk at Paris Fashion Week alongside heptathlon star Katarina Johnson-Thompson. 
But from this week Blackie will be subjecting the sprinter to a rigorous training schedule with the aim of getting her back up to speed for the winter season.
Asher-Smith and Blackie are perfectly placed to extol the virtues of coaching and endorse #GoCoach, a campaign to recruit 10,000 new athletics and running coaches by 2020. 
The Kent-born ace underlined the importance of coaching guidance and encouraged aspiring leaders to hit the starting blocks. 
"Coaches are really important because they set the tone not only for your career, but also the kind of person you're going to be," she said.
"I would say to anyone considering getting involved in coaching just go out and try it, you have no idea how many young lives you can affect and people you can impact. 
"I wouldn't be where I am without a good coach – a brilliant coach – in John.
"I'm forever indebted to him so the chance to encourage 10,000 more Johns to potentially change other people's lives is amazing."
To find out more about England Athletics' #gocoach campaign, and to find out more about volunteer coaching, please visit: gocoach.englandathletics.org