The five girls sat beaming at each other in their best leotards and fidgeted excitedly in their seats whilst little pairs of hands clutched bottles of J20.
As they furiously sipped the orange liquid through bright pink straws, they unknowingly succumbed to an instant sugar rush.
Behind them were each of their proud mums, smiling down upon their perfect A team, happily dishing out Maltesers in a vain attempt to stop them from clambering over the seats.
Their soothing voices desperately promised that the long-awaited talk with Britain's most decorated female gymnast – Beth Tweddle – was about to start in any minute and that they should prepare for a seated dismount.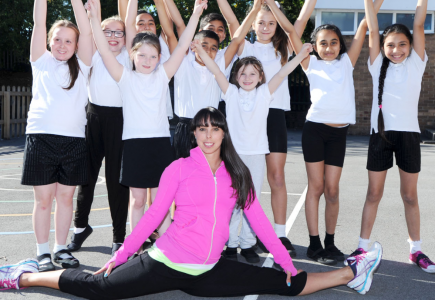 REACH FOR THE STARS: Tweddle, with pupils at Bolton's SS Simon & Jude CE Primary School, has now turned to coaching in a bid to inspire the next generation of talent 
When Tweddle appeared, one by one the little voices pirouetted into silence.
Three years have passed since the six-time world champion called time on her senior career, which spanned over 12 years.
Tweddle rewrote the history books as far as British Gymnastics was concerned, most notably becoming the first British female to win a medal at the European Championships, World Championships and Olympic Games.
Since her retirement, the Liverpool-trained star has been revered not only as Britain's greatest female gymnast, but also as one of the best British Olympic sporting icons of her generation.
Having hung up her leotard in London after finally achieving that precious Olympic bronze medal on home soil, Beth's glittering career is now flourishing with a different twist.
Highlights include being crowned Dancing on Ice champion in 2014 with partner Daniel Whiston, although admits she would most likely turn down a call from Strictly, because she 'can't dance to save her life.'
Her bubbly nature and placid voice serve as a reminder that she was once a sweet, wide-eyed kid like the ones now sitting before her.
But beneath the silkiness lies an undertone resonating her clear determination to give something back to the sport that she fell in love with aged seven and one which enjoyed unprecedented success at the Rio Olympics.
After collecting four gymnastics' medals at the 2012 London Games, few dared to dream that Britain would almost double that tally in 2016. But across the three gymnastic disciplines represented, dreams became reality as Great Britain stormed to a total of seven Olympic medals.
Alongside the heroics of Max Whitlock, 16-year-old Amy Tinkler was another one of the surprise stars at Rio.
As the youngest member of Team GB, Tinkler won a bronze medal – Britain's first ever on the floor. The only other British female to win an individual gymnastics medal at an Olympic Games was the legend that is…. Beth Tweddle – a clear indication that the sport is going from strength to strength.
"There are so many factors as to why British gymnastics has started achieving. People think it's just happened suddenly," Tweddle told MM.
"It hasn't. I think it's constantly growing.
"I mean, in 2004 we picked up no medals, in 2008 we had one, in 2012 we had four and now the fact that we have seven is just… I mean we were on a par with rowing and just below cycling.
"I think we can continue to grow; we have a lot of talented youngsters coming through."
FAB meeting @bethtweddlenews tonight with @cduggan6. We talked the future of #britishgymnastics and female #bodyimage in sport. Top lady. pic.twitter.com/gcMOdfxgWU

— Fiona_Tomas (@FionaTomas) November 24, 2016
But it wasn't always easy for Tweddle. As in most sports, she says, you have to take a step backwards to go forwards.
"I was going to the 2009 London world championships hoping to win a world bar title and I crashed out on my own skill and I thought it was the end of the world," Tweddle recalls.
"I walked out at the main O2 arena and my cousins were there, who were only 9 and 10 at the time. I was really upset and they quizzed, 'Beth what are you crying for?' and I was like 'I've just fallen off.'
"They said, 'Well we don't care, your leotard looked amazing.'
"Kids always say the honest things and they make you realise it's not the end of the world and they made me think, 'I've still got floor final to work towards.'
"No-one was expecting me to do anything in that floor final, it was just amazing to see a British gymnast in it and then suddenly I found myself as a world champion on that piece."
The five little girls sat up straight when they realised it was their turn to take to the floor and ask Beth their prepared questions.
"What's your favourite sport except from gymnastics, Beth?" "What's your favourite country where you performed in, Beth?" "What's your favourite piece, Beth?"
Then a different question somersaulted out of nowhere…
"How did you fight your fears, Beth?"
The little girls sat still, bottles safely empty. Somewhere in the room a Malteser dropped onto the floor.
"You just have to trust your coach to get you through the tricky tumbles and turns with lots of practice," mumbled Beth calmly, although she clearly hadn't expected such a question.
By the time they'd have to face any fears, with any luck these little girls will still be competing, Tweddle might have thought. But with boobs, bums and tums.
Of course, the wide-eyed miniature athletes were far too young to spare any thought about how they would mentally adapt to their ever-developing musculature besides their non-gymnast friends as they grow and develop into young women.  
If any of these little gems were to make it like Tweddle, would a day come when they would have to face their own bodily fears, or start doubting the way they looked as athletes?
How would they mentally focus under the occasional unforgiving media glare which so often scores perfect 10s when it comes to criticizing the sporty feminine, which it has liberally done so with the likes of Serena Williams, Jessica Ennis-Hill and Rebecca Adlington?
Tweddle herself has opened up about her body insecurities during her career.
Who would have thought that an elite gymnast, who always looked so dazzling and magnificent in her sparkling leotard, would have been paranoid about wearing so much as a swimming costume outside of the gym?
The pragmatic answer, according to Tweddle, is because bums hang out of swimming cozzies, while a leotard keeps everything tightly tucked in.  
But even in such circumstances, Tweddle again commended her inspirational coach, Amanda Riddin, who would often iron out the odd niggling self-conscious doubt.
"I remember when I was young because I had grown quicker than my gymnast friends – they didn't have boobs, they didn't have bums so I felt quite self-conscious.
"But then Amanda was like, 'well look at your friends away from gymnast school, away from gym' – and they'd all developed.
"I had two sets of friends, in one set of friends I was dead shy and in the other set of friends I was actually under developed compared to them, so Amanda taught me to be proud of my body."
The captivated children continued to gaze at their gymnast hero, who is now a coaching icon in her own right, aiming to inspire the next generation in an effort to sustain her legacy as an Olympic star.
Each week she teaches gymnastics to around 5,000 children, as part of the Beth Tweddle Academy.
"I was just a seven-year-old girl who loved gymnastics, I didn't have a huge aspiration, yet look what I've been able to achieve.
"So many role models are out there, but they aren't necessarily accessible. I've been in seven schools today and in one school a little girl walked in and she didn't know I was going to be there and just started crying.
"To have that impact on one child and to know that I've maybe helped them achieve what they want to achieve is just so rewarding."
So follow your dreams, kids, and in a few years from now you could be sipping something much sweeter than just a J20.
It's called success, and don't forget the time Beth Tweddle told you all about it.