The Whitworth Art Gallery is renowned for hosting unusual cultural movements but never before has it played host to a human-sized penis and vagina… until last night.
As part of the Wonder Women Festival and Wellcome Collection's Sexology season, an event entitled Sex and the Stereotype took place at the famous gallery as feminists from across the country gathered for an evening of exhibitions, live performances and a debate on sexuality.
The evening notably took a humorous turn with a performance piece from production company FoolSize theatre, featuring a human re-enactment of a penis and vagina.
The dancing duo performed a 15-minute courtship while dancing to disco tunes, because it is just not a Thursday evening in Manchester without gyrating genitalia.
Joanne Tremarco, 34, the human vagina said: ""We started the duo by asking: what is it that connects us all?
"We began performing the piece two years ago on the streets of Birmingham at the same time as the Jimmy Savile scandal.
"The reaction from people was generally anger, and we even got attacked.
"We got pretty famous then as the walking vagina and penis, but no one wrote anything witty or intelligent."
The performance was fantastically outrageous, an unconventional production that is sure to put a smile on the grumpiest of faces.
The evening initially kicked off with a panel discussion about the representation, and repression, of women and their sexuality.
Professor Carol Mavor, Visual Arts lecturer at University of Manchester, opened the debate by detailing the ways Lewis Carroll's Alice in Wonderland explores sexual desire in children.
A controversial topic, but the professor was sensitive in her delivery and described the character of Alice as "sassy, aggressive, inquisitive, and dynamic."
Reni Eddo-Lodge, a London-based journalist, moved the discussion to focus on pornography and its depictions of female sexual stereotypes.
Interestingly, the journalist argued that there was little difference between pornographic representations of women and those seen in wider mainstream media.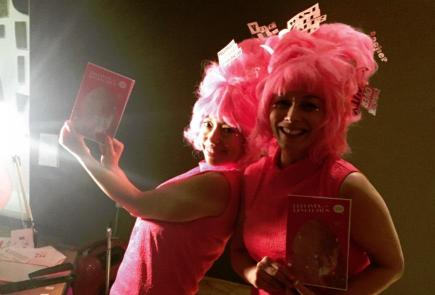 PRETTY IN PINK: A series of live performances took place
She called for more education about sex in schools and from parents, and said: "Sex is everywhere and nowhere in Britain.
"Representations of sex are everywhere but no one talks about them."
Ms Eddo-Lodge called out the porn industry for being deeply misogynist, but concluded that pornography is so overtly sexist because society at large is.
She explained: "Porn does not exist within a vacuum. It is reflective of a deeper societal problem with female sexuality."
The final panellist was award-winning comedian Shazia Mirza, who joked that she knew little about sex because it had been so long since she had "got some."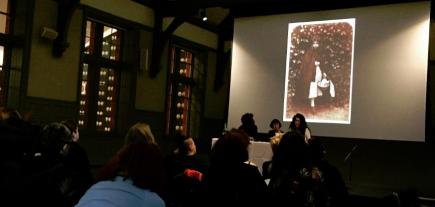 A ROUSING DISCUSSION: Sexuality was talked about in detail
Ms Mirza's comedy was refreshing, and she spoke openly about being a hairy woman in a society that deems body hair obscene.
She said: "F*ck off I'm a hairy woman. People think you're dirty because you don't groom properly."
Speaking of her career, Ms Mirza told the audience she is incessantly referred to as a 'female comedian,' rather than the neutral term 'comedian' used for men.
There was a resounding feeling of frustration from the panellists about how women view themselves in relation to normalised cultural stereotypes.
Ms Mirza closed the debate by saying women have to be 'naked or invisible,' comparing the kind of 'girl power' feminism of Beyonce to that of Emmeline Pankhurst.
Other events included a curators Tour of Sarah Lucas's exhibition, music from Manchester-based electronic-pop duo Bernard + Edith, and a live zine press desk from Ladies of the Press.
Overall, Sex and the Stereotype was a poignant, dynamic, at times absurd, collection of female creativities.
The event was part of the Whitworth Gallery's series of Thursday Lates, which you can find more information about by clicking here.