The Great British night out is part of the national identity, and for Manchester's learning disabled community it's no different.
On Wednesday April 27, The Frog and Bucket comedy club plays host to Frogtastic, one of its most popular and unique club nights to celebrate 'A Decade of Dancing'.
The award winning club night, created in 2006 by The Heroes Project, celebrates its tenth Birthday this Wednesday – and there's a lot to celebrate.
Billing itself as Manchester's foremost club night for people with learning disabilities, their friends and guests, Frogtastic aims to create an inclusive environment for people who may not have had the chance to experience the nightclubbing scene otherwise.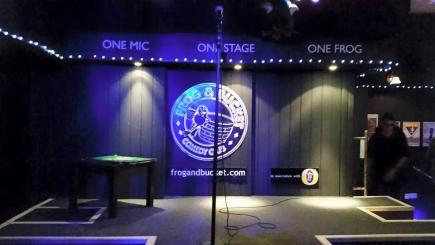 THE FROG: The comedy club venue holds legendary status in Manchester
However it's not just about dancing – performances by Tribute Artists, X Factor finalists and DJ's alongside guest appearances by television stars are just some of the reasons Frogtastic will be welcoming its 17,500th visitor on Wednesday.
Terry Snowden MBE, founder of The Heroes Project and creator of Frogtastic, told MM why he believes the club night is so popular,
"Well for a start there are no agendas, no ticking boxes and no obligations – other than the 'advanced' ticketing policy to ensure the safety of attendees," he said.
"Frogtastic is the result of a number of valued and well established partnerships plus the efforts of a completely dedicated team of volunteers who manage to bring Frogtastic to life.
"Its popularity is a combination of partnership and dedication."
The Heroes Project is all about creating opportunities for what Snowden believes to be 'UK's most deprived community', and Frogtastic – which draws guests from all over the North West – is a fine example of this.
The club night gives budding performers from the world of disability arts the opportunity to showcase their talent by working alongside visiting DJ's and entertainers to hone their craft.
The project, which grew from Snowden's band The Heroes, who regarded themselves as one of the very first 'inclusive' music groups due to its combination of members with and without learning disabilities.
Snowden said that the band's fans were calling for more social engagement opportunities for the community.
"We were constantly being contacted by people asking if we did anything that they could get involved in," he said.
"We were aware from feedback there weren't many social engagement opportunities available, especially in environments that were considered to be safe and secure enough, so we explored the idea of establishing a city centre club night.
"We received more than seven hundred enquiries for just 180 places when Frogtastic first launched.
"I am very proud that it continues to maintain its popularity today."
The decision to partner with The Frog and Bucket, who received the prestigious Positive Action Award after safely evacuating 200 clubbers in May 2008, also had a big part to play in the club night's success according to Snowden.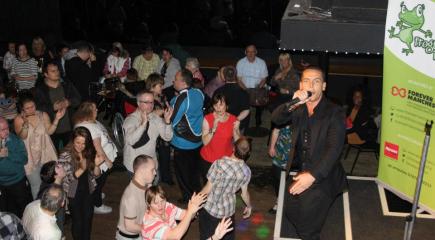 LIKE NOTHING YOU'VE EXPERIENCED: The club provides a unique service for those with learning difficulties 
"The Frog is accessible, friendly, and socially aware," he said.
"We have enjoyed what has been a fantastic relationship with the venue ever since the beginning."
According to The Frog and Bucket's venue manager Jessica Toomey, who has attended several Frogtastic events, it's not just the guests who enjoy the club night.
"The atmosphere is like nothing you've ever experienced," she told MM.
"The happiness in the room is contagious and the bar staff love it."
So what does the future hold for what Snowden describes as 'one of Manchester's most unique little club nights'?
"Who knows," he mused.
"We very much see ourselves as facilitators, so I guess as long as people wish to come to Frogtastic, we will continue to do our very best to provide happy experiences."   
The Frogtastic Tenth Anniversary celebration will take place on Wednesday April 27 at The Frog and Bucket on Oldham Street.
To find out more click here.