It's hard to image that anything beautiful could ever come from the horrors of war, but one Manchester artist has managed to do just that.
Yusf Ali, based in Chorlton, has been drawing inspiration from the horrors of conflict to create some truly thought-provoking work.
Yusf's subterranean 'creative space', a bohemian Mecca of eclectic artwork, is densely packed with years' worth of his assorted works.
One particular eye-catching piece lies a white dove on a black background, made out of stencilled assault rifles with an olive branch in its beak.
Irony is a source of great inspiration for the 27-year old.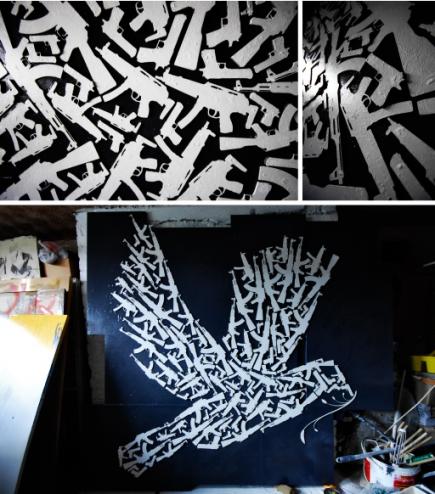 PROVACATIVE: Yusf argues that deep down even tyrants want peace
 
"There's an ancient quote: 'We keep peace by the sword', and it applies to the Arab Spring and conflict in the Middle East," Yusuf told MM.
"Deep down, whether it be the tyrants or the people: they all want peace, but there's an immense irony to it to how they go about achieving it."
When addressing current issues, Yusf says artists fall into one of two categories – those who document events and those who provoke action.
He sees himself more as the latter.
With mixed Libyan and British background, Yusf has focused a great deal on conflict and ideological struggle in the last few years.
He did a number of paintings inspired by the Libyan Civil War in 2011, and has made prints in support of Syria and Palestine this year.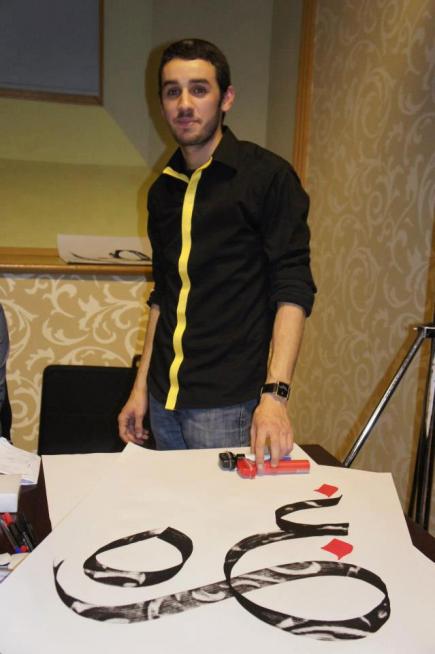 EXPRESSION THROUGH ART: Yusf uses conflict as inspiration
 
"A lot of times when something momentous happens, it's a piece of art or an image or a song that kick-starts a movement. That's what inspires me," Yusuf told M
"For example, lots of tyrants try to use PR these days to control people. But what I love is that the people still essentially have the power.
"I've done a print with the words 'you can't turn off freedom' written across it.
"It reflects the digital age we live in, but also the fact that people still ultimately hold the power."
He's not afraid to broach controversial subject matter – one of his pieces is called 'Artistic Jihad' – but his overriding purpose is to be 'impactful' rather than divisive.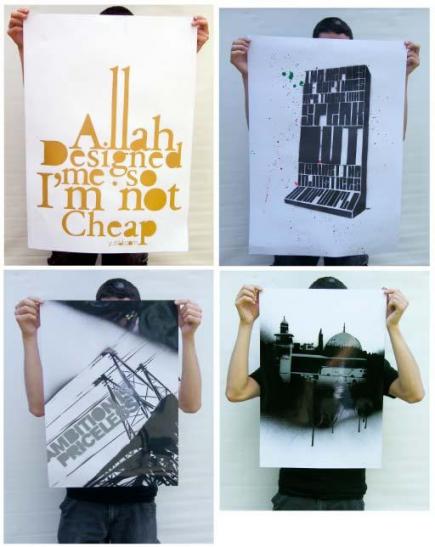 MAKING HIS MARK: The Manchester artist wants to add something to society
 
"When I was growing up I wanted to be a politician or a scientist because I wanted to change the world somehow," he said.
"If you can't add anything to society in your life then what's the point of you taking up your space in the world?"
His work isn't all about conflict, though.
Yusf stresses that he is half-British after all, and the extreme inner-city environment of Manchester has spawned a collection called 'Urban Expressionism'.
"The collection is based on photographs I took around Manchester," he said.
"This city has really developed me in terms of exploring the idea of myself within the place I live, a place which is the epitome of Western urbanism.
"Whatever idea Libyans have of Western urban living, good and bad, can be summarised by the way Manchester looks."
Yusf's work comes at a cost, though.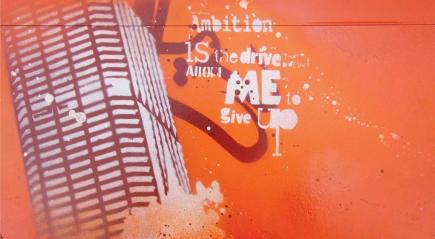 URBAN EXPRESSIONISM: Manchester is a huge influence in this collection
 
Supporting his wife Mariam and their infant daughter, Yasmine, is by far his biggest priority, which leads to some tough decisions.
On top of producing artwork for private clients, he works has two jobs, and he admits financial worries have impacted his creativity.
"It affects my work, no doubt," he said.
"The pressure can hurt inspiration and it changes my mindset. At times you think about stopping it all and getting a part-time job to stay afloat.
"It's hard to create when under that kind of stress, your mind will never focus properly."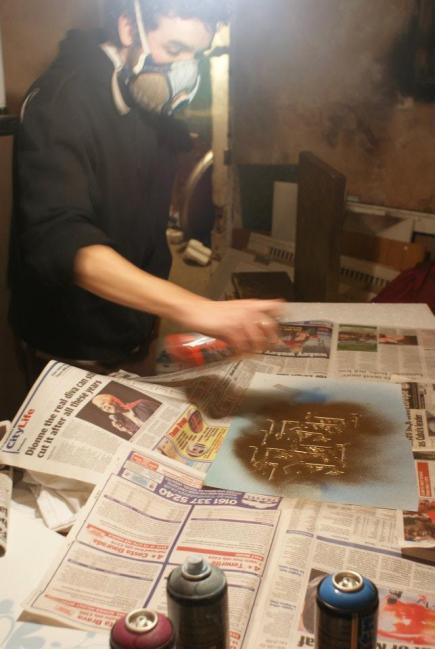 DEDICATED: Yusf still finds time for his art despite working two jobs
 
But while he has been forced to entertain the idea taking a more lucrative graphic design job overseas, Yusf is adamant Manchester is the place for him.
"You do get a bit tired every now and then but I wouldn't change it," he told MM.
"At any time you could just get a bolt of inspiration – someone will email you inviting you to exhibit some work and the motivation comes flooding back.
"In the hard times I always think to myself 'no, I will stick with it, it's important to stay here in Manchester. It will work out'."
To see Yusf's paintings, prints, posters and sculptures, click here or his Facebook page.
All images courtesy of Yusf Ali, with thanks.