Some may be struggling to prosper as the economy crawls out of recession, but for one Mancunian man, there has been no time like the present to start his own business.
After becoming fed up with not being able to find the right products or brands, Simon Lomas decided to create his own online store selling surf, snow and skate attire.
As a keen sportsman himself, Simon was often left disappointed when trying to purchase clothes for his hobbies.
"My interest in fashion and the frustration of not being able to find and buy the products I want have led me to develop bluewhiteandgrey.com," he told MM.
"I am a fairly fashion-conscious surfer, snowboarder and skateboarder.
"I found it difficult to find the products that I wanted to wear across the larger online stores that stock 600 plus brands."
With a background in web development and online marketing to support him, Simon took the plunge last month and brought his idea to life. 
While his desire to offer suitable clothing to like-minded consumers was his main drive, he explained how he also took inspiration from businesses around Manchester.
"I have been inspired by a lot of the independent retailers you find in the city's Northern Quarter," he said.
"Black Sheep Skate Shop in particular has definitely been a huge inspiration.
"The store is really successful and because they are doing so well they have recently moved to a larger premises. 
"Black Sheep is definitely considered an institution amongst the Manchester skate scene.
"If bluewhiteandgrey.com has anywhere near as much success as Black Sheep then I'll be extremely happy.
"Starting up your own business is a difficult task and their commitment to provide something different to high street consumers has been an inspiration to me starting my own business."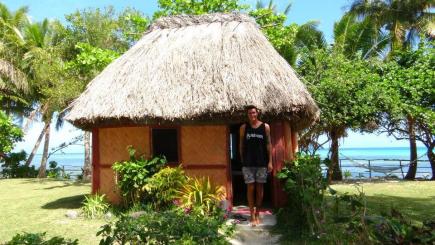 MORE THAN JUST A LIFESTYLE STORE: Simon's love of sports was an inspiration for the business
The store offers a range of clothing for men and women, with brands such as Mink Pink and Analog available to customers.
Taken from the website itself, bluewhiteandgrey.com is described as being 'more than just a lifestyle store but a community of creative thinkers, thrill-seekers and innovators'. 
It hasn't been easy to establish the website though, with Simon stressing that it 'wasn't launched overnight', explaining that work began on the website over a year ago, with a lot of effort going into research.
"We have been working on this since March 2014 and a big part of that work involved primary market research," he said. 
"We attended many industry events to ensure we were speaking with potential customers so we could better understand their thoughts on the new business idea.
"First each brand we chose to work with must be producing clothing that I would wear myself and it is paramount that they are producing high quality garments.
"Secondly, the brand must have a clear vision that matches our target consumer."
Not one to bask in his success just yet, Simon remains keen to explain how creating a new business is tough and having a 'thick skin' is essential.
"Perseverance is a key attribute for any small business owner," he said.
"There are always going to be bumps in the road but it is how you get past these that define you.
"You need to be quite thick skinned as not everyone is going to be complimentary about what you are doing.
"Moving forward we aim to cement ourselves as the go-to store for surf, snow and skate fashion.
"At the moment we are solely focused on ensuring we get through the first year of trading but it's my dream to have a high-street store in Manchester."