This National Tree Week, November 25-December 3, leading environmental charity City of Trees is uncovering Manchester's hidden heritage.
Have you ever driven between Salford and Old Trafford, along Chester Road, and noticed a striking white archway?
The seemingly gate to nowhere stands alongside a busy multilane roundabout, White City Circle and the White City Retail Park shopping centre.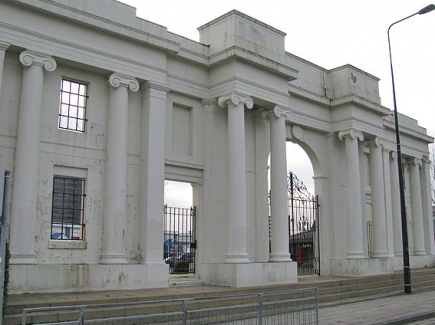 PAST GLORIES: Manchester's Royal Botanical Gardens flourished for nearly 100 years until 1927 when White City became a greyhound track
This puzzling Grade II listed gateway, however, was once the openings of Manchester's very own Royal Botanical Gardens.
The Manchester Botanical and Horticultural Society was founded in 1827, and the rich and fertile gardens were to provide the citizens of Manchester with a place for recreation and clean air during the busy industrial 19th century.
The official opening took place in June 1831, unveiling striking buildings, walled gardens, and beautiful displays of flowers, plants and trees that many people had never seen before.
At a loss of funding, an Art-Treasures Exhibitions was held in 1856 to bring the Botanical Gardens back into the public eye and raise much needed funds.
Queen Victoria was invited to attend.
However, a large disagreement took place between the committee and the director of the catering and it was a disaster for the Gardens resulting in financial trouble.
Mr. Bruce Findley took over as curator in 1858, and a new larger committee was elected.
Findley's motto was: "A garden is health, a garden is wealth, a garden is happiness."
His dedication and debt management meant the gardens were back on track by 1865 and Manchester's Botanical Gardens flourished for many years.
With Findley's passing, the committee decided to clear all underlying debts by handing the land deeds over to the bank.
With several companies taking over the site and debt, and failing, the Botanical Committee  eventually sold the land in 1927, which subsequently became a Greyhound racing track until 1982.
The committee had worked tirelessly though many decades of financial hardship to give the people of Manchester a true escape, but unfortunately failed.
Manchester was once home to one of just three Royal Botanic Gardens in the UK – with the other two still remaining: Kew in London and Inverleith in Edinburgh – and is a truly lost legacy to the city, its people and visitors.
**
National Tree Week is led by The Tree Council. First initiated in 1975, it is the UK's largest tree celebration annually launching the start of the winter tree planting season.
Salford movement City of Trees is asking businesses across Greater Manchester to 'go green' during this week.
Rescuing our office plants and thinking sustainable thoughts today #GoGreenGM @CityofTreesMcr pic.twitter.com/MO09dFbmcz

— RJP Ltd (@rjackplan) November 27, 2017
Businesses and companies are being encouraged to look at ways to reduce their carbon footprint in the office, whether it be turning off the lights, or practising proper recycling.
Sian Day, Fundraising Manager for City of Trees, said: "Go Green week is all about encouraging people to be more aware of their environmental footprint as well as fundraising for a greener Greater Manchester.
"We want to see more trees to help create healthier, happier and more resilient communities."
The charity is also encouraging staff to raise funds during the week by having a bake sale, wearing green for the day or doing a sponsored walk or cycle.
Sian added: "City of Trees spends around £1m each year connecting people to nature by planting trees and managing woodland and we rely on donations to make this happen.
This is such a good #NationalTreeWeek story, illustrating how #TreeValues come in all shapes and sizes… including tall, carved, poles! https://t.co/1uv5hNSxQt

— The Tree Council (@TheTreeCouncil) November 27, 2017
"We know that people love trees but not everyone can help plant them, so by raising funds for City of Trees you're not only going green in the office but helping Greater Manchester to go green – supporting our work planting more trees across the region."
For more information and to take part in the 'Go Green' campaign this National Tree Week contact Sian Day on 0161 872 1660 or email [email protected]