Don't bin it, donate it: that's the message from Salford Royal today as they launch their new campaign urging 50,000 Salford smokers to hand in their empty cigarette packs.
The discarded cig packets will be turned into a sculpture to be put on display at the hospital and across the city to promote the range of smoking cessation services on offer.
In addition, for every packet donated, pharmaceutical giant Pfizer will donate a pound to the UK stop smoking charity QUIT.
Launched on World No Tobacco Day, the sculpture will be constructed by Mancunian artist David Boultbee and will be unveiled to the public this summer.
MM caught up with Salford Royal's Assistant Director of Nursing, June Roberts, to talk about the sculpture and why Salford has such higher rates of smoking than the national average.
"We know that smoking rates in the UK have been coming down. But where people still smoke, it tends to be in the areas of the highest socioeconomic deprivation," said June.
"Where we've got high levels of unemployment, poor housing and things like that, we tend to have more people who continue to smoke, more people who start smoking, and kids who start smoking at a younger age."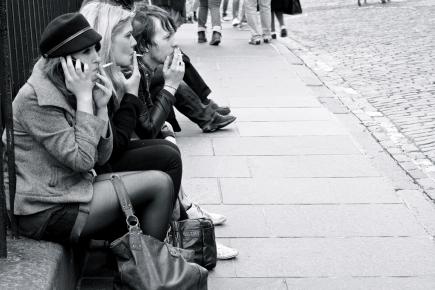 SOCIOECONOMIC DEPRIVATION: Smoking rates are higher in areas with poor housing and unemployment (© Alessandra, with thanks)
The habit has been cited as the single biggest cause of inequality in death rates between rich and poor in the UK, according to public health charity Action on Smoking and Health.
June added: "It's a very broad statement to say it's more socially acceptable, but because more people smoke in areas like Salford, you mimic the behaviour of generations before.
"There's just as much help available, but in Salford there's more challenges for people to stop smoking."
With more than one in four adults smoking in Salford – and this figure rising up to one in two in the eastern ward of Irwell – the hospital's smoking cessation team have a big challenge on their hands to cut the figure.
"We've got massive work ongoing where we're working jointly with the council and health providers across the city," she said.
"Because we have such high smoking rates in Salford, and because that has a direct influence on general health but also on the development of long-term conditions, we want to highlight how important it is to stop smoking and what help there is available."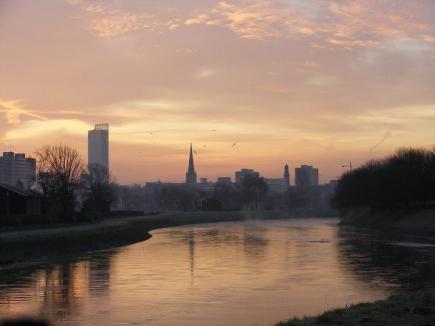 CHALLENGE ON THEIR HANDS: Smoking rates in east Salford are miles higher than the national average (© Ian Roberts, with thanks)
Referring to computer and e-learning and exercise as other facilities available across the city to help cut the habit, June said that 'the support in Salford is wider than just smoking cessation'.
"If you smoke, you're addicted. You're addicted to nicotine. And if you haven't got your cigarette, your cravings will start, and those cravings will increase your stress levels.
"So actually being a smoker can make you feel more stressed generally because you think you're addicted. If you can stop smoking and we can support you to do that, your stress levels might fall because you've not got the cravings that increase the stress."
In the last two years, the popularity of e-cigarettes has rocketed, with the number of users tripling from 700,000 to 2.1million.
But June warned that they might not be quite the miracle solution to stopping smoking that many believe.
"With e-cigs, it's much more difficult to make a recommendation. If I go onto the Precinct, or anywhere else in Salford and I see an e-cigarette shop, I don't know what's actually in those e-cigarettes."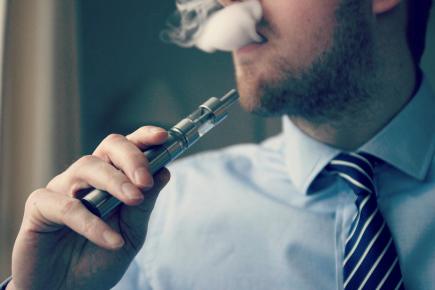 'WE DON'T KNOW WHAT'S IN E-CIGS': June's concern about the new trend is the lack of research (© Vaping360.com, with thanks)
"If somebody makes the choice to use e-cigarettes, I think that's really good because they've got it in their brain that they want to stop smoking, and they're motivated to do that," June said.
"But even if you're using e-cigarettes to try to stop smoking, if you get additional help from a stop smoking service, you're four times more likely to stop smoking than anybody who tries it alone.
"So that extra support – no matter what you're using – is really what makes the difference. But the bottom line, what you really want to do, is be a non-smoker and a non e-cig user."
With potentially thousands of packs set to be donated to the hospital, June said they have no idea how many they could receive over the course of the collection period, which runs from today until the end of June.
"It's going to be initially displayed at Salford Royal, but will hopefully be shown in more areas around the city to be used as a real centrepiece for the next 12 months," she said.
"Of course, the more packs we get, the bigger the sculpture's going to be, and the more impact it'll have. We really want to improve the health of the population of Salford by helping them to stop smoking."
Collection points are available at all entrances of Salford Royal, with free parking available for up to half an hour. Alternatively, empty packs can be handed in to your local smoking cessation team.  
Anyone interested in finding out more about stopping smoking can call the Salford Health Improvement Team free on 0800 952 1000, email them here or visit their website.
Image courtesy of James Mackintosh, with thanks