With a climate emergency officially declared in the UK, protesters taking over London streets, and pupils on strike across the globe, environmental activism has clearly reached a new height in 2019.
The new shift in language, from climate change to climate emergency, shows how crucial this political moment is.
In October, the UN Intergovernmental Panel on Climate Change warned that the world was far from meeting its target of keeping global warming under 1.5C. Since then, much of the public has been calling for serious government action.
On the eve of the fourth youth strike in the city on May 24, groups from Greater Manchester gathered at a panel event titled 'What Next for Climate Action in Manchester?' to discuss ways of using momentum from the growing awareness of environmental disaster into practical steps towards change.
The first speaker was Emma Greenwood, a climate activist and Youth MP for Bury. She described her hopes for the coming youth strike, which people from over 100 countries around the world would be taking part in.
She asked for support in the coming protest from the adults in the room, stating that "the youth strike isn't just for young people, it's for everyone."
Claire Stocks spoke on behalf of Extinction Rebellion, detailing the group's demands as they specifically relate to Greater Manchester.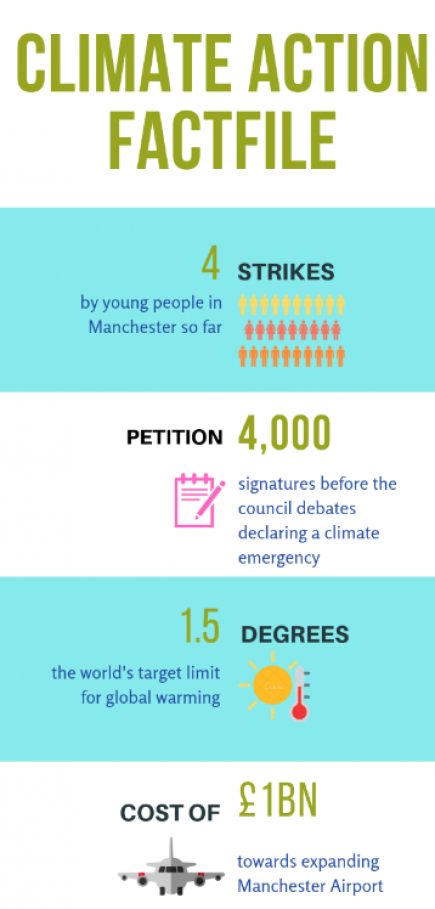 These include the call to declare a climate emergency in each local authority – so far Trafford is the only one to have done so.
Stocks also described the potential benefits of a citizens' assembly for residents of Manchester, which would involve people directly in the democratic process by giving them decision making powers.
And she criticised the council's plans to stop carbon emissions by 2038 as lacking in structure and effect, particularly as the recorded level of emissions do not include those from Manchester Airport, which is scheduled for expansion.
Next was Kate Lewis from Unite Community Branch, whose talk focused on the need for a Green New Deal, and especially investment in renewable energy.
"Industrial policy and the environment are intrinsically linked – you can't do one without the other," she said.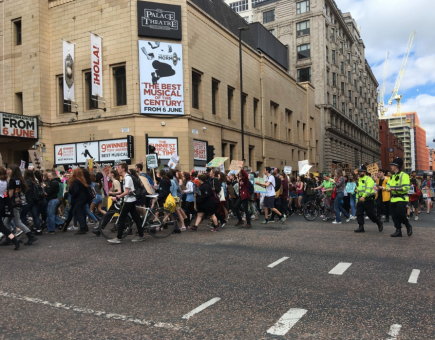 TAKING AWAY 'POWERLESSNESS': Various groups are hoping increased pressure on councils and governments will lead to a brighter future for generations to come
Lewis stated that rather than relying on people making individualistic lifestyle changes, "we really need to look to the politicians to do something about it," adding that Labour will need to adopt Green policies if we want to see progress in environmental issues.
Rising Up! Manchester Families organiser Rose Arnold gave her talk via video, ironically noting the difficulty of attending evening meetings as a parent as being one of the key reasons for the group's creation.
It also aims to solve the difficulties of bringing children to most protests by putting on family friendly events.
"I think becoming a parent really makes you think about the world you're bringing your child into," she said. "I wanted to get involved in making it a better place.
"Our children are going to find out about climate change. They have got to learn these facts, and it breaks my heart. But if children find out about it and can be part of trying to change it, it takes away that powerlessness."
Next was Marc Hudson from Climate Emergency Manchester, a campaign group hoping to push Manchester to declare a climate emergency.
So far the group's petition has 1,500 of the 4,000 signatures required for its proposal to be debated by the council. Asked what will happen after the group achieves this, he urged people to look past short term goals.
"Let's think of our activism as a process rather than an event," he said.
The next afternoon, hundreds of young people marched through Manchester city centre on the fourth youth climate strike so far.
Flanked by police, the protesters chanted and sang while holding placards whose statements ranged from Game of Thrones references to pleas for the government to take their concerns seriously.
In the nine months since Greta Thunberg, the face of the youth strike movement, first protested outside the Swedish parliament, hundreds of thousands of young people have spoken up and demanded an end to the destruction of their world.
It's clear from their passion, and the determination of climate activists in Manchester, that people will not give up until their voices are heard.