Black Friday is upon us and shoppers from far and wide have descended on Manchester megastores to brace the money saving madness.
Originally from American (obviously) the annual discount day takes place on the first Friday after Thanksgiving.
The craze first arrived on this side of the pond in 2010 thanks to online giant Amazon and since then more and more retailers across the country have slashed their prices for one day only in celebration.
Tesco, John Lewis and House of Fraser are just some of the huge retail stores across the city which began offering slashed prices at midnight and some are expected to continue throughout the weekend.
A report by Visa Europe has predicted that £360,000 will be spent every minute, or £6,000 every second, today.
But with thousands of limited offers up for grabs shoppers will be left to fight it out to bag themselves the best bargain.
And judging by twitter this morning, it's enough to make a Saturday day afternoon in Primark look like Sunday mass….
But is it really worth it? We headed out onto the Streets of Manchester to find out what Mancunians think of the craze.
Are the low prices worth the stress of Black Friday?
Amelia Hussain, 28-year-old student from Manchester said:  "Personally I wouldn't go because I have other priorities as I'm a student.
"But if my friend called and asked to go for a coffee in town then I would probably nip in in one or two shops, but otherwise I wouldn't.
"It is quite busy and hectic and going through the crowds is quite difficult and stressful. "
Dan McDonald, 28, from Cardiff, said: "Yes. If there is something that you can save a lot of money on then I would be prepared to wait. "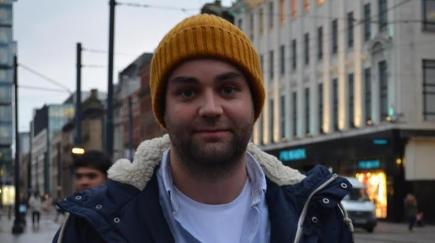 BARGAIN BUYER: Dan McDonald said he would brace the queues to save big
Jose,  an IT student from Spain, said: "I don't care too much about Black Friday to be honest. I am not much of a shopper.
"I wouldn't mind if there was something cheap that I really wanted but still I don't think it is worth it. I have better things to do than stand in a line all day."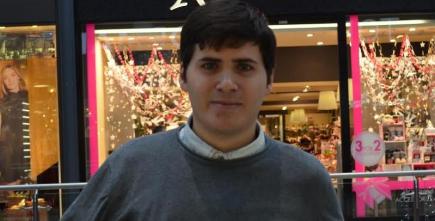 I DON'T CARE: Jose said he'll be avoiding the queues 
Kevin Fuller, a 60-year-old, designer from Suffolk, says he also has better things to do than queue up to save a few pounds.
He told MM: "Firstly, if I wanted more customers, I would do the deals more often throughout the year rather than just have everybody to come at once.
"And secondly, Black Friday is good if you want to bargain. You've got to know what you want as oppose you  just go and buy something you don't need  while thinking ' 'Oh, that's cheap'."
Greg Mather, 18-year-old barista from Flixton,said he would have braced the madness if he could have the time of work.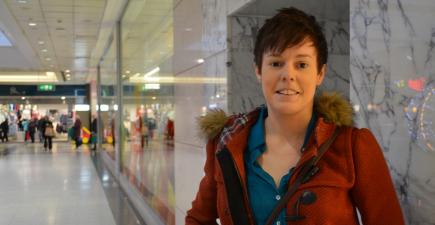 CAN'T STAND IT: Louise has experienced crazy queues while working in retail and doesn't think it's worth the frustration
He said: "It depends on how long the queue is. But I'd say yes because it is worth to get a bargain."
Louise Thomas, 28, who works in a charity in Manchester, said:  "No, not at all [are the queues worth it]. I used to work in retail so sales and stuff like that I just can't stand.
"It is just so manic and busy. People queue outside for like 6 am and stuff.
"It is a good idea, I see where it is coming from and it is good for sales and everything, but I avoid it."
Anton Thomas, a 26-year-old Manchester makeup artist said: "I would say no just because I would rather shop online instead of going to the shops and waste time."
Diana Moss, a 33-year-old mum from Salford, said: "Yes. I think that it is a really good idea, especially when it comes to buying electricals, you can save a lot of money.
"I bought a TV last year and it was a really good bargain so it was well worth it."
Image courtesy of World Breaking News, via Youtube, with thanks.