If you ask any professional athlete they will tell you strength and conditioning is paramount to their success, but that has not always been the case.
In recent years athletes have realised that an effective S&C regime can be the difference between winning and losing at the highest level, and those who neglect S&C are eventually found out in competition.
It's not only combat sports such as rugby and boxing that require a strict S&C schedule, but non-contact sports such as tennis also place an emphasis on this side of training.
There are very few people in the country better educated in the art of S&C than Ric Moylan, having worked with Mancunian boxing world champions Ricky Hatton, Scott Quigg and Anthony Crolla as well as tennis ace Liam Broady.
Wishing @ricmoylan @charitynightmcr and everyone taking part a successful night on raising money for a great cause 

— Scott Quigg (@scottquigg) October 7, 2017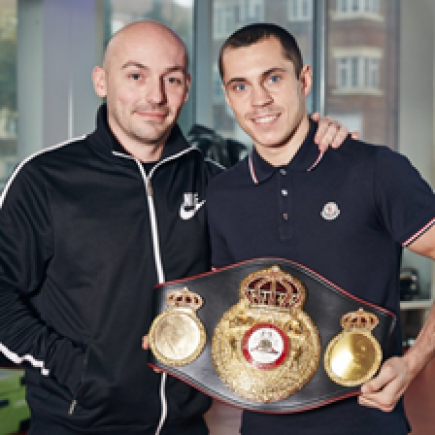 NORTHERN POWERHOUSE: Ric Moylan with Mancunian boxing world champion Scott Quigg
Speaking to MM, Ric explained how his career in training world class boxers began.
"I was a personal trainer working in a Manchester gym and I made it quite public that I wanted to work in combat sports. A mate of mine was good friends with a young Anthony Crolla.
"[He] introduced me to Anthony who had just lost for the first time in his professional career (to journeyman Youssef Al-Hamidi).
"I was taken down to his gym and his trainer liked me at the time, so I started down work with Anthony, Tony Bellew, Joe Selkirk, Steve Bell, Frankie Gavin and Kallum De'Ath."
As well as training fighters, another chance meeting led to a flourishing relationship with Liam Broady.
"A local business owner watched me training clients and was best friends with the Broady family.
"Liam was eight years old and it was very clear that he had major talent, Naomi [Liam's sister and professional tennis player] as well but certainly Liam at the time."
Although tennis and boxing may be worlds apart in some ways, there are a number of people including Ric that believe all sports can be linked together by the will to win.
"I believe all individual sports, whatever they are, are a fight.
"It's a fight and it's a battle of wills. When you get to the top level of sport everybody hits the ball the same, everybody plays the same shots, and everybody has very close levels of skill.
"Often it's about who will break first and that's why for me I think tennis aligned well with boxing."
'HERE TO STAY'
The importance of S&C has increased massively over the years as athletes realised it can be the difference between winning and losing.
"If you look at Andy Murray, Jez Green brought S&C into Murray's game and he started to overwhelm players not just through talent but also sheer power and force.
"In boxing and mixed martial arts in this country, we have a lot of fighters who are prepared to embrace S&C now but there is still a lot of resistance from the old guard of trainers who still believe the old myths of 'S&C will slow you down' and 'S&C makes you bulky' which is quite laughable really.
"Because there is not much money in S&C at the moment we might have a few young trainers who are not quite doing the right work.
"S&C is here to stay in combat sports. I'm not saying S&C will ever replace the skills of combat sports but it is certainly a piece of the jigsaw that has to be embraced, and if combat athletes aren't doing it they're going to get left behind."
The biggest myth around strength and conditioning is that it is a tool to become a body builder, although this is not the case at all.
"True S&C is not body building, they are completely different. People make a lot of assumptions about Tony [Bellew] but he's a highly intelligent man and he wants to win fights. Tony trains, like S&C should be done, to win fights.
"It's there to improve footwork, reflexes, speed and hand speed. It's not there to make you bench press better as a fighter."
As well as his career in S&C, Ric has organised a number of boxing events in Manchester over the past few years raising money for the NICU (Newborn Intensive Care Unit at Saint Mary's Hospital) after a family tragedy.
"I remember certain things on the ward, the way they handled the family with a lot of dignity and the care and love they gave to my family. I wanted to try and do something positive and raise lots of money.
We fundraise to help the Newborn Intensive Care Unit (NICU) buy High Frequency Ventilators (HFOV) cost £35k each https://t.co/1a0EdoRXND pic.twitter.com/8T3MZWALvW

— Ric Moylan (@ricmoylan) August 18, 2017
"After a chance conversation with a lady at my gym, after I told her what had happened I found out she ran Connect In Events. I know boxing and they know how to do events so we decided to run boxing nights and we had no idea it would go as it has.
"We've done three events now in two years. The first event we begged, we borrowed and it sort of fell together really but it was a big success. The second event was also a success but we had some expensive learning curves along the way!
"Frank Bruno attended the night we had on October 7 this year and we're set to have raised over £50,000 which is unbelievable. Over the three events we have raised over £100,000 for NICU."