Urban green roofing projects are offering a lifeline for threatened bird species, with Manchester Metropolitan University and a Chorlton grocers pioneering the way in the city.
Campaigners say Manchester should follow Germany's lead in installing the roofs across the city, which aside from promoting better psychological wellbeing can also help prevent flooding.
Some of the most notable examples of green roofing in Manchester come from the Red Rose Forest's 'Little Green Roofs' project, which include MMU's All Saints building, the Whitworth Art Gallery atrium and Stevenson Square.
Green Streets Project Officer Kevin Wigley said: "I think it's really important that Manchester and other cities in the UK follow the lead of countries such as Germany that have strong policies about the introduction of green roofs whenever possible.
"Their benefits are backed up by an increasing amount of research so discussion should now move from whether it should be done to how it should be done."
Peter Stringer, Special Projects Manager at Red Rose Forest pointed out the benefits to people in Manchester.
He said: "Green spaces in our cities are limited. Green roofs are a highly original way of creating this much needed space.
"Greenery helps us reconnect with nature and is well known to improve psychological wellbeing and inspire everyone that sees them."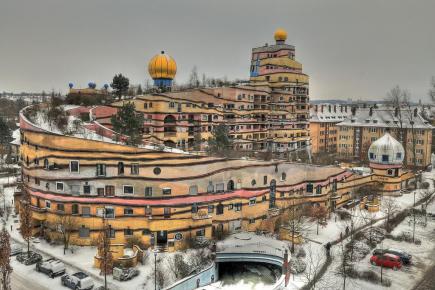 GREEN PARADISE: The Waldspirale (wooden spiral) in Darmstadt, Germany, features a spiral roof planted with flowers and trees  (©Joachim S. Müller, with thanks)
The latest State of Nature Report also praised green roofing as a simple solution to the complex issue of people living alongside nature in cities.
"With increasing development in cities, space for nature is under pressure. One solution is to create living roofs. These consist of a waterproof membrane topped with a growing medium," it explained.
Mr Wigley made the point that green roofing is also a valuable tool to fight flooding which has the potential to devastate both people and nature.
"It's their ability to absorb and slow down surface water run off that makes them most valuable. Helping to reduce the likelihood and severity of floods caused by impermeable surfaces in urban areas is only going to become more and more important in the future," he said.
The Unicorn Grocery in Chorlton-cum-Hardy was the first building in Manchester to incorporate wetland into their green roof as part of the city's 'Make Room for Black Redstarts' campaign.
The black redstart is one of the UK's rarest birds and there are less than 100 breeding pairs.
Manchester is the home to a few of these precious pairs, where they have been spotted in Chinatown in the city centre.
The Unicorn's green roof was designed to mimic the ideal habitat for the black redstart and it has attracted over 20 different species since it was built in 2007.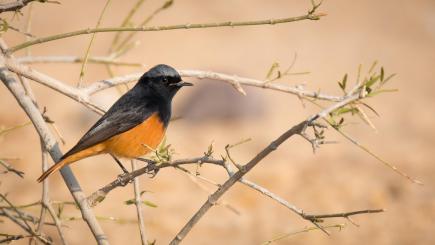 AT RISK: The black redstart is one of the UK's rarest birds 
(©Sumeet Moghe, with thanks)
Co-operative member Leah de Quattro told MM: "We have never seen any black redstarts, sadly, but plenty of other wildlife including a few nests of ducklings!"
Some of the bird species that the roof has attracted include the magpie, heron, yellow wagtail, grey wagtail, jay and mallard.
The yellow wagtail is a listed as a severely threatened 'red' species and the grey wagtail and the mallard are both moderately threatened 'amber' species, according the RSPB.
Other Manchester species that are currently a priority concern to wildlife charities include the starling, house sparrow, bullfinch and song thrush.
But it isn't just green roofs that offer a lifeline to birds this winter, as ordinary gardens are also important to the survival of Manchester's 'at risk' species.
Chris Collett from the RSPB in Northern England said: "People can make a real difference to garden birds and improve their chances of surviving the winter.
"Birds don't need much and by providing a supply of food, a patch of unfrozen water and somewhere to shelter from the elements, you will be rewarded with great views of wildlife in your back garden."
The State of Nature Report identified the seven main threats to our urban species as non-native species, water and air pollution, tidier gardening, climate change, habitat loss, habitat fragmentation and changes to buildings.
Top image courtesy of urbanfeel, with thanks