A Sale couple have had their rescue dog christened 'Bulletproof Belle' after astonished vets discovered TEN lead pellets embedded in her body.
The three-year-old Lurcher was feared to have suffered an infection due to a breathing problem but tests showed she had in fact survived being shot and wounded – possibly by a farmer who caught her roaming around his fields.
Belle will never be able to have the pellets removed as they are too firmly lodged inside her body to have surgery, but miraculously she has suffered no life-threatening injuries as a result of her wounds.
And now she has found her own happy ending, having been adopted by a family who live near Manchester.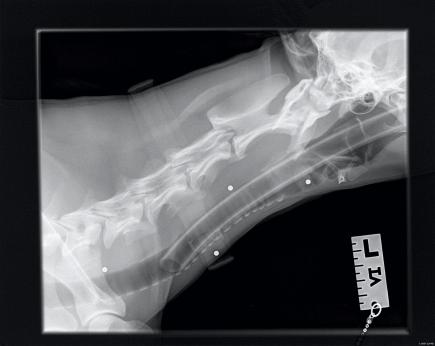 BULLET-RIDDEN BELLE: The white dots on the x-ray scan above show the pellets embedded in her flesh (© Cavendish Press)
Belle had been a stray in Ireland but no more was known about her history. After being shipped over to the English mainland from an animal shelter in Ireland last September, Belle was taken in by the Dogs Trust, the UK's largest dog welfare charity.
In addition to her being underweight, staff at the dogs' home became worried when they noticed a rasp to her breathing. Believing Belle may have an infection, vets advised a course of antibiotics, but this saw no improvement.
But an X-ray finally showed the shocking cause of the problem – four tiny metal pellets in Belle's neck. A further two pellets were found near her liver, two near her ribs, one in her chest and one in her leg.
Nothing is known about how the pellets came to be in Belle's body, leaving staff at the Dogs Trust centre in Manchester dumbfounded as to how she has survived. They suspect Belle may have wandered onto a shooting range or been shot at by a farmer during her time as a stray.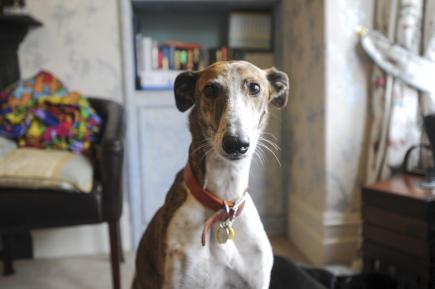 CUTE CANINE: The three-year-old Irish Lurcher was found with ten pellets in her body when she arrived at the Manchester Dogs Trust (© Cavendish Press)
Vet Jennifer Pepper of Tameside Veterinary Clinic in Ashton-under-Lyne said: "It's a miracle she didn't die as a result of being shot like this."
Although Ms Pepper was able to remove the pellet in Belle's leg, the other nine are believed to be too deeply embedded and close to her organs, with surgery to remove them posing a much more serious risk to her health.
When the pellets were first discovered, Belle had already been reserved for adoption by Steve and Katy Thompson.
Staff feared the husband and wife, both 50, might reconsider adopting Belle after seeing her X-rays – but they need not have worried.
Mr Thompson said: "We already have a rescued Lurcher called Jet and were starting to think about adopting another dog when my wife told me she'd already visited the dogs' home and found 'the one'.
"But a week before we were due to collect Belle, they rang us and told us she was full of bullets! We were naturally concerned but it only reinforced our resolve to give her a good home.
"She hasn't had a good life. It's hard to understand why someone would treat a dog so badly."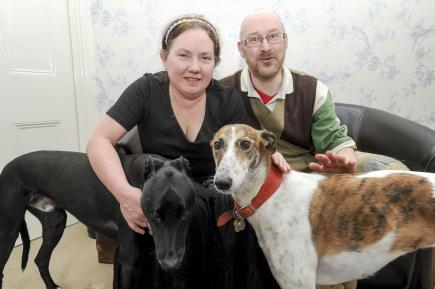 'SUCH A LITTLE LADY': The Thompsons are over the moon with their new family member  (© Cavendish Press)
Belle moved in with her new owners in Sale in December and 'made herself at home instantly'.
The Thompsons also own an eight-acre smallhold on the edge of the Peak District in Derbyshire where they grow their own crops and vegetables, while Belle and Jet hunt mice together.
Mr and Mrs Thompson have to use a harness rather than a collar around Belle's neck when taking her for walks, but besides this, 'Bulletproof Belle' is like any other Lurcher.
Mr Thompson said: "She is such a little lady; she walks like she is dancing. She is very light on her feet and always wagging her tail. And she definitely suits her nickname. She is irrepressible, always bouncing around."
A spokesman for Dogs Trust said: "Although other Lurchers and Greyhounds were rehomed from Dogs Trust Manchester, Belle was overlooked by thousands and staff at the centre couldn't understand why.
"She is a gentle, happy, sweet girl, a real lady, good with other dogs and older children.
"Whilst here, canine carers noticed that sometimes she had a slight rasp to her breathing. It was initially thought she may have an infection but when it didn't improve following a course of antibiotics, the vets investigated further.
"X-rays showed that she had a total of ten 'pellets' in her chest, neck, abdomen and front left leg. Four were in her neck, two near her liver, one in her chest and two more near her ribs.
"The one in her leg has been removed but the vet has left the others in place as it is too dangerous to remove them, for fear of causing further damage.
"It is thought the slight rasp to her breathing, which happens rarely and only when she has been running for some time, may be due to the scar tissue that has formed as a result of the pellets entering her neck."
Story via Cavendish Press.
All images courtesy of Cavendish Press, with thanks