If you've been on social media at all over the past month (and if you haven't, what's your secret?) you'll no doubt be well-acquainted with the popular #veganuary trend.
This doesn't seem to be reflected on the streets of Manchester, though, as every one of the vegan restaurants we spoke to said that they had seen no particular rise in customers over the month.
For those unaware, 'veganuary' refers to a sort of social challenge in which participants give up all meat and dairy for the entire month. Whether this is for health, environmental, or ethical reasons is up to the participants, but the idea is the same.
Veganism itself has seen a huge popularity boost in recent years; at least, that's what the numbers suggest. According to an Ipsos Mori poll commissioned by the Vegan Society, there were around 600,000 vegans in the UK as of 2019 – roughly 1.16% of the population. This may not sound like a lot, but it's up from just 150,000 in 2014, according to Food & You surveys that year.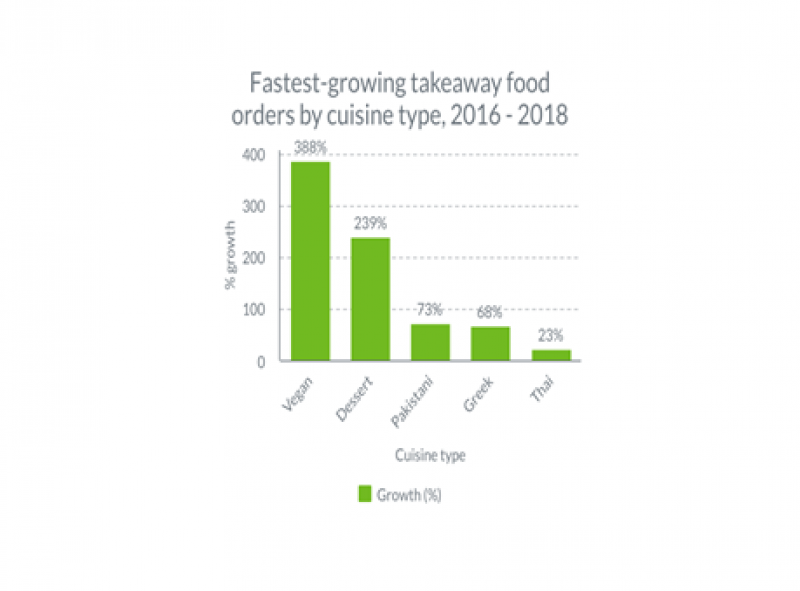 (source: British Takeaway Campaign report, 2019)
That's not all. The 2018/19 Waitrose Food and Drink Report claims that 33.5% of the UK population are dropping or cutting down on meat, while in the European market as a whole, meat substitute sales grew by 451% in the four years to February 2018, claims a University of Hohenheim press release.
With this increasing popularity in veganism, and assuming that social acceptance of it is also on the rise, one might think that vegan restaurants would be bringing in more customers than they know what to do with.
But that's not the case, at least in Manchester. We asked the manager of vegan diner V Rev on Manchester's Edge Street, whether he had noticed an increase in customers during the month.
"Not at all, no," he said. "We're usually much busier than this. We've still got a few heads in, it's just… January, so everyone's broke I guess! So we're definitely quieter, if anything.
"We are a vegan restaurant as a whole so we can't check on the menu, for instance. Everything's vegan so we don't know if people are going for that for veganuary."
It was the same story at the Arndale Market's Wholesome Junkies food stall, where staff said there had been no noticeable increase in customers over the month. Meanwhile, staff at the Manchester Vegan Café in indie market Affleck's Palace repeated the assertion that December was busier for them than January had been.
"The first week [of January] was hectic," said staff at city centre plant-based eatery Vertigo. "But December was more popular."
A major factor may well be that January is a simply a quiet month for almost every hospitality business due to bank balances stretched thin after the Christmas period.
But it may also be that veganuary participants are dipping their toe in the vegan-y waters a little closer to home, rather than going straight for a full-vegan restaurant. Samantha Calvert, Head of Communications at the Vegan Society, explains: "I'm not sure that I would expect to see a huge upsurge in people doing Veganuary in exclusively vegan restaurants.
"Obviously the people who are doing Veganuary aren't long-term committed vegans; they're people hopefully who are transitioning to veganism, people who are new to veganism. And they won't necessarily be seeking out exclusively vegan restaurants to go and eat in.
"They're probably more likely to be found in restaurants that serve a mixed diet, seeking out vegan dishes. They'll be looking to go to the places they always go to and see what's on the menu there for them that they can now eat.
"And January will always be a very bad month, normally. So I think even with the push of Veganuary it's not going make that much difference to that sort of establishment," she concludes.
Indeed, it may be that high-street chain restaurants are seeing a huge upsurge in tentative vegan visitors.
But for the exclusively vegan restaurants, it may be a case of waiting until February when the more committed clientele have had their pockets deepened by that post-Christmas payday.
Image courtesy of Ella Olsson via Flickr, with thanks.