Market Street's giant HMV store has been replaced by one of the largest pound shops in the country – but the Manchester public are indifferent to the loss of the iconic record store.
Pure Bargains now lets the 36,000 sq ft location on the main high street after HMV moved out of the location in January, after two decades in the building.  Their remaining city centre store is in Manchester Arndale.
Yet in a poll conducted by MM, Manchester shoppers do not appear fazed by the move. Almost 70% of those asked were not bothered that the iconic three storey venue was a discount bargain store.
And a further 78% believe HMV and similar music and DVD stores are 'outdated' in the era of the internet and downloading.
A spokesperson from HMV told MM: "HMV has been an iconic record store throughout history and changes like this had to be made to ensure the business can carry on.
"It is a shame that the store had to close because it was in a great location and people used to flock to it. You can understand why changes had to be made because the market is so different to how it was ten plus years ago.
"The influences of the internet and MP3 files have forced HMV to change its market strategy and this means downsizing from the huge Market Street store."
Manchester's old 4-floor HMV has become a 1-floor discount store. Haven't even taken the old signage down… pic.twitter.com/mH3tDJ2Aej

— Chris Foxx (@thisisFoxx) April 21, 2014
Pure Bargains is operated by Home Store, who have obtained a short term let on the property. It is believed the building is still seeking a long term letting.
A spokesman for the Pure Bargains told MM: "We were more than welcome to fill the vacated store on Market Street as it has a brilliant and central location which allows us to remain close to our target market."
.@thestig888 yep all the HMV signage is still up! It's the most bleak shop I've ever been in! pic.twitter.com/BZDkBEobEB

— Chris Foxx (@thisisFoxx) April 21, 2014
MM took to Market Street to ask shoppers what they thought of the closure.
How do you feel about the closure of HMV's Market Street branch?
| | |
| --- | --- |
| Wish HMV was still there | Not bothered about it going |
| 32% | 68% |
How would you describe music and DVD stores in general?
| | |
| --- | --- |
| Valuable to the high street | Outdated |
| 22% | 78% |
Which store are you likely to use more?
| | |
| --- | --- |
| Will use HMV more | Will use Pure Bargains more |
| 36% | 64% |
Jane Barnes, 48, a data analyst, from Salford, said: "HMV used to be so popular, if you need a CD or a tape you would go straight there and pick up whatever you needed.
"I suppose it is a shame that it has been replaced by a type of pound shop, but there is probably more of a need for one than a records store."
Her son, Jack Barnes, a 19-year-old student, claimed that HMV had become outdated and that the music business as a whole was on the decline.
He told MM: "HMVs are really outdated in all honesty, most people don't even buy music. And as for other electronic stuff they sold it was often more expensive there.
"However it looks better than a Pure Bargains. I think having value shops on the high street devalues the area."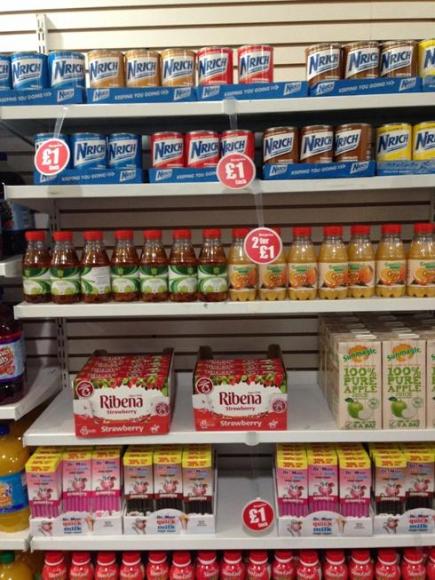 PURE BARGAINS: Do such shops de-value the high street?
Samuel Saatchi, 26, a teacher, from central Manchester, said: "Has anyone actually bought something from HMV since Amazon was invented? Ordering on their internet is so much easier and often cheaper which makes HMV as a store a waste.
"People walking up and down the high-street are more likely to use the Pure Bargains because it is the type of shop you can just pop into and get a deal."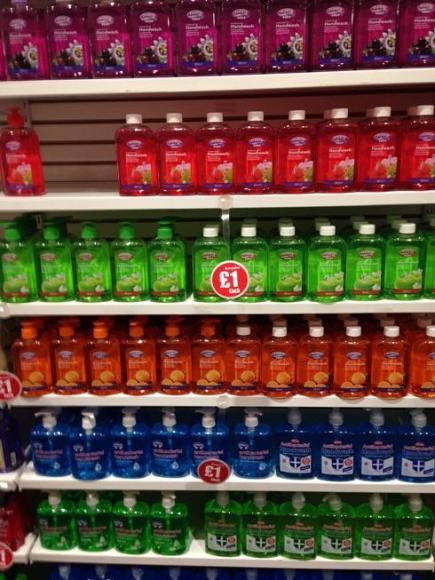 IN A LATHER? Most Mancunians 'not bothered' about HMV's departure
Another Mancunian shopper, 61-year-old Graeme Andrews, said that it was the correct decision for HMV to move from the store and that people will still use the other shop in the Arndale.
The retired cleaner, from Flixton, said: "HMV was a great institution but I think it was the right decision to get rid of the giant store on the high street.
"It had been there for many years, but they have other stores in the Arndale so I don't really see it as much of a loss."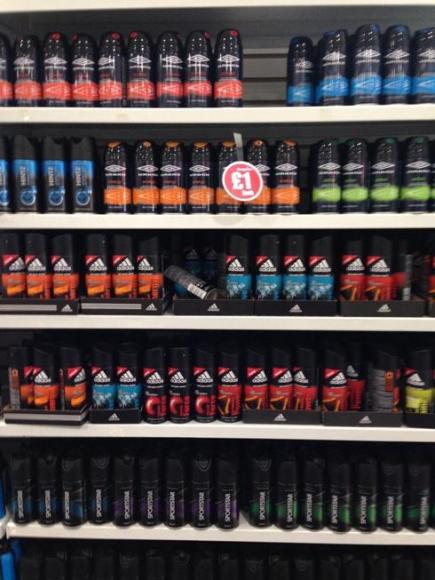 PRICES NOT TO BE SNIFFED AT: £1 deodorant 
Tom Smith, 31, an accountant from Bury, said: "It's shame that the big HMV has gone because it is what I used to think of when I thought of Market Street.
"The big store had so much variety in there and I used to spend hours in there looking at games."
Cliff Southerton, 68, a retired army officer, from Fallowfield, said: "The HMV had been there for a while but I could never understand why there were so many HMV stores so close to each other.
"I am quite excited to use Pure Bargains because it's cheap and there isn't a lot to go around at the moment."
Forum user Nathan Dawz said: "Embarrassing that we've got a shop like this on what is meant to be Manchester's main shopping street.
"Market Street is a dump to begin with, adding bargain shops will only make it worse!"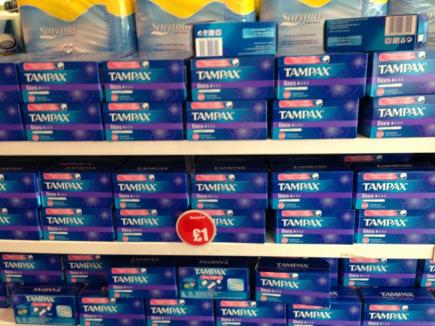 LOW COST: Even feminine hygiene products get a £1 price tag
.@oohgaryc this sign is new. I mean seriously, what is this shop a front for? What's on the missing 3 floors?? pic.twitter.com/zBK0yJSojL

— Chris Foxx (@thisisFoxx) April 21, 2014