New light is being shed on the long-standing rivalry between Manchester and Salford in a visual journey through the latter's past. 
Paul Hindle's book, titled Salford Through Time, highlights the historical and forgotten treasures of the area.
With 96 pages filled with archived pictures sourced from Salford Local History Library, as well as the Manchester Bolton and Bury Canal Society, readers get a unique opportunity to see well-known landmarks like the Cook Street Brewery, Salford Cinema and The Crescent in their original form.
Chairman of the Manchester Bolton and Bury Canal Society Paul Hindle told MM about how Salford has always competed with its neighbour and said: "The two towns have always been in competition with each other.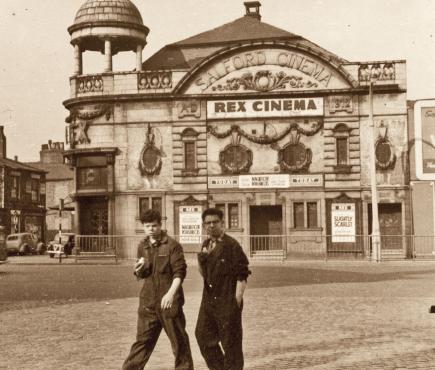 PICTURES FROM THE PAST: Salford Cinema pictured in 1957 (©Amberley Publishing)
"I think Manchester won because it didn't have its borough status so people were freer to do what they wanted to do as entrepreneurs back then whereas Salford had more restrictions.  
"It's reflected also in the name of this canal, we're speaking here in Salford but the canal is called the Manchester Bolton and Bury Canal even though it doesn't go to Manchester.
"So, when this canal was given its name in the 1790s, even then Manchester seemed to be more important for investors than Salford."
The book reveals that Salford was, in fact, made a borough long before Manchester achieved its status.
In 1530, English poet John Leland descried it as 'a large suburb to Manchester'.
However, during the Industrial Revolution, Manchester grew more rapidly than Salford, although together they were the first 'shock city' of the industrial age, described in graphic detail by writers such as Frenchman Alexis de Tocqueville and German Friedrich Engels.
And Paul explained how he had to be patient to source the pictures to tell Salford's tale.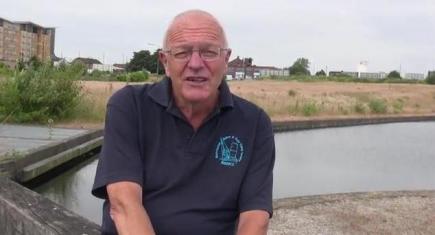 LABOUR OF LOVE: Paul Hindle went through thousands of photos for his book
Paul said: "It was a long process, I spent most of my days at the Local History Museum. They've got thousands and thousands of old photographs, so you just need to go through the whole collection to find the ones you want.
"I had to wait nearly a month during May last year for a sunny day to take my modern pictures, which altogether took me about six days.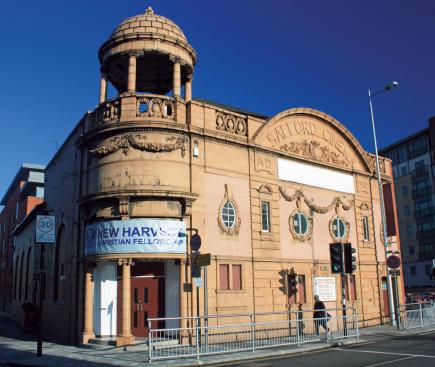 THEN AND NOW: Salford Cinema has been New Harvest multicultural church for more than 20 years
"The format is that for most pages there's an old photograph at the top and then a modern photograph of the same site directly beneath, meaning you can see how that particular site has changed and developed in the last century."
Salford Through time also explains how Salford has been reborn into a trendy hotspot for families and professionals around the country with attractions like Media CityUK and The Quays.
Image courtesy of Amberley Publishing with thanks