Organisers of a special bike ride last month – celebrating the opening of the Oxford Road corridor cycle route and forming part of Clean Air Week – hope attitudes will have changed ahead of the government's Air Quality Plan.
The Love Your Bike cycle ride, co-ordinated by Friends of the Earth, weaved its way towards Whitworth Park on June 30 drawing attention to the newly installed cycling corridor and stressing the need for copycat projects across the city.
The renovation means one of Manchester's most famous roads now has 'Dutch style' cycle lanes sandwiched in-between the main road and pavement.
Pete Abel, from the Love Your Bike campaign, said: "We picked Oxford Road as a campaign we have been involved in for the past eight years – it's not perfect but it's better than it used to be.
"We absolutely need to have high quality and safe cycle routes across the whole of greater Manchester."
The ride constituted part of FOTE's Clean Air Week, running from June 24-July 2 to put the focus on air pollution ahead of the government's Air Quality Plan on July 31.
Emphasising the ethos behind the week, Pete said: "Dirty air is an issue for everybody. If you are inside a metal box it concentrates pollution. You are far better to walk or cycle."
Graeme Sherriff from Manchester Friends of the Earth said: "Another example of something we did throughout the whole week was use social media posts providing tips for healthy air, things like when you might go for a run.
"We wanted to promote cycling and walking."
A central premise behind the week, outlined in a recent FOTE paper, is that dirty air is a problem in far more places than the government has admitted and more needs to be done to tackle the problem.
"There are yearly figures that are illegal and above the EU limit. You have areas that are 50% above the legal limit," said Pete.
"There are many streets in Manchester that are busting that legal limit."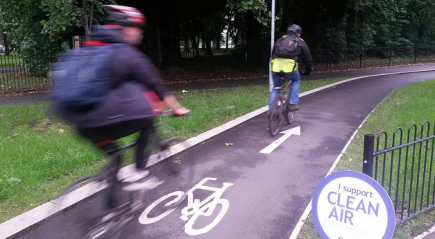 FAR BETTER: Life and your health improve by walking or cycling, says Pete Abel of the Love Your Bike campaign
Love Your Bike cycle rides continue on the last Friday each month from various locations all over Manchester encouraging people cycle into work and cut down on pollution.
The rides have been going since 2006 and form part of wider strategy by FOTE to have 20% of all journeys under five miles to be carried out by bicycle by 2020.
Pete said: "It's aimed at people who might want to cycle to work but aren't confident on their own. Most of the ride leaders have found quieter routes.
"It introduces people to riding as a group, so they feel confident riding on their own."
More details bout the Love Your Bike campaign can be found on their website: http://www.manchesterfoe.org.uk/loveyourbike/