A Longsight woman was the first Mancunian to swim the English Channel 81 years ago today – and played a crucial role in ensuring iconic Victoria Baths came back from the depths.
Sunny Lowry, aged just 22, embarked on a journey on August 29 1933 that would take 15 hours and 41 minutes before standing triumphantly at St Margaret's Bay in Dover.
Sunny (christened Ethel), was the second cousin to L.S. Lowry and while he was a master of brush strokes, she was more adept at strokes of a different kind.
She found her water wings in Manchester's Victoria Baths, so when the fight was on to restore the beautiful building to its former glory, she was on-hand to help.
Project Manager for the Restoration of Victoria Baths, Gill Wright, told MM: "Sunny was a really inspiring person.
"She was one of those older people with bags of energy and a passion for swimming, which was the passion of her life, and when she heard about the baths she immediately wanted to get involved!"
Born to a fish wholesaler father who recognised her talent, Sunny went to a Manchester school for girls before leaving to achieve her goal of swimming the Channel.
Epic swims on the coast of North Wales and Lake Windermere enabled her to dip her toe into swimming long distances before she was chosen as the protégé of Glaswegian swimmer Jabez Wolfe, who attempted the mammoth feat as many as 22 times without success.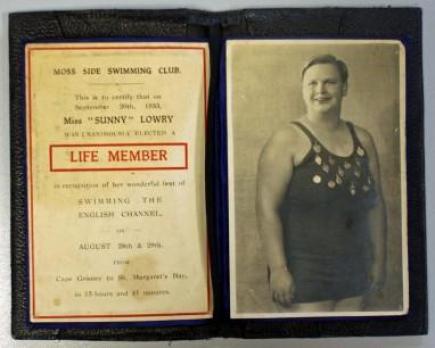 MEMORABLE: Sunny was made a life member of Moss Side Swimming Club for her efforts
In an interview with Woman's Hour, Sunny said: "The first thing he said to me was 'if you say the water's cold, you may as well go off home'. I used to go in [to the sea] and come out not feeling my ankles."
Success did not come without a lot of hard work for Sunny, in August 1932 she attempted to swim from England to France, but was defeated by brutally-strong currents near the French coast.
Sunny made a second failed attempt the following July, this time swimming towards the white cliffs of Dover.
She had been swimming for nine hours and was in sight of the lights in Folkestone when a ferocious thunderstorm erupted at 3.30am, leaving her with no option but to abandon her voyage.
When this happened she was lost from sight, it was only due to a flash of lightning her swimming cap was spotted by rescue crews and she was saved.
Victory finally came for a determined and energetic Sunny after the hearty breakfast of an eight egg omelette, as she was expected to lose a pound every hour she was tackling the waves.
The young woman was fed coffee, cocoa and beef tea from the boat on her journey as she contended with strong currents and shoals of jellyfish.
She also made a splash when she elected to wear a two-piece swim suit as the conventional heavy woollen costume chafed her neck and shoulders. This bold statement led some to brand her a 'harlot' at the time.
Gill said: "She really inspired me in particular and all of us as group when she described her Channel swim. She failed her first attempt and she didn't give up.
"Then when she failed her second time she didn't give up and kept going.
 "She has that clear focus and determination which is something we've had to learn as all we've had are failed lottery bids, you've got to pick yourself up and think and know that this is the right thing to do and keep on at it."
When the iconic Grade-II listed Victoria Baths closed due to costs of running the complex, Sunny was a spokesperson and supporter when Gill and her team took part in BBC's Restoration and winning a £3.4 million grant.
Sunny, who had worked as a swimming teacher and life guard coach after her Channel swim, represented the baths on television and spoke candidly about her experiences with the pool, which opened in 1906 and really struck a chord with viewers who voted for the baths to win the money.
Gill said: "She gave us glimpse down the side tunnel into the amazing history of the baths and told us her clear and detailed memories from just after the First World War, which made us feel more connected to the baths.
"She spoke about the pool attendants who used to wear white coats and clogs as they walked down the poolside when she was a child, memories like that are really evocative."
Sunny passed away on February 20 2008 in Warrington at the age of 97, she was an inspirational woman who dedicated her life to promoting swimming in the Manchester area.
Because of her tireless work, Victoria Baths have gone from strength to strength over the last decade, and now the building is being used in creative ways for becoming a cultural centre for entertainments and events.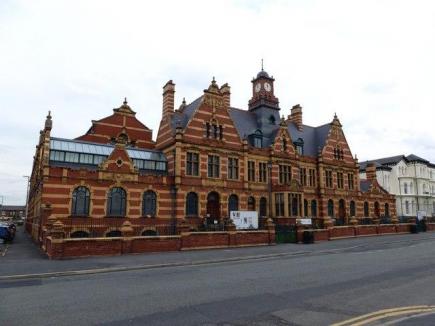 ICONIC: Victoria Baths were first opened in 1906
As well as weddings, the baths hold regular guided tours where people can find out about the beautiful building's history.
Next month, HOME'S sold-out production Of Romeo and Juliet will descend on the baths' hallowed halls and in October they will also play host to the Independent Beer Convention.
But Sunny not only was a part of Victoria Bath's past but also their future – as current custodians vow to learn from her defiance and refuse to stop developing the building.
Gill said: "We wouldn't have got to where we are today without that restoration grant and Sunny's support was really positive, she definitely helped us win it!
"We've done a lot in the last ten years but there is still so much to be done. Ideally we want to get the Turkish baths up and running because that was originally went on the programme, but we won't give up."
Images courtesy of Victoria Baths with thanks