David Cameron approved plans for a high-speed 'HS3' rail link in the north of England earlier this week, following a report by HS2 boss Sir David Higgins.
South Manchester MP John Leech has also voiced his support for the proposal, claiming it would be 'good news for Manchester jobs and the economy'.
The proposed railway link would provide faster railway links in the North West and could cut train journeys between Manchester and Leeds down to under half an hour.
But are commuters in favour of the idea? Would they rather see money spent on creating new, high-speed networks, on improving existing ones or do they want to see the money spent in other areas?
MM took to the streets to ask Manchester the following question:
Are you in favour of bringing HS3 to the North West?
Tom Cowley, a 22-year old-banker from Manchester, agrees with Prime Minister Cameron and John Leech MP, believing it would be good for the local economy.
"I think it'd be good for the area," he said. "It'd make it much more accessible. Road networks and train networks up north aren't great and I think high speed networks would make it much easier to get work done."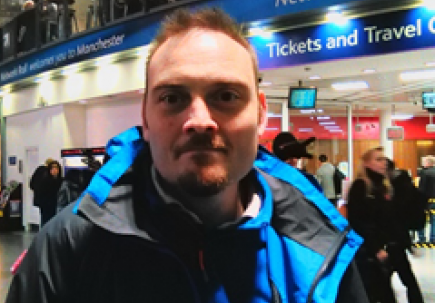 NATIONWIDE NETWORKING: Jonathan Cook says we need to connect the whole country
Jonathan Cook, 39, from Liverpool, also supports the proposals and feels current plans are only the beginning of developments to British transport.
He said: "I'd like to see money go on improving existing tracks in terms of better, faster tracks.
"The world is changing. Businesses in Liverpool and Manchester are booming. We need a network of railway that can connect the whole country.
"Also, after that, they should probably have lines going straight to Edinburgh. We need to look at the whole network. Half of the time you need to get off here or there, or there's not enough seats on trains.
"It would create jobs like anything. We've got to think about the future."
Meanwhile Rob Bruce, 59, an Oldham Infrastructure Analyst, would rather see money spent on improving the existing rail network and believes this would be of benefit to his commute.
"We're woefully short of decent trains," he said. "My train this morning was only half its normal length, the one I just missed this evening was only half its normal length.
"I really think the money could be better invested in new rolling stock rather than high speed rail contracts."
Paul Barratt, a 63-year-old car dealer thinks the proposed plans would be 'just a waste of time' and that the money would be better spent refining existing tracks and trains.
"This country's too small for it," he said. "125mph is perfectly adequate. God knows why they want to travel at 250mph. You're not going to save that much time anyway.
"I think it'd be better spent on improving current tracks and building more trains."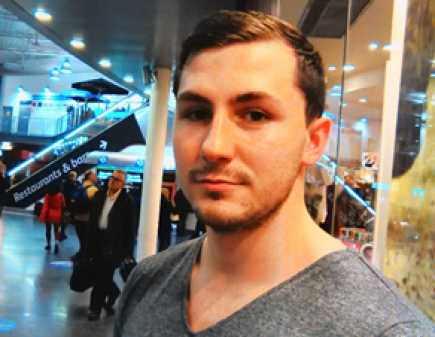 SATISFIED CUSTOMER: Ross Beresford's only problem with the rail service is the cost
However Ross Beresford, a student from Manchester, 21, is mostly satisfied with the train service in the UK – apart from its cost to the consumer.
"I can only speak from my experience with the train service I get," he said. "But it's always been punctual, very few delays, I always get a seat.
"The only thing I can complain about is that it's expensive. Reducing the fare would be more in line with what I'd want."
Jess Melling, a 26-year-old PR account executive living in Salford, and Paul Hinson, a Sale printing manager, 55, share Ross' distaste for expensive fares.
Jess said: "If it's going to make it more expensive then it would be a waste of money. If it was cheaper AND faster, it might encourage me to travel more though." 
"The problem with HS3 is that it's only going to benefit a small number of the population," Paul said.
"There's a lot more that we can spend money on to help a larger number of people in the community.
"Train fares are a big issue for a lot of people. Tram fares are higher than they should be. The deregulation of the bus service has not really done a lot of people many favours.
"We need an integrated transport policy for this city and other places.
Furat Suffina, 40, a Rochdale charity volunteer, would rather see the money spent in other areas entirely.
She said: "I think we've got a good rail system at the moment. Maybe we don't need to spend that much for the economic reasons.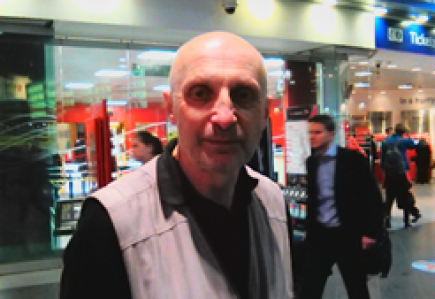 PERFECTLY ADEQUATE: Paul Barratt thinks our current trains are fast enough
"Especially with things the way they are now, maybe they should spend that money on other things like education, the health service, local development, jobs."
Shuqing Ling , a 22-year-old student living in Central Manchester believes the railway network does not need to be changed, and believes the money could be better spent in different areas.
She said: "I think the train system is very good now. I can travel everywhere.
"If I book a seat in advance on the internet I can sit where I want, so I don't think there is much need to make bigger or faster trains.
"I think the money would be better spent in other areas."
Luke Touray, a 32-year-old development manager from Leeds also shared her sentiments on HS3 with MM.
"I think it is a lot of money just to get faster trains," he said.
"I think it could be spent on a lot of areas: healthcare, education, I think there are better areas to spend it on."
Main image courtesy of Abhijit Tembhekar, via Flickr, with thanks