Inanimate objects long forgotten are being given a new lease of life at the Whitworth Museum in Manchester.
The Reno in Moss Side – where Bob Marley, Muhammad Ali and Chaka Khan once visited – was a vital establishment for mixed-race partygoers several decades ago.
So much so that Linda Brogan and the Reno team decided to work long and hard to unearth a number of precious artefacts – which you can see first-hand until March 2020.
MM took a trip down there ahead of the March 2019 launch to find out more…
Seated on a sofa was Persian, one of the Reno's resident DJs who was known for gracing the Moss side hotspot with his mixing prowess and for captivating his audience with the greatest funk and soul records from America.
Headphones on his head, he was tuned into the familiar faces sharing their stories on screen, his face beaming with sentimental joy.
That was when I knew that this was much deeper than an exhibition or an excavation of a nightclub. It was the resurrection of fond memories and youth, which became even more apparent upon meeting the rest of the Reno team.
As everyone piled in to the space before the launch, the atmosphere heightened with excitement, chatter and laughter bouncing from wall to wall.
The last arrival was Linda Brogan, the leading lady.
"Linda had such an insight in what she wanted to do. She brought the whole thing to life," DJ Persian told MM.
"Without her this would have never happened."
The award-winning playwright (Brogan) started the journey in 2016 by collecting memoirs of regular attendees of the club and posting them online.
In 2017, she and the Reno team excavated the site, with Salford University's Applied Archaeology department.
Then on November 23 2017 they "colonised" the Whitworth in collaboration between the Reno and the Whitworth Art Gallery, funded by the Arts Council.
This was when the Whitworth and The Reno formed a relationship that would see the Reno exhibited at the gallery for a year.
Upon meeting Linda she urged me to get acquainted with the others. I had the pleasure of getting to know the regulars and asking them about how they found the process and about their memories from the Reno.
The first member, a childhood friend of Linda called Susie Prouse, remembers attending the Reno for the first time at age 16.
How did you find the excavation?
"I think it was exciting and I don't think anyone expected it to carry on and snowball as much as it has," she told me before gasping at a picture of herself with an Afro.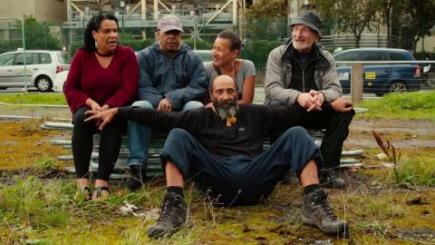 "People enjoyed it and would turn up every day and it wouldn't matter what the weather was like."
What do the findings mean to you?
"The more that was found, the more exciting it got. This might not look like much to you, but it brought back memories. Like the different shapes of Lucozade bottles and seeing how bottles have changed over the years," she said, gesturing to the glass cabinet protecting an array of 25 glass bottles.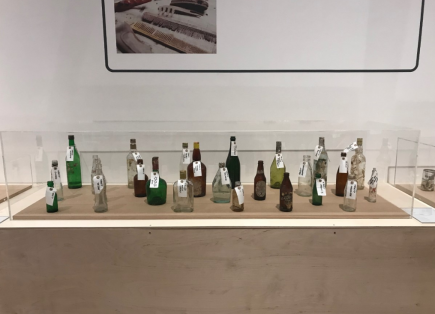 DJ Persian was also on hand to discuss his part in the Reno's history and the famous faces he played for.
How did you pick the tracks that you used to play at the Reno?
"The tracks I played at the Reno were special, because it had a lot to say about the people I was playing for and spreading love from a fellow human being."
So it's been said that the Reno had some visits from some famous faces, even the likes of Bob Marley and Muhammad Ali. Is that true?
"We had Muhammad Ali and Bob Marley, sportsmen from all over, especially Manchester United players. I used to make CDs for them because they wanted the music for themselves."
If there was one song that embodied your time at the Reno, what would it be?
"The Thoughts of Love by the Morning, Noon and Night."
Susie Prouse said of DJ Persian: "Persian was our musical educator, along with DJ Koolie.
"Between the two of them, they were the DJs that got the place absolutely jumping."
Next I got the chance to chat to Carmen Jones about how she experienced Manchester as a mixed-raced woman and how she feels racism is today.
"I placed myself with black friends and family, they (white community) didn't quite know whether to accept you or not.
"Moss Side people were different, everybody embraced everyone because a lot of them were Irish, black, mixed race (with either Jamaican or African) so the community was quite a good community.
"But when you go away from that I was accepted because I looked white, but when they found out you were mixed raced there was confusion."
Was that difficult?
"I couldn't understand it I was too young then. When I was a teenager you come back and see the difference in how people accepted you."
What do you think the difference is between now and then?
"I think racism has reared right back up. Although everyone's more accepting of everyone, racism is different. It's a different melting pot than what I grew up in: more cultures, more discrimination."
Phil Collins Snr, who recalls first visiting the nightclub between the ages of 15-16, reflected on how he was treated at more predominantly white populated clubs and why it was different to the Reno.
"At the Reno it wasn't the same as going to Manchester city centre and going to what we would say were white clubs, you'd get animosity and sometimes you might not get let in.
"We all had afros and they'd say that they were fire hazards, you'd be queuing all night then the doorman would hit you with that."
Did the artefacts bring back a lot of memories?
"Yes, especially the bottles because that's what we would all have. But we were more into smoking weed to be honest, the drinking came a lot later in our lives.
"We were more into music and just being cool, dancing with women and all that."
The Reno at the Whitworth has a lot in store over the period of its 12-month residency at the gallery, each month offering the public a different slice of Moss Side as they remember it: exploring the music, their football club and even historical events like Windrush Day in June.
Middle image courtesy of Karen Rangeley, with thanks.