Yesterday afternoon saw distinguished guests from across Manchester come together to celebrate the installation of Salford University's new Chancellor.
Jackie Kay MBE was formally initiated in a ceremony that saw celebrated Accrington writer Jeanette Winterson and Salford City Mayor Ian Stewart sing the praises of the renowned Scottish poet who will now head up the university.
Her writings have been recognised up and down the country for tackling tough taboo issues, and her acclaimed first book of poetry in 1991, The Adoption Papers, won the Scottish Arts Council Book of the Year.
Just 15 years later, her services to literature were acknowledged when she was awarded an MBE, and she now teaches as Professor of Creative Writing at the University of Newcastle.
Speaking after the event, Jackie told MM: "The event was really special and memorable for everyone who came. I just met a man who was a student here when the university first opened in 1967 and he came up to me and said 'what a lot of joy that event brought, how extraordinary'."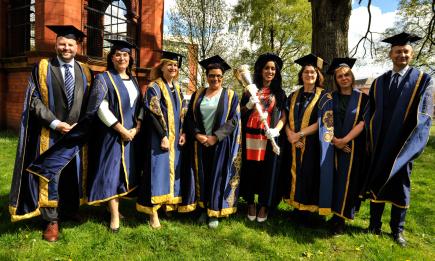 'MEMORABLE DAY': Members of the university's senior leadership, who welcomed Jackie to her new role as Chancellor yesterday
Jackie's predecessor, who stepped down just last year after serving her five-year term at the head of the university, was Dr Irene Khan; an ex-Secretary General of Amnesty International and the first woman to take the helm of the human rights organisation.
Commenting on how she feels about filling those big boots, Jackie was confident about what she could bring to the institution: "I'm very much looking forward to my time as Chancellor.
"I want to get involved in the whole running of the university, I want to make conversations happen between different disciplines.
"I want to get involved with the science, the robotics, the business school, with the environment school, as well as all of the arts schools. I didn't want to just go for the school of arts and media; I want to find ways of crossing the disciplines together.
"Because we're a small university, we've got the chance to be truly pioneering and truly innovative, and that's what I'm looking forward to trying to help and enable."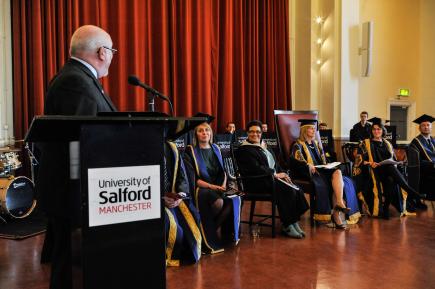 'INSPIRATIONAL DECISION': Salford's mayor Ian Stewart said the choice of a creative Chancellor was a wise one
During her installation speech, university leaders spoke of how the organisation is now fully represented at the top by a senior leadership team of women following this week's appointment of the Vice Chancellor, Professor Helen Marshall.
"I think it's fantastic that Salford's got a strong, all-female team. It's pretty unusual across the whole country; I think you'd struggle to find that combination," Jackie said.
"I think together we'll all be very strong. It's lovely that I've been appointed – just by sheer coincidence – at the same time as the new Vice Chancellor, and I'm really looking forward to working with her."
Jackie, who was born in Edinburgh in 1961 to a Scottish mother and Nigerian father, was adopted as a baby by a white Scottish couple, growing up in Glasgow.
Her incredibly diverse and challenging upbringing included her adopted dad working for the Communist Party, later standing for election as an MP, while her adopted mother was the Scottish Secretary for the Campaign for Nuclear Disarmament.
In August 2007, she featured in the fourth episode of BBC 4 radio series 'The House I Grew Up In', in which she talks extensively about her childhood.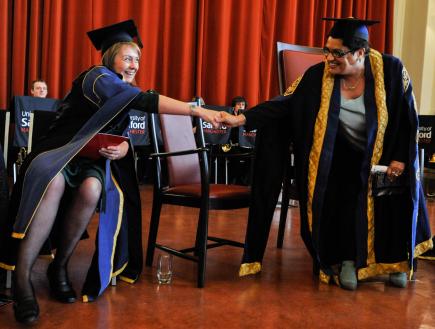 'A HAPPY DAY': Jeanette Winterson said Manchester University's option of Peter Mandelson was disappointing in comparison
Speaking at her friend's installation, Jeanette Winterson OBE told the audience: "I love Jackie Kay! I'm proud to be here today with somebody who I admire and also I can call my friend. It is a happy day.
"And I'd like to congratulate the university on their inspirational decision to have Jackie as Chancellor. It's a wonderful choice.
"We're looking for a Chancellor actually at the University of Manchester right now, which is really annoying. And we've only got Peter Mandelson on our list," she joked.
"Jackie Kay is a modern woman. She represents what Britain is now. Not some fantasy of the Ukippers, where there's a grammar school on every corner and it's full of white people playing lousy cricket, and not some Tory vision of the feudal world where the rich get richer and everybody else falls by the wayside.
"Jackie Kay, she's a woman, she's a working mother, she's a Scot, she's a poet, she's out in the world, she's campaigning, she's not afraid of mixing the personal and the political because she knows they should never really have been separated."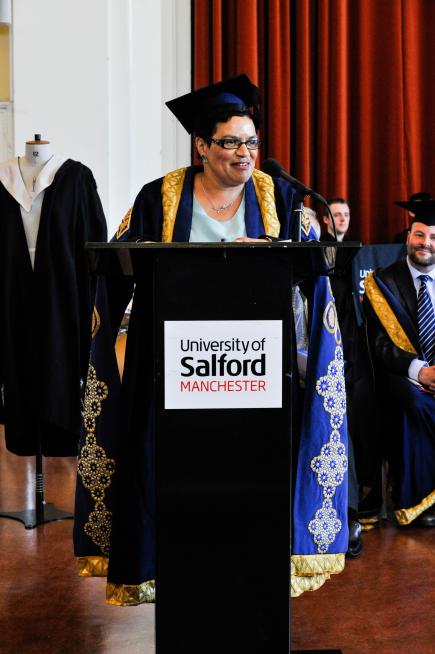 'NOT AFRAID OF MIXING PERSONAL AND POLITICAL': Jackie has also taken up the role of the university's 'Writer in Residence'
As well as Jackie's honorary role as Chancellor, she has, from the start of the year, taken up the coveted position of the university's 'Writer in Residence', which will see her contribute major commissions to enhance learning and teaching.
In Salford City Mayor Ian Stewart's speech, he welcomed Jackie to the university and said he hoped that when her term is up 'she takes a bit of the spirit of Salford with her'.
"It's that drive to make sure that Salford is a city that encourages young people and people of all ages, all different ethnic communities, all different orientations, to be able to live as one and share in this space together.
"But before you actually go – because you're only just now embarking on this mission – I have to say that I am so pleased that a creative person has been chosen for this role. It's so important. Talent and creativity is what makes the difference."
Speaking later with MM about the Mayor's comments and the installation of a Chancellor with a creative background, Jackie said that it's a mark of change in Salford University's history.
"Traditionally, Chancellors haven't necessarily been creative people. I think that if you're creative, you see things creatively, and there's potential for doing things creatively and so that's to me very exciting.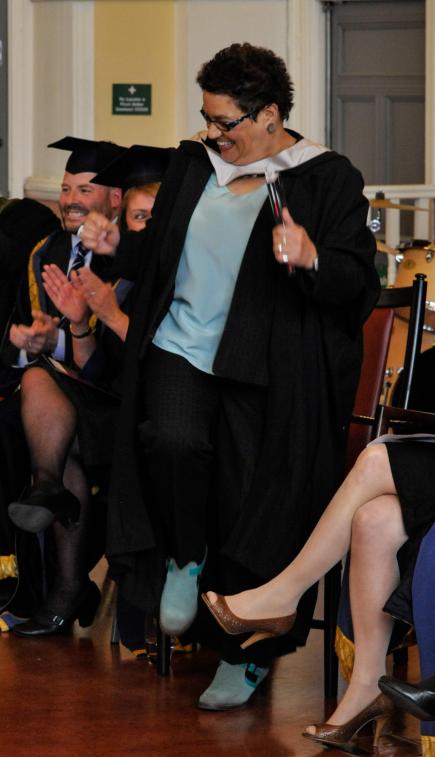 'CHANCE TO DANCE': Jackie said she liked the balance between informal and formal at yesterday's installation ceremony
The ceremony, which heard speeches from a number of different people, also saw the university's brass band take to the stage to play a rendition of Pharell William's Happy, to the delight of Jackie, who took the opportunity to have a dance.
Jackie said that she enjoyed the happy medium between serious and casual: "I like that the event had a mixture of formal; looking at the protocol, and changing the robes; but also the informal and breaking it up, getting a chance to dance."
Vice Chancellor Helen Marshall, who has only been formally in the role since the start of the week, said: "Jackie is going to be an outstanding Chancellor for this university. Not only is she going to carry out her ceremonial duties, but we can already see Jackie entering into the university's dance competition next year.
"But more importantly, working with our students to nurture the talent and ambition they have, to unleash their potential so that they can make a growing contribution to the economic and social development of our society.
"And that's a part of the role we perhaps hadn't expected of our next Chancellor. And that's why Jackie is bringing real added value to this university."
Baroness Beverley Hughes of Stretford backed up Professor Marshall's comments, saying: "We are incredibly fortunate to have Jackie as Chancellor, and the more time I spend with Jackie, the more I know just how fortunate we are."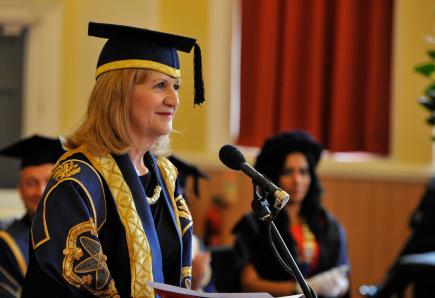 'SO FORTUNATE': Baroness Beverley Hughes said she realises more every day why Jackie was the right choice for the role of Chancellor
In a touching speech at the end of the ceremony, Jackie took to the stage to share her opinions with the receptive audience.
"I'm stood here today, your very proud new Chancellor. This is my official ceremonial beginning, my first proper day as Chancellor, but I have been here since January. And since January, everybody at Salford has made me most welcome.
In a nod to everyone at the university – right from the bottom up – who has helped her in the five months she's been here, she said: "From deep-clean John who has cleaned the floor of this great Peel Hall; to handyman Mike, who's hung the Lowry paintings on my office wall.
"To Jane and Janet and the other staff at Salford Art Gallery, where we'll be going for tea later; to Alex, the security man at Irwell car park who happens to come from the same part of Nigeria as my birth father – I thank you all.
Referencing the notable folk singer Ewan MacColl, now an honorary graudate of the university, whose centenary was just this year, Jackie said he 'immortalised Salford' in his song Dirty Old Town, which contains the line ''I dreamed a dream by the old canal'.
"Salford University is that dream by the old canal," she said.
"I promise you I will take every chance I get to put this very special university on the map, to make our dreams a possibility, to make our chances a reality."
Images by Koray Erol, copy by Jack Howson