Meet DS – a Jewish taxi firm putting their customers' safety first following another annual rise in anti-Semitic hate incidents in Manchester.
The Community Security Trust (CST), a charity that monitors anti-Semitism and provides security for the British Jewish community, recorded 1,382 incidents nationwide in 2017.
This alarming figure is a new record high for a calendar year.
And yet the Prestwich-based taxi firm was not actually launched to counter anti-Semitic incidents when it was set up in 2009, but has since taken on this responsibility alongside its aim of offering customers a more secure service.
David Semp, owner of DS, said: "I set this up because I wanted to look after people in the community that I knew.
"I had had enough of the bigger taxi firms looking after themselves and not thinking about the drivers and I thought there was a niche here for the community, too.
"Our biggest customers are account ones or what we call 'services' where, for example, we take some children to school on a daily basis.
"Normally we wouldn't want children going on their own but these parents are obviously fine with letting their children come with DS with drivers that they know.
"Before, a mother might come out with a child, go to school, come back from school with her children, even though she might have some more with her and she'd have to do that. Now she shouldn't have to."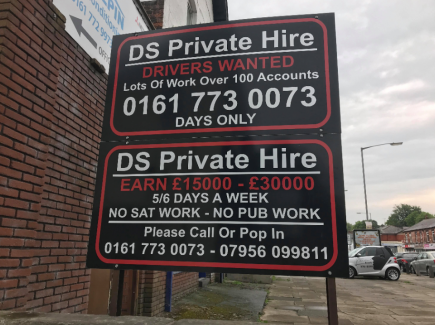 PRESTWICH: The taxi firm was first set up in 2009
The safety and comfort a small taxi firm brings doesn't just benefit mothers and school children though, extending instead to a larger proportion of the community who use the service.
One such regular is Robert Barrie who, when asked why he chooses DS, explained: "Simply, it's safer.
"I shouldn't have to say that because a lot of other taxi firms employ good people, but I have less chance of being attacked [when using DS].
"And I have less chance of being asked questions I simply don't want to answer, too."
It comes as no surprise that some of the passengers feel this way inclined when faced with some of the startling statistics revealed by the CST's most recent annual publication.
Three quarters of the 1,382 incidents were recorded in Greater London and Greater Manchester –  two of the biggest Jewish communities in the UK – but it was Manchester where they increased by 27%, with the number of incidents rising from 206 in 2016 to 261 in 2017.
Worryingly, there was a clear upsurge in physical violence, with anti-Semitic assaults rising from by 34% from 108 in 2016 to 145 in 2017, another record high for the charity.
The annual review also revealed that 100 incidents were recorded every month from January to October, which continued an unprecedented pattern of monthly totals, exceeding 100 incidents for 19 consecutive months from April 2016.
Meanwhile, in the decade before April 2016, there were only six separate months in which the total exceeded 100 incidents.
While it is possible that people have started reporting incidents on a more regular basis, the review also suggests that there is a combination of possible other factors to explain the rise, such as the Brexit vote and publicity of alleged anti-Semitism within the Labour Party.
Despite the rise, a CST spokesman confirmed that there had not actually been any taxi-related incidents reported in the country this calendar year.
Nevertheless, there were four incidents reported on public transport in Manchester, while London saw 63 reports of such nature, with 38 occurring on the underground.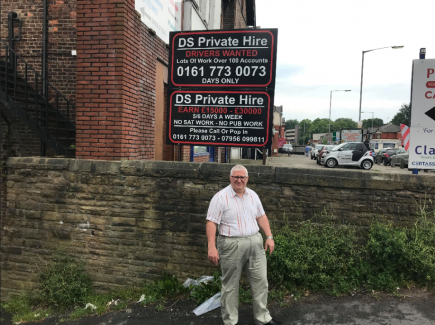 RESPONSIBILITY: Owner David aims to keep his customers safe while on route
So, just how necessary is a taxi firm which predominantly caters to the needs of the Jewish community?
David added: "It's less of a service just for Jewish people but rather, more simply, because the area we work in is mainly Jewish a high profile of our customers happen to be so – we do take people who are not Jewish of course.
"And, one of the drivers on our roster is not Jewish and that's no problem at all.
"There's absolutely no Jewish criteria for our drivers – we don't work on Shabbos and Yom Tov [Jewish holidays] and that's all they need to know."
And Robert agreed: "I don't mind if they employ non-Jewish drivers because quite frankly, I respect the owner would have done due diligence and that the driver would fit in with the community.
"The main thing is to get us safely from A to B."
When quizzed whether a service like this might make others feel excluded, Head of the CST's Government Relations and External Affairs department, Johnny Newton, said: "It isn't for CST to judge or comment on whether companies that primarily cater to one community are inadvertently isolating that community or not.
"However, CST exists to protect Jewish life and the Jewish way of life – ensuring that the Jewish community can have confidence to go about their business however they wish to do so, whether as members of the ultra-orthodox Jewish community, completely secular elements of the Jewish community, and all in between."