In the aftermath of the Brexit body blow, many of us have been left reeling at the prospect of costly foreign travel.
Flights and package holidays to Europe are expected to increase, and we are already consumed with nostalgia looking back at the days when the generous currency rate would allow us to buy a pint in our favourite foreign destinations for less than a quid.
On the bright side, our own little island, although lacking in the weather department, does have a number of appealing destinations for those who can bear to look beyond sun-drenched Marbella and lively Lisbon.
The jewel in the North's crown, the Lake District, described by William Wordsworth as 'a sort of national property in which every man has a right and interest who has an eye to perceive and a heart to enjoy,' offers a serene escape from the fear and uncertainty that is currently engulfing the majority of the country.
Less than a two hour drive from Manchester, the Lakes is characterised by a calmness that is unheard of on the streets of the North's busiest cities.
And after just a few minutes of walking along the shores of Lake Windermere I reach a decision: the Lake District is good for the soul.
I must come here more often. In fact, maybe I should move here.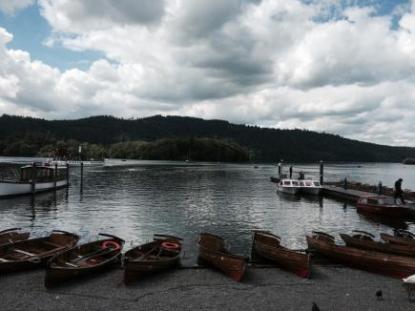 WINDERMERE: Where William Wordsworth wrote much of his work 
For those of us who spend every waking rush hour miserably crawling along in second gear, the simple notion of 'going for a walk' feels like a novelty, and the Lake District has a breadth of green spaces complete with air that's actually fit for human consumption.
To make the most of the early morning Cumbrian sunshine, I decide to burn off the locally sourced sausages, free range eggs and buttered toast I ate at breakfast and walk from Windermere to Bowness, and before long the scenery that inspired Wordsworth and Beatrix Potter makes me realise how beautiful the UK actually is.
It's easy to forget when you spend your days surrounded by concrete and staring at Thai beaches on Instagram.
Although alive with dog walkers, school trips, couples and groups, the serenity of Bowness is not disturbed, and as I board a river cruise bound for Ambleside everyone around me seems quietly occupied by the beauty of our surroundings.
The mood is peaceful – but a handful of teenagers can't pass up the opportunity to take a quick selfie with the impressive mountains clearly in view.
I settle for a gentle stroll around Ambleside, but for more hardy ramblers the Lake District boasts dozens of popular walking routes, including a seven hour trek from Ulverston to Coniston and a two day long, 27 hour real-ale trail from Borrowdale – Thirlmere – Threlkeld – Keswick and back to Borrowdale – organised by Cockermouth's Jennings Brewery.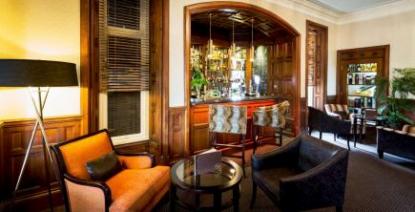 ROMANTIC: The Applegarth Villa is perfect for a couple's getaway
The Lake District attracts more than 16 million visitors a year, and with Britain's impending departure from the EU, the 'staycation' is predicted to become a more popular trend embraced by those who cannot resist a long weekend away every now and then.
If you were planning on whisking your loved one off to Paris but you've been left worrying about the price of a flight across the channel, Windermere's Applegarth Villa is the perfect destination for a romantic break.
The 5 star family run, boutique hotel boasts seven unique suites complete with private hot tubs on the balconies.
I check into the Stickle suite, and within moments of exploring the room I can't help but feel like I've wasted time by daring to venture outside.
The Stickle oozes luxury in every corner, and I immediately take my shoes off to try out the carpet – it's like nothing I have ever felt before.
After fiddling around with the various light switches (there is a setting called 'twinkle' and one especially for evening), I head straight for the hot tub and take a moment to look out at the mountains in the distance.
Seven different species of birds whiz past the balcony in the space of 15 minutes. I'm in a nature lover's paradise.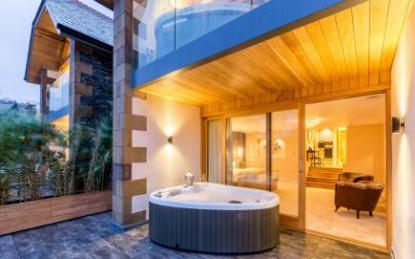 LUXURIOUS: Each suite bosts its own private outdoor hot tub
The Stickle is fully equipped with a Smart TV, futuristic power shower and a bean-to-cup coffee machine, so once you've checked in you don't really have to leave the room, but I decide to venture downstairs to dine in Applegarth Villa's restaurant, and after an indulgent pork cheek and black pudding starter, a sumptuous rack of lamb and a glass of Malbec I don't regret my decision. My soul feels satisfied.
On the way back to rainy Manchester I don't feel quite ready for the bright lights of the city, so I decide to stop off at Low Siezergh Farm in Kendal for a final dose of rural bliss. The barn shop is stacked with enough local cheese to impress any committed turophile, and I can't resist buying a homemade banana cake as a souvenir – a present from me to me.
I arrive back in Manchester feeling content that despite the emotional rollercoaster of the past week, the UK isn't really all that bad. The Lake District is just one of dozens of UK holiday hotspots that can help to ease our Brexit hangovers – who needs sunshine anyway?
Images courtesy of the Applegarth Villa, with thanks.