The Lawn Tennis Association's decision to spearhead a £250million boost to Britain's tennis courts – the biggest ever UK investment programme the sport has ever seen – in turn means a big change for the sport in Manchester.
With currently only 5% of the city's courts being covered and 4% having digital booking access making organising games extremely difficult, the new investment hopes to transform local tennis facilities to get more people – young and old – playing.
After all, the North has the lowest active adult tennis participation rate at 7.8% (with a national average of 9.2%).
MM spoke to Sam Foakes, LTA Regional Tennis Manager, to find out more…
Hi Sam, can you tell us about the details of the funding and how that money will go towards helping Manchester and the North West of England produce the next 'big thing' in tennis?
Sure, the funding is called transforming British tennis together, it's a once in a lifetime opportunity to really invest into the grassroots element of the sport. It's all geared towards getting more people playing tennis more often.
We're working with a number of local partners and we work at a very local level in Manchester already. The plan is to build on the partnerships we already have in place to really kick on with our facilities investments across Manchester working with the local authority, working with different clubs and also working in education.
We're hoping that this investment will give lots of opportunities for locals across the city.
The weather in the UK and specifically the North-West is often unpleasant. When contrasting this to other countries, it makes it harder for us to produce constant tennis. Is this something you have taken on board for this funding?
The funding will go into a number of areas but there is a focus to double the number of covered courts across the country as well doubling the number of floodlit courts in order for the public to have year round playability, as well as improving in existing facilities in order to rejuvenate courts and clubhouses to make the whole playing experience better.
There will also be investment into accessible technology, a way of booking onto the courts with ease so that people are able to access the courts when they want year round.
There will also be a focus of the investment to try and get more covered provisions locally in the Manchester area.
Why is there now an increased focus on developing tennis within Manchester and the wider area?
Well I think the funding is to build on what we've already been working on in Manchester over the last four years.
We've already invested since 2013 in partnership with other organisations contributing £1.4 million towards tennis in the area. The result of that has been a growth in club membership overall of 12%.
We've also had 12,000 hours of court time booked in parks as well as a database of around 3000 park users. This is all a real improvement on the participation in the sport.
The new facility funding gives us an opportunity to build on our partnerships further and hopefully enhance facilities further.
What does more funding for tennis in Manchester mean for the city?
The types of projects we've been looking to invest into could be in clubs, the park environment, education venues or any community venue that come up with a way to bring tennis into the area using their initiative.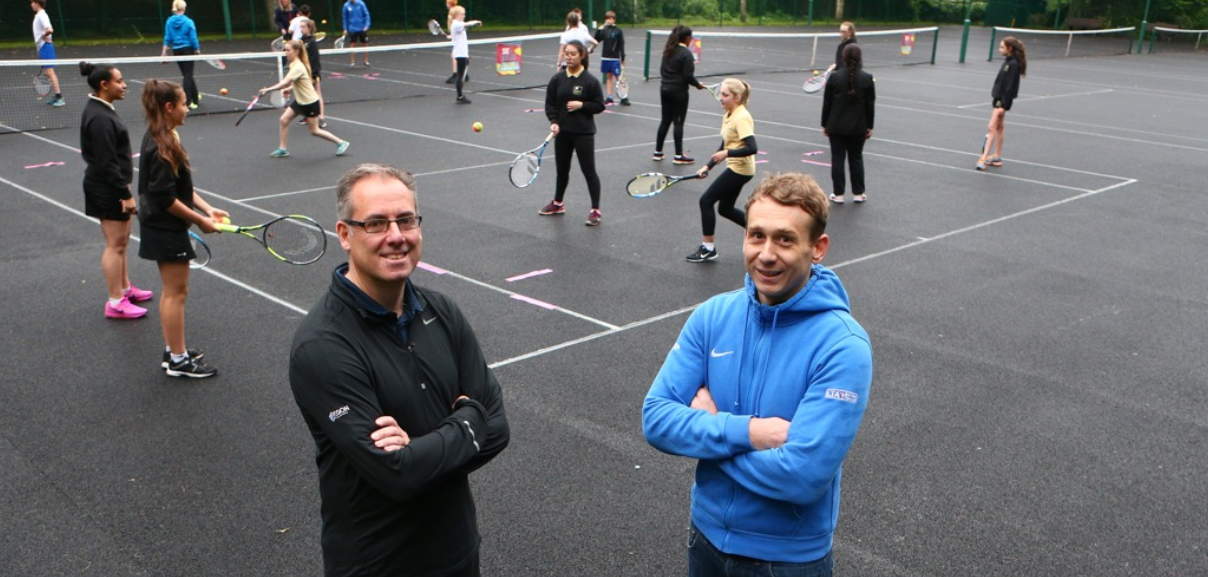 MARGINAL GAINS: Tennis had been in decline for many years in Britain until 2016 returned a 0.6% participation increase – something Sam Foakes (right) says Manchester must capitalise on
This could mean a number of things, I suppose were quite open to how it's used, it's just really about making sure we get more people on courts and make sure that the courts are fully accessible for local residents.
What is the best way for children to get involved in tennis within Manchester?
There are a number of ways: one programme that has been particularly successful is the Tennis for Kids Programme.
This is an annual initiative where we support coaches in and around communities to deliver free tennis for six weeks. At the end of the six weeks course the children are given a free tennis racket and are encouraged to take on the sport through special follow on offers through clubs or the in the park, so that's a really good inroad if you're starting out in the sport.
Mini tennis is also played more widely across Manchester. It's played in the club network as well so that's a really good inroad for children.
In addition to that we have the School of Tennis Programme where three secondary schools in Manchester are supported with funding to really enhance their tennis offer.
The Premier League for Sport also provides opportunities to play tennis in school. There are a number of methods that are really accessible to get young people into the sport.
In 2015 Michael Downey said in an interview with the Guardian that tennis in Britain was on the decline, do you think that this is still the case?
As an organisation we have recognised a trend over a number of years that the number of people playing tennis in the UK is declining. But in 2016 we've seen the first increase in participation, a 0.6% increase from last year.
That's as a result of our participation team being really focused around grassroots and getting more people playing, having accessible opportunities and having a real focus as an organisation of getting more people playing more often.
So that certainly was the case but we have done everything we can as an organisation to turn that around.
Would you put the increase in participation down to the fact that the country's big names and stars such as Andy Murray are doing well or would you put it down to healthier living becoming a bigger thing?
Well I certainly think that the profile of the sport is a very important factor and we need to capitalise on that.
We are at such a great point in the sport, the success of Murray and the profile we have now got of the men and women's game is something that we need to capitalise on.
But I do believe that when you look at Manchester specifically the new booking system technology meant we were able to get more people on court. In a way that works for them.
We were also able to improve our communication with players. So were really starting to see that produce results in terms of getting more people on court.
Just touching on what you said about the men and women's game , on your website we saw that you support campaigns such as 'She Rallies', why is it important for the LTA to bring more girls into tennis?
The "She Rallies" programme launched this year and we do have a "She Rallies" ambassador called Susan Keaney working in the Manchester area, with the role of developing more female tennis leaders in education but also encouraging the local coaching workforce.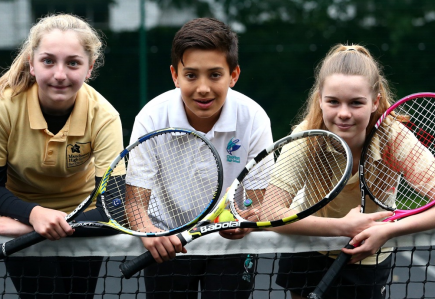 BRAVING THE RAIN: Manchester High School for Girls pupils Hannah Botham (left) and Olivia Hall with Chorlton High School's Roshan Vyas  
She also works with more secondary school age and primary school age girls, specifically to get them involved in the sport through various different programmes within the she rallies campaign.
The reason for this is to address the gender gap, we want to get more girls playing but we also want to address the gender gap in terms of the number of coaches who are female, to really encourage and attract more girls and women into the sport.
Many country clubs can cost quite a lot to be a member, so I was wondering as to whether  you should try and make free courts a lot more accessible for those with lower incomes?
If you take Manchester for example, there are a number of free to access courts with free booking systems in parks or low cost pay and play opportunities.
Coaching programmes vary across the city, in part being cheaper and some of the club memberships are at a reasonable rate so I think if we were to look at Manchester, we've got quite a good range all the way from free to the more expensive offers.
Generally in Manchester we're quite well equipped for all abilities and that's something that we want to make sure isn't a barrier.
Do you think the funding will help bring the next Tennis star from Manchester in the long term?
I think that certainly would be everybody's hope, the key driver is to get more people on court and if the result of that is the next great performance player that would be excellent for the city but certainly the number one priority will be to grow participation.