The popular active wear company Gymshark recently opened up a temporary pop-up store right here in Manchester.
Fitness influencers from all over the country flocked to Victoria Warehouse to give their fans and fellow fitness enthusiasts the opportunity to meet, talk and train with them at the huge event.
These people only knew each other through social media, but despite that they all travelled to one place to meet and enjoy their passion together as a large yet close community.
Social media often gets a bad reputation and the positive aspects, stories and experiences can easily get overlooked.
Here are five ways social media has actually been used for good.
Community
The Gymshark event is proof that social media really does bring people together.
Manchester saw the huge success that bringing an online community together in real life can achieve – a success that shows more than anything the power that a community built on Instagram, YouTube, Facebook and Twitter can hold.
Manchester's own Lucy Davis attended the event and shared multiple posts to her 274,000 Instagram followers. She revealed how 'overwhelmed' and 'humbled' she was to meet some of her fans.
Davis also captioned a post from the pop-up shop with 'this is why I love social media'.
Mental health
The online fitness community is only one example of a group of people brought together by social media who strive to inspire and support each other.
The communities associated with mental health on social media are bigger and more prominent than ever. Social media influencers from all over the world, whether they have millions of followers or not, have been sharing their personal mental health stories to their followers and fans.
YouTuber and music artist Dodie, for example, regularly shares updates of her mental health journey, including her diagnosis of depersonalisation disorder and her struggles with therapy and medications.
She balances her increasing popularity primarily across her two YouTube channels, Doddleoddle and Doddlevloggle, where she uploads her music and life or mental health updates to her subscribers (an audience of around 2.7 million across both channels).
Prominent YouTuber Daniel Howell also spoke candidly about depression to his 6.5 million followers.
These influencers on social media are important to their fans and followers and speaking candidly about mental health issues across such popular platforms has a positive impact on the stigma.
Psychiatrist Arno Deister has said it can be 'enormously helpful' to other people who are struggling.
Activism and awareness
The ability that social media has to spread awareness on issues is undefeated. On social media, news travels faster than ever before.
For example, recently the crisis in Sudan entered mainstream media and suddenly #prayforsudan was the top trending hashtag across the whole of Twitter.
It was thanks to social media that the awareness spread so fast. Activists and influencers across the world were posting updates and personal stories to their thousands of followers.
When Shahd Khidir, an online beauty influencer, told her followers the story of her own friend who had been killed in the riots, people all over Instagram turned their profile pictures blue to raise awareness and activist Negla Abdalla is still posting updates of the riots and violence.
Awareness is a powerful tool to have and there has been a rise in social media users taking advantage of that for the better.
Giving good to good people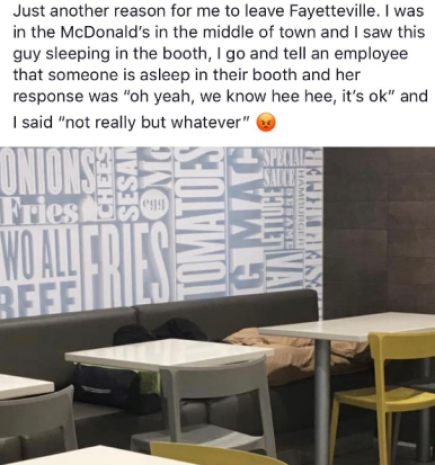 Earlier this year a photo taken of a man sleeping in a McDonald's went viral alongside a scathing Facebook post criticising him.
After it exploded on people's newsfeeds it came apparent that this man was homeless and sleeping between shifts.
This caught media attention quickly and before long his local community in Fayetteville offered support instead of ridicule.
Reporter Matt Johnson tracked the man down and named him as Simon Childs, who shared his struggles of trying to provide for his family.
Childs' local community gathered to donate nappies and clothes for his son, loan a car to the man and offered free haircuts. He also began to receive job offers because of one viral photo.
Help in the face of tragedy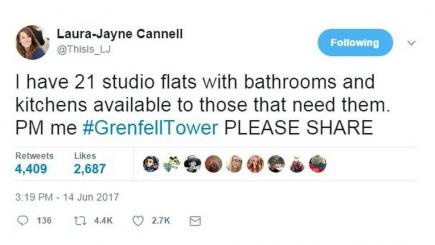 When the full extent of the Grenfell Tower tragedy became apparent, social media was quickly home to offers of clothes, children's toys and even places to stay.
When social media comes together in the face of tragedy, good things happen. There is evidence in all recent disasters of Twitter uses specifically aiding in spreading information, offering phone calls, calling for search parties or just offering some support.
Social media is criticised widely but in the darkest moments it seems that it actually can be a space for love and widespread kindness from all over the world.