Carl Boon isn't quite what you might imagine from a man who has made his name selling products infused with cannabis extracts.
Sharp and erudite, Boon (above right) bristles with energy, enthusiasm and an obvious well of knowledge from the moment you shake his hand. He wants to change the way Britain thinks and talks about cannabis, but he's a lot more than some stoner stereotype.
Working with business partner Thierry Florit (above left), Boon is one of the co-founders of Green Times Brewing, which has recently introduced 'High Flyer' – an organic craft beer with Cannabis Sativa L oil extract, the first of its kind in the UK.
He has lived what seems like an ambitious, jet-setting life. Having previously lived in Camden working in marketing for the likes of Bentley and Lamborghini, Boon has returned to Manchester since founding CBD Ultra, which sells teas, balms, vapes and even gummy bears infused with CBD.
CBD – WHAT IS IT,  AND WHY SHOULD I CARE?
For the uninitiated, CBD is short for cannabidiol, a naturally occurring cannabinoid constituent of cannabis. It doesn't cause users to get high or stoned as it doesn't contain the psychoactive THC, but a rapidly growing number of people use it as a natural remedy for a variety of physical and mental ailments – and each bottle of High Flyer has 10mg of it.
"It supports the endocannabinoid system," Boon says, clearly delighted to talk on a subject he knows inside out.
"We have a symbiotic relationship with the plant. We've evolved with it. All mammals, really, have something called the endocannabinoid system which is responsible for most of the function in the human body.
"It's very, very important. Put it this way – you have an endocannabinoid system; you don't have a tramadol system, or a paracetamol system!
"There's a train of thought out there that says since prohibition, cannabis and marijuana have been removed from the food chain, which is why everybody's endocannabinoid system is deficient.
"We used to use it to feed livestock, we used to eat it ourselves, it was in the system, and that's why it appears to work so well for so many things. Because as soon as you take it, it kickstarts your endocannabinoid system.
"What we also find is that it's a natural anti-inflammatory, and another train of thought is that any problem in the human body is a flammatory issue, a flammatory problem.
"So with it being a natural anti-inflammatory and supporting the endocannabinoid system, that's why we believe people say it works so well for so many different things."
WHAT DOES IT DO?
Among the potential benefits of CBD is that people have claimed that High Flyer could be hangover-free, and in this writer's experience they may well be right.
People react to CBD differently as with any substance, and the positive impacts it can have are lauded by many, rejected by others.
More research is needed but there is plenty of promising evidence to suggest that a CBD revolution could be on the way in the healthcare and wellness sectors, if it isn't already.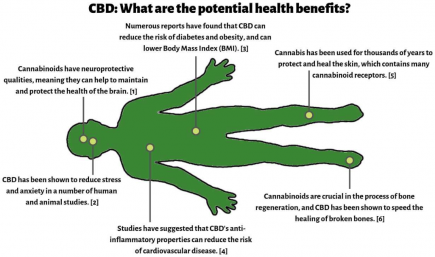 Scores of athletes around the world swear by its anti-inflammatory properties to aid recovery and prevent injury; the World Anti-Doping Agency (WADA) removed it from its list of controlled substances in early 2018, after a 2015 WADA study showed that 4% of 300,000 athletes tested positive for cannabinoids in their system.
This is typical of a worldwide trend of a more liberal attitude towards cannabis products and extracts.
Marijuana can be prescribed medically in the UK as of November 2018, and there were reports that Canada had sold out within just a few days of legalising weed in October.
LEGALISE IT?
If similar legislation is passed in the UK – something Boon thinks is 'inevitable' – it is unlikely that the country would face such shortages, because Britain is already the world's largest producer and exporter of legal cannabis.
A United Nations study found that British legal cannabis accounts for 44.9% of the world production total, and around 70% of the total world's exports.
It is big business already, and Boon is adamant that an end to prohibition would make it even bigger. It could provide a welcome financial boost in the post-Brexit economic wasteland many predict the country to be blundering towards.
"I believe it's inevitable," Boon admits.
"I mean, just look at what's happening in the rest of the world.
"Even for us, CBD Ultra, nobody had heard of it at first and we got a lot of negative comments and attitudes, and there was a lot of pushback, and we don't see any of that anymore. We don't see it, we don't feel it.
"We have hundreds of phone calls and emails a day, everyone ranging from 18-year-olds wanting to find out more about the health aspects, the gym side of it, to little Grandmas, 80 and 90-year-olds, phoning us up and asking us about our balms, how it's made, where it comes from, just trying to find more information.
"We don't feel the push-back that we used to. People are interested, they see it as a natural alternative."
MORE TO COME
The word 'natural' is key for Boon, as becomes clear when he talks of his beginnings in the CBD industry.
It was never supposed to be a money-maker; he started extracting CBD oil from hemp to make balms and tinctures for his friends, but word soon spread and a demand presented itself.
And if you are picturing a dark, smoke-filled room as the catalyst for the idea behind High Flyer, you'd be mistaken; rather, a London craft beer bar was the scene for what he and business partner Florit drunkenly imagined was going to be a simple process.
What followed was a long few months aided by the handy friendship of an award-winning brewer, a legal tussle which led to an effective rebranding, and ten test batches before Boon was happy with his product.
And thus was born High Flyer; a tropical, refreshing, sessionable pale ale that seems like it could appeal to just about anyone, and is sure to be a hit wherever it is sold.
And yet, 'happy' perhaps isn't the right word for Boon. Perfectionism courses through his veins, fuelling him and firing him to further his lofty ambitions. He loves his beer, but he wants to make it better.
He is still tinkering with High Flyer, trying to develop a longer-lasting head while maintaining the hop balance.
You get the impression he could tinker forever, but there is too much to do. A stronger IPA is on the horizon, as well as gluten-free and non-alcoholic variations for the coeliacs and designated drivers of the world.
This is just the beginning for Green Times Brewing and it is hard to escape the feeling that the normalisation of cannabis products is a significant step on the road to legalisation.
For now though, we'll settle for a delicious, potentially hangover-free craft beer. We'll drink to that.
For a succinct explanation of the positives and negatives of CBD from a pharmaceutical angle, read this.
With thanks to Conscious Lifestyle Mag for information for the infographic, specific referencing below.
[1]: Andras Bilkei-Gorzo, "The Endocannabinoid System in Normal and Pathological Brain Ageing," Philosophical Transactions of the Royal Society of London 367, no. 1607 (2012): 3326–3341.
[2]: A. R. Schier et al, "Cannabidiol, a Cannabis sativa Constituent, As an Anxiolytic Drug," Revista Brasileira de Psiquiatri 34, suppl. 1 (2012): S104–S110.
[3]: Yann LeStrat and Bernard Le Foll, "Obesity and Cannabis Use: Results From 2 Representative National Surveys," American Journal of Epidemiology 174, no. 8 (2011): 929–933.
[4]: Mauro Maccarrone et al, "Endocannabinoid Signaling at the Periphery, 50 Years after THC," Cell: Trends in Pharmacological Science 36, no. 5 (May 2015): 277–296.
[5]: A. J. Hampson et al, "Cannabidiol and (−)∆9-Tetrahydrocannabinol Are Neuroprotective Antioxidants," Proceedings of the National Academy of Sciences of the United States of America 95, no. 14 (1998): 8268–8273.
[6]: N. M. Kogan et al, "Cannabidiol, A Major Nonpsychotropic Cannabis Constituent, Enhances Fracture Healing and Stimulates Lysyl Hydroxylase Activity in Osteoblasts," Journal of Mineral and Bone Research 30, no. 10 (October 2015): 1905–1913.