Sad and frightening headlines have splashed the front pages of the newspapers in 2015, but a Manchester illustrator is hitting back with a paper celebrating the year's most cheerful news stories.
After the Charlie Hebdo attacks, 22 year-old Emily Coxhead, who graduated from Manchester School of Art, scribbled her first front page – a few pieces of good news and a title, The Happy News.
Her Kickstarter campaign to produce the newspaper raised more than double the target and now the first issue of The Happy News is out to celebrate the positive side of 2015's top stories.
"We were bombarded with terribly heart-breaking news and images about the refugee crisis," Emily told MM.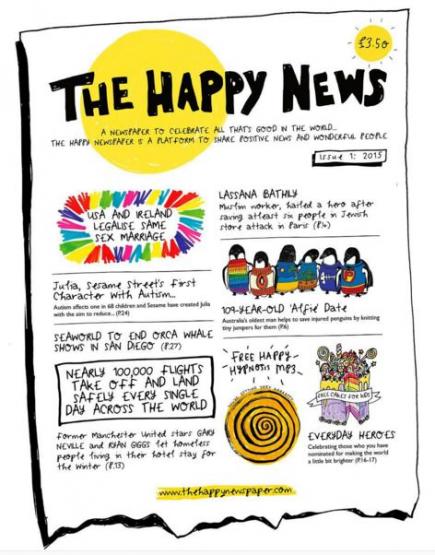 POSITIVITY: Emily said that the happy stories 'peeping through' should be highlighted
"[During] all of this I still saw positive stories peeping through of those helping, raising money, food, clothes, and stories of people opening up their homes to help strangers."
The idea for a newspaper full of good news was whizzing around her head for months and after encouragement from friends and family, she decided to make it happen.
Emily's Kickstarter goal of £500 was raised in just two days and by the end of the month she had netted over £1300 from supporters all over the world – in America, Korea, Singapore and Hong Kong.
And it isn't just the donations that come from far-flung corners of the world, with the news itself having a truly global flavour.
"It's crazy! And that's just the pre-orders and people who pledged towards to Kickstarter campaign," she said.
"There's a story in the newspaper about a 109-year-old man called Alfie, who is Australia's oldest man and he knits tiny little jumpers for penguins to protect them from the oil spills!
"I'm a sucker for an animal story – I wanted to be a vet until I realised what it involved…"
Music and culture are important features in The Happy News, but there are also lifestyle, travel and showbiz sections.
Although Emily keeps up with the news every day she said it is easy to feel overwhelmed by the terrible events flashing before viewers' eyes.
The most important feature is the Everyday Heroes section, where readers can use the website to nominate people who make the world a little bit brighter.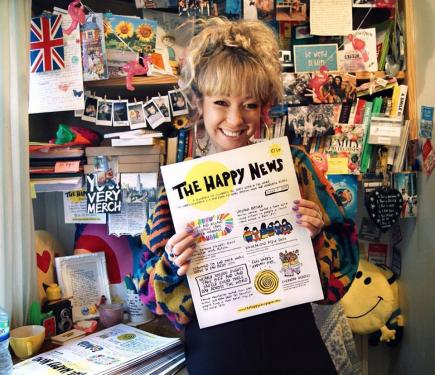 CELEBRATE: The Arts graduate described her campaigns success as 'crazy'
"I want to celebrate those people who don't expect to be praised for what they do on a day-to-day basis," she said.
"Those who have turned horrific events into a time to be proud of humanity, the people who didn't help somebody else to go viral on Facebook.
"I would find myself turning the news off because it sometimes just gets too much, and I know a lot of people who have said the same thing.
"I think we seem to shape our thoughts and opinions on the world through what we see on the news and in the media.
"But that's not a true reflection of the world at all, we're made to believe that the world is an awful place."
Emily lives in a village near Preston, but believes Manchester is a great place for creative people and said that she loves the city's vibrant music scene.
"Manchester always feels like home," she admitted.
"It is definitely up there with my favourite cities, if not my favourite – even if it does rain 98% of the time.
"I wouldn't choose anywhere else to study, it was perfect for me.
"I tried to go to and photograph as many [music gigs] as I possibly could which allowed me to build up a strong set of contacts and, more importantly, friends in the music and creative industries."
Being a news editor has come naturally to Emily, although she has volunteers of all different ages and interests helping her to write articles for the paper.
But she said that her aim is simply to make as many people smile as she possibly can in a world where many people feel sad or jealous.
"I have tried to make sure stories have been covered from all different parts of the world, whilst remaining politically unbiased," she said.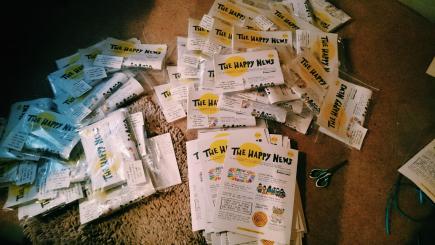 REMINDER: Emily is confident that 'there is a hell of a lot of good' in the world
"The idea is to lift people's spirits, to make people smile, not really to give our opinions on what is right or wrong.
"It's quite easy to scroll through somebody's Instagram and compare your life to theirs, even though people often forget that they're practically looking at somebody's highlight reel."
In 2016, Emily is hoping to make The Happy News a quarterly publication and she is keen to expand the website into an app.
"The whole point of the newspaper is to remind people that there is a hell of a lot of good happening every single day in all corners of the planet," she said.
"[I just want to] make people think about the world we're living in and how we can make positive changes in the tiniest ways."
For more information click here.