Last year, Manchester was ranked the third most-visited city in the UK, behind London and Edinburgh.
Manchester Airport also had more than 25million passengers pass through it in 2015 alone.
While there is no doubt that the city, steeped in rich industrial history, is a must-see for visitors coming to the UK from abroad, it also remains a fascinating weekend trip for those coming from other parts of the country.
Step forward a couple of Brazilian immigrants (my parents), who have lived in Bournemouth since the early 90s, wanting to visit.
My mother is a self-confessed anglophile whose desire to move to England was sparked by a love for the band Queen. She's a die-hard fan of the Bronte sisters and considers the M6 the most beautiful drive in the world.
My stepdad is a possibly unwilling accomplice in her quest to visit every cottage and castle in the country.
Considering their love for all things British, I was surprised at their concerns when I said I'd decided to move to Manchester.
Having then fallen in love with Manchester's quirky bars, bright lights and substitution of the word 'butty' for 'barm', I set about my mission to get my parents to love the great land of Manchester like I do.
This is what every southerner should know.
Manchester is home to a rarity – a Taco Bell
Various Taco Bell locations throughout the UK have been closed down, and now only a handful remain. This is a perk that isn't merely enjoyed by those who remember when the first European location opened in 1986, but by people of all ages who can't think of anything better than 99p tacos and burritos.
Tea at Manchester Town Hall
Something that doesn't change no matter how far North or South you travel through the UK, is the nation-wide sentiment held about tea. It's only a matter of time until the country floods with tea and we're forced to grow gills to survive.
While the town hall may not be everyone's cup of tea, the setting inside the building is stunning and during the Christmas period it is right in the heart of the Christmas market.
That means that if somewhat overpriced tea in the hall isn't for you, you can simply go outside and knock back a few mulled wines from boot-shaped mugs. Either one is ideal for escaping the occasionally overwhelming buzz of life in central Manchester.
Curry Mile and Chinatown
The beauty of Manchester is that despite it being the pulse of Northern England, it's also an extremely multicultural city.
A full tour of the city will transport you through streets lined with traditional Chinese decorations and typical cosy eateries to Curry Mile, thought to be home to the largest concentration of South Asian restaurants outside the Indian subcontinent.
Nowhere else in England can you start your day with a full English breakfast, tuck into some authentic chow mein for lunch and finish it all off with a cold Indian beer with such ease.
Your parents will be thrilled to technically embark on three different trips for the price of one, without even having to leave the country.
Book a centrally located hotel in good time
Manchester may not be as much of a nightmare as places like London in terms of getting around and finding somewhere to stay, but it still requires some planning in advance. This is because, as was the case with my parents, you don't want to book a hotel only once you're already on your way.
There are various reasonably priced hotels in the city centre, whether you like chains or independents. Booking a hotel a couple weeks before the trip can mean the difference between rolling out of the hotel doors to be greeted by Manchester's lively atmosphere, and spending the most part of your morning on a congested motorway trying to get into the city.
Finding a cheap car park
As previously pointed out, parking in Manchester doesn't require you to take out a loan. Better yet, the NCP car park on Sheffield Street, a stone's throw from Piccadilly Station, is the kindest on your wallet at only £3 for a 24 hour stay. As expected, spaces go like hot cakes during the week, so if you manage to bag yourself one you should defend it with your life.
Anyone who lives in Manchester knows how one of a kind it truly is. It is your duty to make sure that anyone who comes to visit from the other side of the country sees the biggest and the best of the city and leaves with the same love for it that the residents hold. Besides, who needs regular sunshine when you can get beer for £2?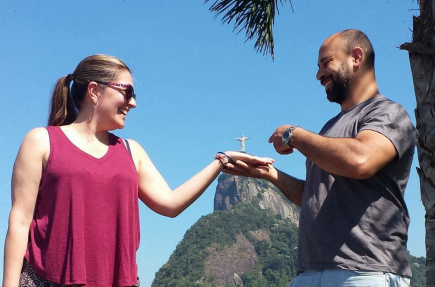 CUP OF TEA DEAR? The Brazilian duo in sunnier times (and climes)